The Boston Bruins' offense is finally, fully healthy, which means some decisions have to be made.
The first was sending Frank Vatrano back to Providence, directly in correlation with activating David Krejci from the IR. Next, it's up to Claude Julien to create his forward lines. For Thursday's game against the Vancouver Canucks, this meant scratching Tyler Randell and Joonas Kemppainen.
The Brad Marchand, Patrice Bergeron, and Brett Connolly line stayed the same, as did the Bruins' fourth line of Zac Rinaldo, Max Talbot, and Landon Ferraro. Matt Beleskey and Ryan Spooner were bumped down to play with Jimmy Hayes which meant Krejci would reunite with Loui Eriksson and David Pastrnak on his wings—the first time the trio has played together since October 31.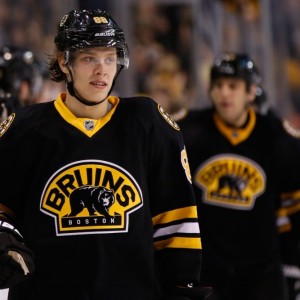 At least, that's how it started.
The Bruins were unable to get much going, outside of Hayes' and Marchand's goals. After Daniel Sedin scored the Canucks' go ahead and eventual game winning goal in the third period, Julien shuffled the lines. First, Pastrnak moved down to play with Spooner and Hayes. Then, down to the fourth line with Rinaldo and Talbot.
For a player with an offensive upside as high as Pastrnak, it's probably not ideal to see him get 3:20 of ice time in the third, the fewest of any Bruin forward, in a one-goal game. But Julien was quick to explain Pastrnak's demotions.
"He's playing against top lines and we need players to be better in those areas, so I tried to put a little bit more experience to play against that," said Julien. "And then put him, again, in a situation where maybe he has less pressure and more room, so that was one of the moves I made."
Pastrnak is a very good hockey player who will no doubt score a bunch of goals and drive the Bruins offense soon enough. But for now, two games since returning from an upper body injury, and five games since a broken foot injury that kept him out of the lineup since October 31, the second-year winger is being sheltered.
That's not entirely bad, either.
"We need to do the best thing for the player," said Julien. "That's what we're trying to do here, putting him with some good players and sometimes putting him on other lines where he's got less pressure and probably can, I guess, use his skill level a little bit better. We're doing our best here to try and give him an opportunity."
Still, points are at a premium in an otherwise tightly contested battle of average to above average Eastern Conference teams trying to cram themselves into a playoff picture. If the Bruins have a player like Pastrnak who could tilt the ice and make a difference in a close game, he should be on the ice for more than 3+ minutes in the third period—especially with four points in his last five games.
The argument could be made that Pastrnak's defensive miscues made Julien's decision easier. Pastrnak had a team-high seven giveaways.
"In Dave Pastrnak's case, I know he had an assist tonight, but you know I think he had about four or five giveaways there, unforced errors" said Julien. "Then with Spoons and him on the same line, it just seemed that they were being a little outmatched there by the other team. Whether that was from the way we played or whether it was from youth and inexperience, not quite sure. But, you know, I still had to make a few changes."
Julien talked more about determining where Pastrnak fits in on the Bruins lines. While he'll have the points to produce as a top-six forward, matching up against opposing teams' top lines could be a concern.
Pastrnak played on the fourth line against the Canadiens, recorded 7:05 of ice time, and a goal and assist. But still, Pastrnak will be the only solely responsible for creating offense on a fourth line. In a top six role, he'll have some help. When playing with Krejci and Eriksson, Pastrnak fit in well. While he'll no doubt be up against other teams' top lines, playing with top-notch two-way forwards such as Krejci and Eriksson will only help him to eliminate the turnovers.
It's a good problem to have, only for now. Julien will need to realize that Pastrnak can create offense, if only given more ice time. More trust worked for Ryan Spooner. Image what it could do for David Pastrnak.
Follow Mike on Twitter for more Bruins news, updates, and commentary.