The year was 2009.
Jamie Benn and Tyler Myers had just returned from helping Canada capture its fifth straight gold medal at the World Junior Championship.
The Calgary Flames, in a surprising move, decided to send first-round pick Mikael Backlund to the WHL following the world juniors rather than to Sweden where he had been playing pro.
That was then. This is now.
Madison Bowey and Josh Morrissey are back from helping Canada end its five-year golden drought at the world juniors.
The Edmonton Oilers have sent third overall pick Leon Draisaitl to the WHL armed with 37 games of NHL experience.
The similarities — from 2009 to 2015 — are uncanny for the Kelowna Rockets.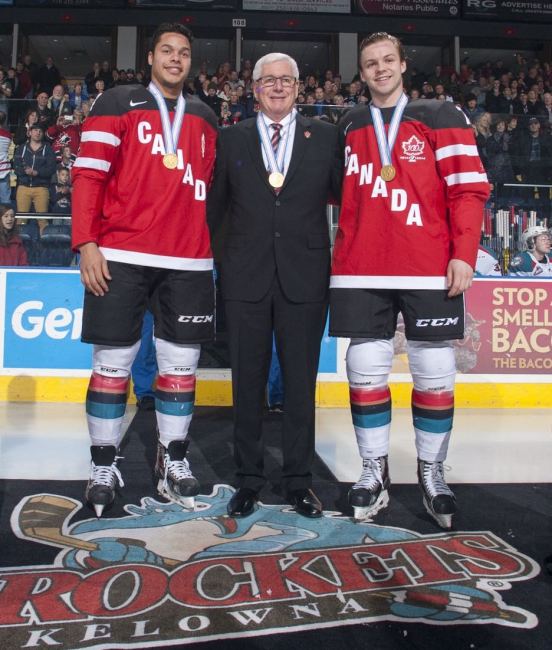 Following The Same Script
Beyond those obvious parallels, the Rockets took another page from their past with their final roster addition at the Jan. 10 trade deadline. Kelowna acquired Chance Braid, a reputable pugilist, much the way it did Ryley Grantham. An unheralded piece to the puzzle but a potentially important one in the long run.
The 2009 Rockets took off in January and never looked back. They were the hottest team in the second half of the WHL season and cruised through the playoffs as the Western Conference's third seed, upsetting the top-ranked Vancouver Giants and Calgary Hitmen to claim the Ed Chynoweth Cup.
Those Rockets advanced all the way to the Memorial Cup final, where Mark Guggenberger gave up three goals before the game was seven minutes old as Kelowna fell 4-1 to the Taylor Hall-led Windsor Spitfires.
Back To The Future
These Rockets might be even better. They have been topping the WHL standings for most of the season, and are the favourites (on paper) to be crowned in 2015.
Kelowna was expected to contend prior to landing Draisiaitl and Morrissey, who was acquired in a blockbuster trade on Dec. 10 but had to wait a month to make his Rockets debut following his second world-junior experience. A first-round pick of the Winnipeg Jets, Morrissey was also a member of the St. John's IceCaps who competed for the AHL's Calder Cup last spring, falling to the Texas Stars in the final.
Draisaitl took his demotion in stride and has hit the ground running with Kelowna, scoring in each of his first three games and looking like a man amongst boys at times.
Bowey, a second-round selection by the Washington Capitals, is in his second season as Kelowna's captain. He formed a dynamic defence pairing with Morrissey at the world juniors, held in Toronto and Montreal, and will look to bring that success back to the Okanagan.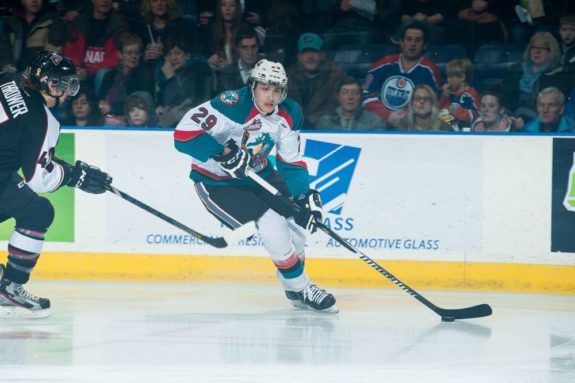 Instant Familiarity
Morrissey should have no issue fitting in with Kelowna. Besides Bowey, he already knows half the team, including his younger brother Jake Morrissey, the Rockets' backup goalie. Kelowna has acquired three of his former teammates from the Prince Albert Raiders in Draisaitl — a best friend — Braid and forward Gage Quinney. Morrissey grew up in Calgary, where he was acquainted with Rockets leading scorer Nick Merkley and fellow blue-liner Joe Gatenby, plus he's played with Tyson Baillie on Team Alberta in past showcases.
Potent Power Play
Morrissey is an all-around defender, but his biggest contributions could come on the power play. He's a proven quarterback and he'll have some of the league's best receivers in his arsenal. Paired with Bowey on Kelowna's top unit, they will be working with Draisaitl, Merkley and Rourke Chartier, the WHL's leading goal-getter with 36 in 37 games.
The Rockets already boasted the No. 1 power play — converting at a 27 per cent clip (58-for-215) — prior to loading up. Opposing teams best stay out of the sin bin if they hope to stand any chance going forward.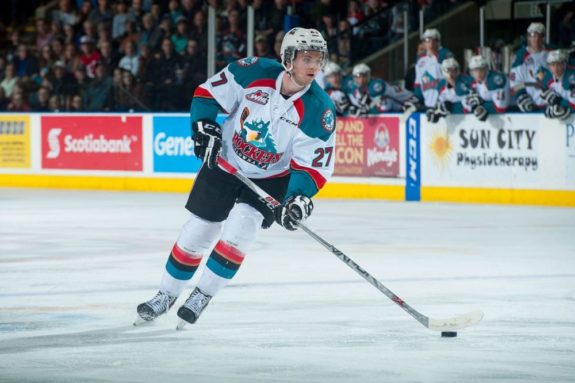 Depth Throughout Lineup
Kelowna's strength in recent years has been its ability to attack in waves and essentially roll four lines. Although the aforementioned names will see the bulk of power-play time, the rest of the minutes will be spread around.
Baillie, Justin Kirkland, rookie Dillon Dube and import Tomas Soustal will be counted on for secondary scoring, while Tyrell Goulbourne will continue to create space for his more skilled linemates. The checkers include Cole Linaker, Braid, Quinney and Rodney Southam, while Tate Coughlin and the injured Tanner Wishnowski will fill in sparingly up front.
On the back end, Bowey and Morrissey will be split up at even strength. Over-ager Cole Martin led the league in plus-minus last season and is second overall again as he fulfills a shutdown role. Mitch Wheaton would round out the top-four, but he's been sidelined all season and won't likely return before playoffs. Gatenby and Riley Stadel have helped fill that void, while rookies Lucas Johansen and Devante Stephens have been steadily improving.
Goaltending A Potential Concern
Jackson Whistle ranks top three in every major goaltending statistic — goals-against average (2.44, 2nd), save percentage (.917, 3rd), wins (25, 2nd) and shutouts (4, 2nd). He's posted those numbers through 35 starts, but Whistle has never started a playoff game. His only post-season appearance came in relief of Jordon Cooke back in 2013, when Whistle allowed two goals including the overtime winner in a 5-4 loss to the Kamloops Blazers as part of a second-round sweep.
That inexperience raises some question marks, but Whistle will have every opportunity to answer his critics this spring. Kelowna needs the 19-year-old hometown kid to be up to the challenge because the only alternative is Morrissey, a 17-year-old rookie who has made just 6 regular-season appearances to date.
Coach Has Changed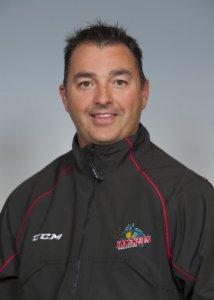 Tasked with getting the most from this ultra-talented group is Dan Lambert, a rookie head coach who took over for Ryan Huska this past off-season. It has been a fairly seamless (and successful) transition thus far — having served as an assistant under Huska the previous five seasons — but coaches are ultimately judged by their team's playoff performance.
Expectations are through the roof now, and it'll be up to Lambert to keep Kelowna on course for another record-breaking and title-winning campaign. He joined the Rockets' staff in the fall of 2009, right after Huska led them to a WHL championship. But the 45-year-old Lambert has been a part of several winning teams, and has already hoisted the Memorial Cup as a player when he was the tournament MVP in 1989.
No Shortage Of Competition
For Kelowna to reach the pinnacle of major junior, a lot of things must still go right. The Rockets need their new-look roster to gel and develop chemistry, they need to stay healthy for the most part and they need quality goaltending in the playoffs. If all that comes to fruition, Kelowna should be a good bet to repeat its heroics from 2009.
Of course, plenty of teams stand in the way. With the WHL shifting to the NHL's new playoff format, Kelowna will likely face the Victoria Royals in the second round. The Everett Silvertips are topping the U.S. Division standings, but the Portland Winterhawks are four-time defending Western Conference champions, having eliminated the Rockets in three of the past four years. They all pose realistic threats.
Out east, the Brandon Wheat Kings are the cream of the crop and are expected to come out on top. They were big buyers at the trade deadline, adding Flames first-rounder Morgan Klimchuk and over-age defenceman Reid Gow. Brandon will probably have to go through the Swift Current Broncos and then either the Medicine Hat Tigers or Calgary Hitmen.
If the Rockets and Wheat Kings both prevail, it would set the stage for a clash of titans. Kelowna may have the advantage based on past playoff experience and a slight edge in elite talent, but that would be a series for the ages.
Larry Fisher is a sports reporter for The Daily Courier in Kelowna, British Columbia, Canada. Follow him on Twitter: @LarryFisher_KDC.