Devan Dubnyk isn't a bad goalie. On some nights, he's a very good goalie. He's played his entire NHL career on a bad team, and thus it's difficult to measure he's ability to be a number starter in the league. The Oilers haven't decided, at least not publicly, whether or not Dubnyk is their guy going forward. But you can bet that new GM Craig MacTavish won't leave any stone unturned on the quest to improve his hockey club, and if there's a chance to upgrade in goal, he'll likely explore the option. The following names are possibilities. They might be a long shot, they might even seem like a crazy option. But there's a market for goalies at the moment, and the Oilers will do their homework on all of them.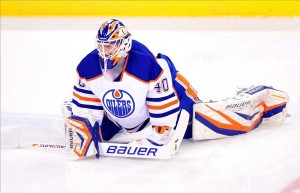 Mike Smith
A free agent this summer, there hasn't been any word out of Phoenix whether or not the Coyotes will be re-signing their number one goalie. Mike Smith was pretty much the reason they got to the conference final last season, and despite a down year this season, Smith is still a very capable number one. At age 31, obviously Smith wants to win, but there aren't a plethora of teams who need starters, so his options may be limited should he choose not to stay in Phoenix. Signing Smith would be the easiest scenario for the Oilers because they wouldn't have to give up anything to get him.
Ryan Miller
After winning the Vezina trophy in 2010, Ryan Miller has had some tough seasons in Buffalo. The Sabres are in full re-build mode, and it seems as though Miller may have played his last game with the team. It hasn't been said officially  but the writing seems to be on the wall. Would Miller want to go to a place like Edmonton? They aren't known for their strong defense, and are still a ways away from really contending, so it begs the question if at 32 Miller wants to go to this type of situation. He's a veteran presence, and still has a lot in him to give, so it would certainly be a fit on the Oilers side. And Buffalo probably would prefer not having to see him in the opposing net multiple times a season.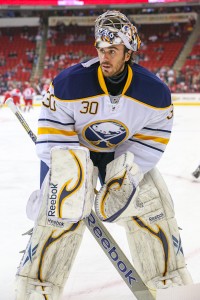 Roberto Luongo
It may be easier to trade Cory Schneider at this point, but the Canucks have made their bed and now they have to sleep in it. There's probably no scenario in which Luongo would ever want to suit up for the Canucks again, and the team pretty much forced their own hand with the way they've handled the situation. Rumor was that Luongo's list of desired destinations was a short one, and Edmonton probably wasn't on it. But maybe he would accept a trade anywhere simply to get a fresh start and get out of Vancouver. Edmonton would be another high pressure Canadian city, but quite a different situation. The Canucks are an older team who's window for the Cup seems to be closing. Edmonton is full of youth and is being built to win. He has a long contract, but he's still a number one goalie in the NHL. His solid, veteran presence could be exactly what the doctor ordered for the Oilers.
Jonathan Bernier
Now that Jonathan Quick has found his Conn Smythe form once again, it seems even less likely Jonathan Bernier is going to see regular playing time in Los Angeles. He's ready to be given a shot as a starter, but that just isn't going to happen with the Kings. Now we've seen in the past that assuming a young back-up could be a number one  is risky (Tampa Bay Lightning), but Bernier is a proven talent. Imagine a young core in Edmonton pairing up with a young goalie and growing together to become a championship squad. Bernier may end up costing too much, but it's certainly an interesting possibility.
Marc-Andre Fleury
Are the Penguins ready to give up on a guy who's last second save helped win them a Stanley Cup? The rest of this postseason will be a telling sign of that. Fleury is gifted athletically  but he's struggled mightily the past two playoffs. (His regular season play is stellar though, which is why he's a great fit in Edmonton. Sorry Oiler fans, that was too easy). Many wonder if Fleury will ever be able to gain back his confidence and be a consistent number one goalie in the league. Pittsburgh obviously thought he would, because other than getting veteran Tomas Vokoun as a back-up, they didn't really address any goaltending needs. Maybe a change of scenery would help. But he may be just as a risky as getting a Bernier type, because you simply don't know what you're going to get.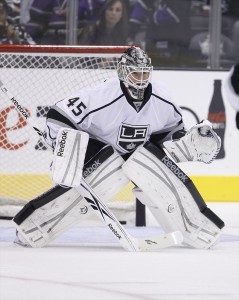 This is summer could be the year of the goalie at the draft and during free agency, which is something we don't see often. There are certainly some options, and probably many more than the ones mentioned here. The Oilers have many needs, but if they want to build from the net out, they may want to explore some of those options before next season begins. Then again, they may end up with none of these guys. If you're an Edmonton fan, who would you like to see between the pipes next season?
Marcy, a former hockey player, is a hockey correspondent on CTV News and TSN radio. She began her career as a Sports Journalist in 2009 and has been part of The Hockey Writers since 2010, where she is currently a senior writer and editor.