Jari Kurri, an underrated member of the Edmonton Oilers dynasty of the 1980s, celebrates his 53rd birthday today.
Sometimes overshadowed by the likes of Wayne Gretzky and Mark Messier, Kurri was definitely a driving force in the five Stanley Cup championships in Edmonton. Playing alongside Gretzky may boost your stats, but Kurri proved to the naysayers that he could indeed play without him. Kurri led the team in scoring after Gretzky left for the Kings and won the Cup just two seasons later.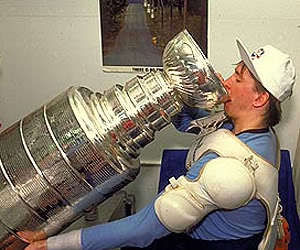 Originally, Kurri had no plans on staying in Canada. He had to be enticed by Oilers and fellow Finns, Matti Hagman and Risto Siltanen, to play for Edmomton. Speaking very little English, Kurri decided he should play for the Oilers, but for just two seasons, then he would go back to Finland.
Good thing for the Oilers, Kurri didn't follow through on his plans.
Although he has no Conn Smythe's on his resume, Kurri led the league in goals scored in the playoffs four times. The Oilers won the cup each time he led the league in goals scored. Kurri perhaps played his best hockey when it mattered, in the playoffs. He is the third all-time scoring leader in the playoffs, behind his former Oiler teammates Wayne Gretzky and Mark Messier.
Without Kurri, the Oilers would not have had the dynasty that they eventually had. Kurri was the Scottie Pippen to Wayne Gretzky's Michael Jordan. A star can only carry his team so far, but you need a faithful sidekick and Gretzky had one in the man affectionately called the "Finnish Flash". However, Kurri was almost never teamed up with Gretzky. It was only when head coach Glen Sather had a "hunch" that he put Kurri and Gretzky's line after Blair McDonald struggled and things just weren't going to work out. Sather then placed the plucky young Finn and the top line and the rest is Oilers, and NHL, history.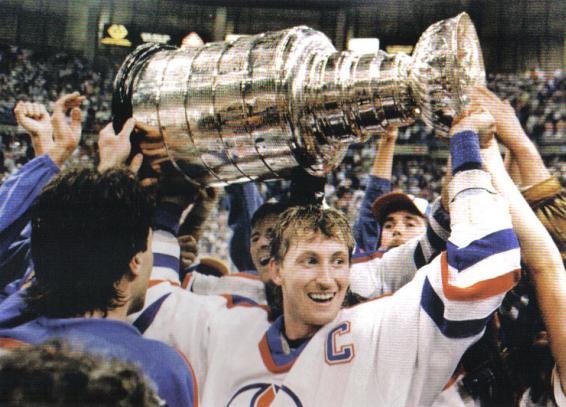 Regarded as one of the best defensive forwards in history, Oilers scout Barry Fraser called Kurri "by far our most complete player". Quite a compliment considering the talent that surrounded Kurri during his years in Edmonton. His skills on defensive allowed Gretzky to concentrate on playing up to his skills on offense and, because of that, set numerous Oiler and NHL records.
After a year in Italy, Kurri reunited with Gretzky in Los Angeles and very quickly it seemed like old times. He scored 75 points despite playing in only 35 games and almost captured his sixth Stanley Cup, but the Kings suffered a defeat at the hands of the Montreal Canadiens.
Although his career unceremoniously came to an end with the Colorado Avalanche, Kurri has gone down as one of the greatest European players of all time. Kurri retired as the all time European leader in points, a record that has since been broken by Jaromir Jagr. Kurri has since returned to his homeland and is the general manager of Team Finland. He has been a hero and an idol to many young Finnish players and current Finns in the NHL.
Perhaps the greatest honor the Edmonton Oilers can bestow on a player is the retirement of a number and Kurri got just that on October 6, 2001. On that date, the orange and blue number 17 was raised to the rafters of the then Skyreach Centre to never be worn again by an Oiler.
Kurri wasn't the flashiest player on the ice in his day, but you'd be hard pressed to find a better all-around player than Kurri. All Edmonton Oiler fans should thank him for his play on the ice, without him, there wouldn't have been a  dynasty in Edmonton and Gretzky wouldn't have scored as many points as he did.
Hyvää syntymäpäivää, Jari!