The Montreal Canadiens have come a long way since finishing last in the East in 2012 and ultimately picking 3rd overall in last year's draft. Coming into this season — lockout or no lockout — the general consensus across the sporting world was that the Habs were going to be a lottery-pick team once again in 2013. Selecting the right Head Coach was key for a team suffering from a fundamental lack of identity and sorely needing a major culture change.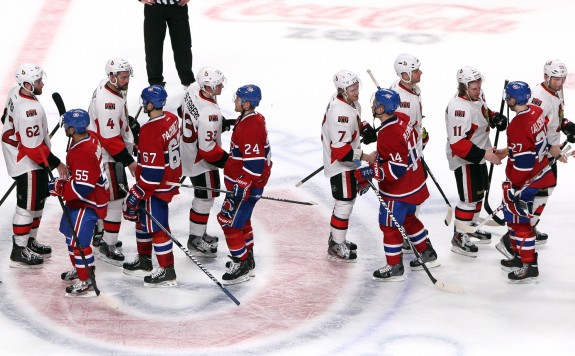 Before the start of the season I picked the Canadiens to finish 7th in the conference. I felt the team wasn't quite as bad as their last place finish in 2012. I believed the team had the necessary pieces to be a playoff team. But nobody could have picked them to finish 2nd in the Eastern Conference behind the mighty Pittsburgh Penguins, or to best the heavily favoured Boston Bruins atop the Northeast Division.
But they did.
Ahead of schedule? You betcha. Sort of hard to predict the fortunes of a team that hires a new GM, an entirely new management staff, a new Head Coach and signs on a bunch of new players to its lineup – all in a matter of months.
That's what I call a rebuild. And rebuilds can be done the right way like in Montreal, or not so well.
Hello Edmonton Oilers!
GMs Key to Successful Rebuilds
Using the examples of the Canadiens and the Oilers, it's easy to see how important the GM is to a successful rebuild. Steve Tambellini had lots of time, luck in lottery picks and resources in terms of money and top-overall picks to bring the Oilers out of the league's basement. He didn't get it done for one reason or another. As a result he was relieved of his duties during this year's campaign and replaced by Craig MacTavish.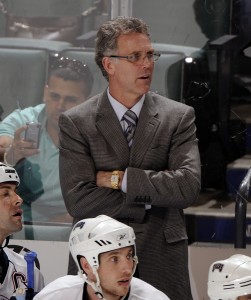 One has to wonder how involved team President Kevin Lowe is in the day-to-day decisions of that team and whether he'll be the next to get the ax if Edmonton doesn't start seeing some results next season. He definitely took a defensive stance at the press conference announcing MacTavish's hiring — implying he is probably the source of many of Edmonton's ills. In the end Tambellini took the fall, as is the case so often in the world of NHL coaching and management.
Montreal obviously doesn't have the time nor the patience to wait around for results. So the first smart thing Geoff Molson did after showing GM Pierre Gauthier the door was to bring on another former GM as an advisor in the selection process. In this case, it was a former Stanley Cup winning GM, the man at the helm when the Canadiens last won the Stanley Cup, Serge Savard.
And after extensive interviews with a number of candidates, former Chicago Blackhawks Assistant GM Marc Bergevin was hired. Retired NHL-er; well-dressed (they like that in Montreal you know); good head of hair (well at least I think that's important); communicative (anyone would be after Mr. Gauthier); and most importantly, a Quebecer and a man of character. Il a du charactère, they would say on the street.
The Next Order of Business: The Right Head Coach
The next order of business for Marc Bergevin was to hire a new Head Coach. The right Head Coach. But who could, would, should get the job!? Fans and media alike were up in arms last year when Randy Cunneyworth was quickly rushed into a hopeless situation then cut down by Geoff Molson after the firing of Jacques Martin.
Now for the record, I actually liked Martin. He's a professional coach who successfully brought together a reshuffled deck of a team after Gainey pulled the trigger on the Gomez trade. He then helmed the team all the way to the Conference Finals in 2010 riding the un-Carey Price-like goaltending of Jaro Halak and the sharpshooting of current Calgary Flame-out Michael Cammalleri.
It was apparent the man they call Martin had lost the room and a coaching change was needed. But Gauthier could have realized the team was adrift and the playoffs were probably a pipe dream. He could have taken his time in finding a new captain of the ship.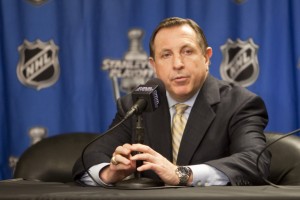 The point I'm trying to make is the right coach is so important to the fate of any given squad. This individual needs to have the right combination of smarts, coaching ability, charisma, language, communication and flexibility in dealing with a number of different personalities.
Look at Pittsburgh in 2009: the Penguins were flailing under Michel Therrien and midway through the season the team was out of a playoff position. He was summarily replaced by Dan Bylsma and they not only made the playoffs but won the Stanley Cup.
Okay, maybe that's not the best example. Let's look at another, the 2011-2012 St. Louis Blues.
Across the NHL everyone picked the Blues as a team on the rise with all the young and upcoming talent they possessed; yet they too struggled under the wishy-washyness of Davis Payne, skating to a 6-7 record start. Not good enough for a team on the upswing.
In came experienced Stanley Cup winning coach Ken Hitchcock, who quickly put his stamp on the team with a tight defensive-minded system. The team went on to be one of the best teams of 2012, finishing with a record of 49-22-11 for 109 points, good enough for tops in the Central Division:
Of course, they went out in the first round that year (and this year too… sound familiar?) but I think you see what I mean. They say a team needs to learn how to first lose in order to win.
Not Just Anyone Can Coach in Montreal
Newly hired GM Marc Bergevin had some hard set criteria for his new Head Coach. He knew he needed someone who could speak French. Yes, this limits the playing field. But this is the reality. Barring Scotty Bowman taking one more kick at the can to come out of retirement and coach the Canadiens (and he speaks a decent French, he is a native Montrealer after all), the new Head Coach must speak a fluent French.
Bergevin also knew he had to have someone who could coach young talent. Many of the team's stars were 25 or under like Subban, Price, Eller and Pacioretty. Then add Gallagher, Galchenyuk and Tinordi and you have a pretty young squad.
And finally, Bergevin knew he needed a man who could handle the pressures and expectations of the rabid Montreal hockey scene. Not an easy task. So who was up to the task?
Definitely not a job for just anyone. And Guy Boucher was – at least at the time – securely entrenched in Tampa Bay coaching the Lightning. And so the list became quite small indeed. Who could it be? Someone unproven? No. Someone who is a winner ideally? Larry Robinson? Unfortunately not. Someone we've seen before like Guy Carbonneau? Close. How about Marc Crawford, the hair-boy who won a cup with Colorado and was the last Head Coach of the Quebec Nordiques? He was my choice.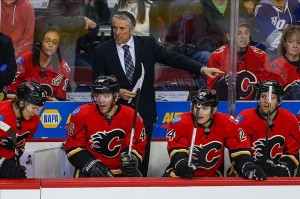 What about someone like Bob Hartley? Yes, maybe. Hartley coached the Colorado Avalanche to a Stanley Cup in 2001, speaks French, appeared on RDS' "L'Antichambre" many times and also has a good head of hair. He's French with an English name. The Canadiens seem to be cornering the market on such confusion. Rene Bourque doesn't speak a lick of French. Neither does Nathan Beaulieu. Go figure.
Hartley seemed to be out of the game but then took his chances to coach once again in Zurich, where he led the ZSC Lions team to a Swiss league championship. He then used this as a springboard to re-enter the NHL coaching fray when on May 31 of last year he was named Head Coach of the Calgary Flames.
From a fan's perspective, at one point it looked like it was going to be Hartley for the Canadiens job. And I wasn't too happy. After getting to know him better from his appearances on RDS, there was a quality to him I didn't like. Sure he led the Avalanche to a cup but it can be argued that a broom handle could have coached a team with Joe Sakic, Peter Forsberg, Adam Foote and Patrick Roy to a championship. A talented broom handle, mind you. But I digress.
"Back to Le Futur" With Michel Therrien
Then it was what I like to call "Back to le Futur" when Bergevin introduced Michel Therrien as his new Head Coach for MT's second time around with the Canadiens. Many didn't like it. I didn't either at first. I wanted the team to move forward and for me this was a step in the wrong direction. But after listening to his opening press conference and after listening to Bergevin, two things struck me:
First, I liked Bergevin and thought here was a guy who knows what he wants. I was willing to give him the benefit of the doubt. If he thought Therrien was the right man, then I was onboard and was open to giving Therrien a second chance.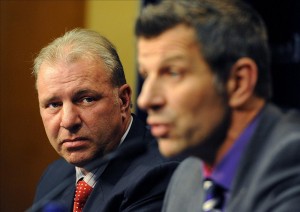 Second, this Michel Therrien was not the same hot-headed guy we saw years back sporting pink blazers who could cost his team at crucial moments with unnecessary outbursts. He has the fire and emotion – which we all like and what was lacking in a guy like Martin – but now he seemed to have learned from his past mistakes. He's older and more experienced. He learned to control his emotions. And most importantly, this is a guy who coached and helped Sidney Crosby, Gino Malkin, Marc-André Fleury and Jordan Staal take their first strides in the NHL, leading them to the finals in 2008.
The Canadiens were at a deficit once the lockout ended because of the lack of a real training camp. All teams were thrown into the fire but given all of the new personnel changes, the fire was just a bit hotter for Montreal than some of the other teams around the league.
Interestingly enough, the man who was apparently runner-up to Therrien was Marc Crawford, who was replaced by Hartley in Colorado, and who replaced Hartley in Zurich. Therrien replaced Hartley on RDS' "L'Antichambre." One can only speculate if Crawford ends up somewhere in the NHL this coming season.
The Canadiens finished 29-14-5 for 63 points under Therrien. Calgary finished a hapless season with a record of 19-25-4 for 42 points under Bob Hartley. Hartley's winning percentage of .438 is the lowest of any Head Coach in Calgary Flames history.
Would things have been different for the Canadiens under Hartley? Hard to say. Chances are, they couldn't have been much worse than in 2012. Is it fair to judge Hartley when it's evident he didn't have much to work with this year with the Flames? The blame for that falls on Flames GM Jay Feaster who seems to have misfiring down to an artform — even Pierre Gauthier got the better of him in the Cammalleri for Bourque trade. Bourque came to play this season and if it weren't for the concussion he suffered points-wise he would've been right up there this year. And he was no doubt the team's most consistent player in the playoffs.
What I can say is I'm happy with the way things are heading. They may not have finished 2nd in the conference in an 82 game season, but one thing is for certain: the Habs were a character team who played and fought for each other and who never gave up. They fought through adversity, injuries and a tough schedule and persevered.
Therrien and Bergevin deserve a lot of credit for that.
Find Ari Grief on twitter @HabsFanLeafLand where he discusses the Montreal Canadiens, the NHL-at-large and other good heads of hair
I'm a goalie — apparently that says a lot. Writer, producer and bon vivant I'm from Montreal but live in Toronto and write from that perspective on HabsFanInLeafLand.com. Young enough to be hip; old enough to remember where I was when Guy Lafleur scored against the Bruins in the infamous "too many men" game in the '79 playoffs. Can you say that?
You can contact Ari Grief on Facebook or on twitter @habsfanleafland