New Jersey Devils mastermind/General Manager Lou Lamoriello is not getting any younger. Though it may be hard for us to envision due to the fact that none of us remember him as ever having any hair, the fact is he has not stayed the same age during his wildly successful quarter-century decade reign which has seen the Devils transform from what Wayne Gretzky once famously called "a Mickey Mouse organization" into the most successful organization in the Eastern Conference. Since 1995, Lamoriello's Devils have played in over one-quarter of all Stanley Cup Finals (five) and won exactly one-sixth (three).
Still, Lamoriello is 72 years old. His franchise goaltender, Martin Brodeur is 41 and nearing the end of his own brilliant career. His team, one year removed from yet another appearance in the Stanley Cup Finals, missed the playoffs for just the fourth time since 1988. Though it is common to hear Lamoriello's name mentioned alongside words like "genius" and "obsessed", it is unlikely to hear it beside "complacent" or "patient".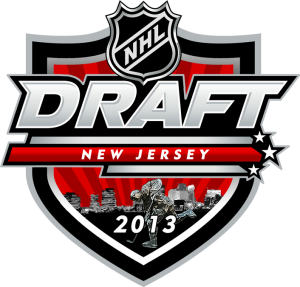 Feeling the "Blue"line pinch….
Even with the salary cap going down to $64.3 million next season, the Devils will have over $24 million to play with. After the widely-assumed buyouts of fading defensemen Henrik Tallinder and Anton Volchenkov, that number could increase to $32 million. Most pundits expect the team to re-sign longtime Devil Patrik Elias to a cap-friendly deal and then vie for UFAs Marek Zidlicky and David Clarkson. RFAs Jacob Josefson and Andrei Loktionov will get slight raises and RFA Adam Henrique will get a significant bump in salary. After all of that is done, the Devils should have at least $15 million to play with in the free agency/trade markets.
It has been mentioned here that it is a good bet that the Devils will make offers to UFA C Stephen Weiss and UFA RW Nathan Horton, both former players for head coach Peter DeBoer in Florida. Both forwards are extremely talented, but coming off injury plagued years which might slightly diminish their value on the open market. As for the impact defenseman New Jersey covets? Never shy about trading at on draft day, it would not be surprising to see the Devils make a deal.
What Defenseman Could The Devils Get In The Trade Market?
Lamoriello built his three Stanley Cup Champions from the backline forward. Scott Stevens and Scott Niedermeyer are both legends, among the best players at their position in the history of the game. Ken Daneyko's heart and defensive acumen anchored the team for more than two decades. Brian Rafalski's skill and tenacity were superlative.
Last year, the blueline was an Achilles heel. Though Bryce Salvador's leadership and defensive play are unquestioned and Andy Greene is a solid two-way player, they are far from top-pairing options by today's NHL standards. Likely to be bought out, Henrik Tallinder and Anton Volchenkov both are fading before our eyes. Adam Larsson and Jon Merrill are both huge talents for the future, but Larsson is still learning the trade and Merrill will not debut until next season.
The Devils need an impact defenseman, plain and simple. But who is available? The first name to come to mind is certainly Dustin Byfuglien of the Winnipeg Jets. Widely rumored to be available on the trade market, "Big Buff" is a 6'5″ 250 pound monster who plays the physical game with brutal authority and scores at an elite level for a rearguard. His size, talent, skating ability and intensity are exactly what the Devils need to invigorate their lackluster blueline, but at what cost?
Byfuglien would certainly have many suitors and would not come cheaply. The Devils would likely need build a package around former first-round picks Jacob Josefson and Mattias Tedenby, perhaps sweeten the pot with last year's first rounder Stephan Matteau and a defense prospect (not named Jon Merrill — Alex Urbom? Eric Gelinas?) to get it done. It would be a huge cost, but would immediately give the Devils a 25-minute defenseman who could intimidate both in the physical game and on the scoresheet, something they have lacked for years.
Another possibility is Keith Yandle, widely rumored to be available by the Phoenix Coyotes, loaded on the blueline but lacking organizational talent at forward. An offensive force who is average defensively, Yandle's cost would be lower than Byfuglien's, but would still likely cost the Devils Josefson, Tedenby and either Urbom or Gelinas.
Will The Devils Trade Up At The Draft?
Okay, you heard it here first. The Devils are looking to trade up on draft day. Why? The facts: the Devils are loaded with defensive prospects, but they sorely need an impact forward in the prospect pipeline. The 2013 NHL draft is widely considered to be the most talent-laden since the heralded draft of 2003 (when the Devils traded up to get a guy named Zach Parise).
There are six "franchise" caliber forwards available in the draft. C Nate MacKinnon and LW Jonathan Drouin, teammates with the QMJHL's Halifax Mooseheads are both future annual competitors for the NHL scoring title. Finnish center Sasha Barkov is a future two-way force, already an impact player at age 17 playing with grown men in Finland's elite league. Sweden's Elias Lindholm and the OHL's Sean Monahan both project to impact two-way centers, while Russian Valeri Nichushkin has been compared to NHL studs Thomas Vanek and Taylor Hall.
The Devils pick ninth overall. With Jones the surefire top pick and six elite forwards available, the Devils would need two more defensemen among the highly touted trio of Darnell Nurse, Nikita Zadorov and Rasmus Ristolainen to be taken by the eight teams ahead of them to have a chance to nab one of the franchise forwards they covet.
How The Draft Could Go
1)Colorado: D Seth Jones: It is a slam-dunk that the Avalanche take the franchise defenseman they need, who also has ties to the organization through his father's friendship with Joe Sakic.
2)Florida: C Nate MacKinnon: Though they could also take Patrick Kane-clone Jonathan Drouin, it seems more likely that they go for MacKinnon, who is generally rated slightly higher by scouting services and plays the more vital position of center.
3)Tampa Bay: LW Jonathan Drouin: Though they really need defense in the organization, Drouin would be the best player available here and a future point-producing sidekick for Stephen Stamkos with Martin St. Louis nearing 40. If the Panthers go with Drouin, McKinnon would be a no-brainer.
4)Nashville: C Sasha Barkov: The Predators have lacked a true number one center since their inception. Barkov not only plays the two-way game the Preds demand, but also would give them an Eric Staal-like presence in the middle.
The top four picks seem a certainty. Although the order could skew slightly,one can bet these four kids will be gone by the time the fifth pick rolls around. The ensuing four picks are open to a great deal more debate.
5)Carolina: D Darnell Nurse: A future banger who can also produce on the scoresheet, Nurse is of the Phaneuf/Byfuglien mold. Carolina lacks defensive depth in their pipeline, and set at center for years with the Staal brothers, will go for either a defenseman or winger. It would not be shocking to see them go for Nichushkin with this pick, as some draft pundits have predicted.
6)Calgary: C Elias Lindholm: The Flames have lacked a true #1 center since the days of Gilmour and Nieuwendyk, and Lindholm could be the next Nicklas Backstrom. Monahan is also a possibility here.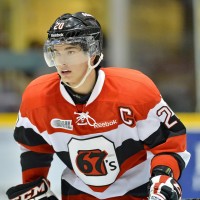 7)Edmonton: C Sean Monahan: Though many predict the defense-hungry Oilers will go for a blueliner here, there prospect pool is flooded with d-men. The signing of Justin Schultz just added to an already talented group of Oscar Klefbom, Martin Marincin and David Musil. What they lack is a two-way center with size, and Monahan is reminiscent of a young Rod Brind'Amour. It is possible that that the Flames take Monahan sixth, which would flip-flop Lindholm to the Oil with the seventh pick.
8)Buffalo: LW/RW Valeri Nichushkin: A huge and tremendously talented player, were his last name "Smith" he might have been taken second overall. But with Buffalo in full re-build, they won't mind waiting a couple of years for this future scoring stud to fulfill his obligations in the KHL. If Carolina takes Nichushkin, it would not be surprising to see the Sabres take Nurse here, as they also need future help on the blueline and have a second first-round pick at #16 overall to use on whatever position they don't use here.
What Then For The Devils?
In this scenario, the Devils would miss out on the franchise forward they covet and need. They could take the best player available, which would amount to a coin-flip between physical, two-way defensemen Nikita Zadorov and Rasmus Ristolainen. Or they could take the best forward available, the boom/bust offensive winger Hunter Shinkaruk, extremely talented with the puck but questionable without it and lacking top-end speed.
The best option might be to trade up in the draft.
Tampa Bay might be willing to move their third overall pick. Loaded with offense, their blueline was atrocious last-year and they have nothing in the pipeline to help right away. The Devils, loaded with NHL-ready defense prospects, could offer the Lightning a choice of two of Alex Urbom, Eric Gelinas and Brandon Burlon along with their ninth overall pick. Any of the aforementioned prospects would have a place on the blueline of the 2013-14 Lightning and then Tampa could use the ninth pick to get a choice of defensive studs Zadorov or Ristolainen. The Devils could then get their choice of Drouin/McKinnon or Barkov, giving them a franchise talent to pair for several seasons alongside their superstar winger Ilya Kovalchuk.
The other option could be trading up to Edmonton's seventh overall pick. Loaded with talent in their prospect ranks, the Oilers have no clear positional need there but could sorely use defensemen now. One of Urbom, Gelinas or Burlon could be enough to sway the Oil to move down two spots, which would give the Devils a clear shot at whichever one of franchise centers Lindholm or Monahan the Flames pass on with the sixth pick, or perhaps the Devils might choose Nichushkin if he falls past Carolina.
The Draft Is In New Jersey, After All
Lou Lamoriello, above all things, is a winner. He has transformed the New Jersey Devils franchise into that image. Were it not for his successes as General Manager, the 2013 draft would likely not be occurring at the Devils' beautiful new home of the Prudential Center because, quite simply, the New Jersey Devils would likely be playing somewhere besides New Jersey.
As you read this, Lamoriello is likely still stewing over his team missing the 2013 NHL post-season, and likely plotting how to change that for the 2014 post-season and for several playoffs to come. Lamoriello has traded picks in the first round before, resulting in the great successes of Martin Brodeur and Zach Parise and Travis Zajac. The 2013 NHL draft not only takes place in his home digs, but it also offers him the rare opportunity to trade for help now and draft a franchise player for the future. With his brilliant career entering its home stretch, you can bet your head he'll get it done.
Thoughts? Aesthetic criticisms? Use the comment section below or follow me in Twitter-land: @StIves72
Writer/lunatic, hockey columnist, mlb.com, aspiring cryptozoologist, estrogen addict, patron saint of vertigo, unintentional ghost hunter. Brooklyn, New York