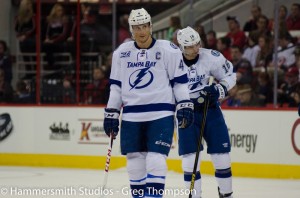 One of the more controversial additions to the new NHL collective bargaining agreement, the league will allow all 30 teams to correct past contractual mistakes by offering them two buyouts over the ensuing two off-seasons. With the NHL salary cap shrinking from over $70 million this season to a reported $64.3 million next year, these amnesty buyouts are likely to flood the next couple of free agent markets with both top NHL-ers their teams simply cannot afford under the reduced cap ceiling (Marian Hossa, Brad Richards) and horrible contractual disasters of yesteryear (Rick DiPietro, Rick DiPietro, Rick DiPietro).
Here are the possibilities for amnesty buyouts among the Eastern Conference teams: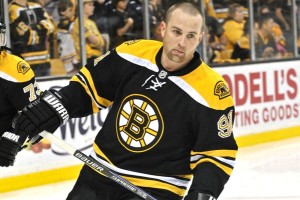 Boston Bruins: $56.6 million committed to 16 players
Who? C Mark Savard, owed $4 million per through 2016-17
Why? Savard's career is over, the unfortunate victim of one of Matt Cooke's myriad on-ice assassination attempts. With post-concussion syndrome likely ending his fine but abbreviated career, Savard's contract is an albatross on Bruins GM Peter Chiarelli's effort to get his perennially contending Boston squad under the salary cap.
Buffalo Sabres: $50.5 million committed to 15 players
Who? LW Ville Leino, owed $4.5 million through 2016-17
Who? RW Drew Stafford, , owed $4.o million through 2014-15
Why? Well, with Leino, because it's one of the worst contracts given in recent memory. Since signing his fairly huge deal with Buffalo, he has played like a fourth liner… in the AHL. Leino's amnesty buyout is the biggest no-brainer of any player not named "Rick DiPietro". Stafford is basically a solid third-liner who can go on the occasional hot goal-scoring streak, but the Sabres already have a superior RW in Jason Pominville and a hot RW prospect ready to join the big club next year in Joel Armia. Buffalo GM Darcy Regier will also give a long hard look at the contract of Tyler Myers, the 2009-10 Calder Trophy winner whose game has declined steadily in every season since. Myers earns an ungainly $5.5 million through 2019, but with his rare combination of size and skating ability, it is likely that he could still earn Buffalo some valuable assets in return were he dangled on the trade market.
Carolina Hurricanes: $51.7 million committed to 17 players
Who? C/RW Tuomo Ruutu, owed $4.75 million through 2015-16
Why? It's difficult not to love Ruutu's game, he plays hockey like a rabid bowling ball on skates and can also contribute on the score-sheet. Still, he is missing this year due to hip surgery and his history is marred by injury problems, possibly due to the fearless nature of his playing style. Freeing himself of Ruutu's contract will allow Carolina GM Jim Rutherford more free cash to attempt to re-up impending UFA Alex Semin with a multi-year deal.
Florida Panthers: $43.9 million committed to 16 players
Who? RW Scottie Upshall, owed $3.5 million through 2014-15
Why? The Panthers have tons of room under the cap and are not desperate to make any more, but let's face it. Once a 6th overall draft pick (Nashville, 2002), the injury-plagued Upshall has amassed just 13 points since 2010. That will not do.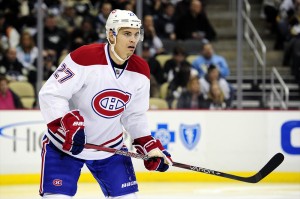 Montreal Canadiens: $52.3 million committed to 17 players
Who? RW Rene Bourque, owed $3.33 million through 2015-16
Why? Though Bourque has rebounded some this year from last season's 24-point, minus-19 debacle, his contract is something of a big commitment for a guy who has been plunging down the Habs' depth chart like a brontosaurus in the La Brea tar pits. Okay, that was an analogy I'll very soon regret, but the emergence of Brendan Gallagher and Max Pacioretty combined with existence of Brian Gionta and Michael Ryder precludes the chances of Bourque getting significant time on a scoring line. Factor in the imminent arrival of Habs' stud wing prospects Danny Kristo and Sebastian Collberg, and Bourque has become a dinosaur in the Habs' imminent future and dead weight against their salary cap.
New Jersey Devils: $38.9 million committed to 15 players
Who? G Johan Hedberg, owed $1.9 million through 2013-14
Why? Probably the smallest contract on this list, but "Moose" Hedberg will be 40 years old by season's end and his game has seriously struggled this season. To wit, backstopping the same Devils team, Hedberg is 5-7-2 while (the already 40 year old) Martin Brodeur is 8-2-3. Next season is likely to be Brodeur's finale, and GM/resident genius Lou Lamoriello is certain to spend a great deal of his off-season attempting to acquire a young netminder (Jonathan Bernier? Robin Lehner?) to split time with Marty in 2013-14 with an eye on taking over the starting gig in 2014-15. Hedberg is one of the best guys in the NHL and is revered in the Devils' locker room, but his career is winding down and with his bright hockey-mind he has a bright future in coaching. Lamoriello will then use his ample salary cap space to attempt to re-sign impending UFA forwards Patrik Elias (likely at a hometown discount) and David Clarkson (likely not at a hometown discount).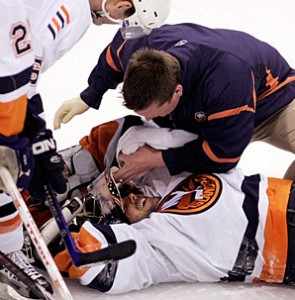 New York Islanders: $28 million committed to 11 players
Who? Um, if we even need to mention this one you haven't been paying attention to hockey in awhile.
No, really. Who? G Rick DiPietro, owed literally tons and tons of money for, like, eternity or something
Why? The question is, after the 2005-06 season, why did the Islanders brass think it wise to sign DiPietro to a 15-year, $67.5 million extension? Granted, DiPietro showed promise at that point, but was far from the goaltending elite and still contractually under team control. The fact is, more was invested in DiPietro by the Isles than  for any one player by any one team in the history of hockey. Prior to the 2000 NHL entry draft, the Isles had a bright future and the best goaltending prospect in the game in a kid named Roberto Luongo. Then-GM Mike Milbury fell in love with DiPietro, not in a good way but in a Helen of Troy way, and the rest is tragic Long Island history. Milbury infamously shipped off not only Luongo but also Olli Jokinen (who went on to score 173 goals(!) in the ensuing five seasons) to Florida for a bag of chips (Mark Parrish) and a bag of gravel (Oleg Kvasha), so he would have the right to draft DiPietro instead of Marian Gaborik (664 career points and counting) or Dany Heatley (755 points and counting, just not as fast anymore). Meanwhile, in the seven years since he signed his monstrous and hideous extension, DiPietro has totaled just 72 wins, which is 20 fewer wins than Martin Brodeur notched in the first two years of DiPietro's contract. Quite simply, the DiPietro contract is among the worst in not only hockey history, but in professional sports history. The Islanders do not need to use an amnesty buyout so much as they need an exorcist and a time machine.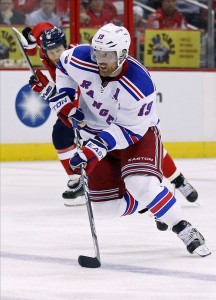 New York Rangers: $53.4 million committed to 17 players
Who? C Brad Richards, owed $6.67 million through 2019-20
Why? This move is going to seriously pain the New York Rangers and GM Glen Sather to make, but their backs are up hard against a salary cap wall. They have three very good young players approaching restricted free agency in the off-season in Ryan McDonagh, Derek Stepan and Carl Hagelin. Signing the three will likely bring them right up against the $64.3 million cap ceiling with three roster spots still to be filled. Speaking of Stepan, he has usurped Richards as the team's top center in 2013. It is difficult to say that a very good Richards is expendable, but he is the least integral to the Rangers' success of all the team's big-contract stars. Expect the veteran pivot to be bought out, at which point the Rangers will seek to fill his formidable skates with a lesser-priced free agent option capable of playing big minutes up the middle, such as Stephen Weiss.
Ottawa Senators: $40.5 million committed to 17 players
Who? NONE
Why? The Sens have plenty of cap room, no discernibly bad contracts, a terrific prospect pipeline en route, and a terrific future ahead of them.
Philadelphia Flyers: $61.3 million committed to 18 players
Who? D Chris Pronger, owed $4.94 million per through 2016-17
Who? C Danny Briere, owed $6.5 million per through 2014-15
Why? The Flyers may have the toughest cap situation in the NHL. With just $3 million under the cap and two roster spots open, they simply would not be able to improve a team which looks unlikely to make the playoffs in 2013 without trading assets off their roster. The Pronger decision is as easy as it is unfortunate — his career is likely over prematurely due to injury. Briere, the Flyers' best forward in the playoffs the past few years, is a tougher roster cut. As valuable as he is to Philly, Briere's contract hit is huge and someone needs to go if the Flyers are to address their beleaguered blueline.
Pittsburgh Penguins: $53.7 million committed to 16 players
Who? D Paul Martin, owed $5.0 million per through 2014-15
Why? Following the 2013-14 season, Evgeni Malkin, the best forward not named Sidney Crosby in the world, is scheduled to become a free agent. In addition, Kris Letang, the top offensive defenseman in the world not named Erik Karlsson, is also headed for free agency. The Penguins need to lock those two superstars up as quickly as possible, and Martin, overpaid at $5.0 per though solid, is likely to become that sacrificial lamb. Fortunately for Pens fans, they have two top prospects ready to step in on the blueline in Simon Despres and Olli Maata.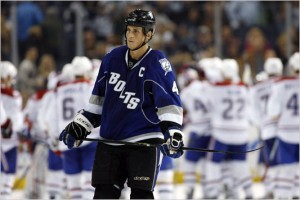 Tampa Bay Lightning: $57.7 million committed to 16 players
Who? C Vincent Lecavalier, owed $7.7 million per through 2019-20
Why? Lecavalier is no longer a number one center, especially on a team with Steven Stamkos, but he is sure as heck paid like one. Owner of one of the largest contracts in the NHL and with the Lightning facing an off-season cap calamity, it is a no-brainer that Lecavalier will be an amnesty buyout. :: cue sound of French-Canadian sports media shrieking like 12 year olds at Bieber concert ::
Toronto Maple Leafs: $47.2 million committed to 13 players
Who? D J-M Liles, owed $3.875 million through 2015-16
Who? C/RW Mikhail Grabovski, owed $5.5 million through 2016-17
Why? New Leafs' GM Dave Nonis wants a number one center, badly. He also wants a shiny, new Corey Perry. Badly. This is going to take some money. It would not be surprising to see the Leafs offer close to $10 million per year for Perry and then go hard after a highly-paid top-line center in the trade market, such as Colorado's Paul Stastny or San Jose's Joe Pavelski. Liles is simply an offensive-minded defenseman who does not provide much offense unless we are talking about Leafs fans taking offense to his spotty play in the defensive zone. The Leafs will shop him at this year's trade deadline, but are unlikely to find any team daft enough to take on his bloated contract. Grabovski is a solid contributor, but he is the highest paid Toronto forward and lacks the star power to justify $5.5 million a year through 2017.
Washington Capitals: $49.2 million committed to 15 players
Who? NONE
Why? Caps GM George McPhee has a host of problems this season, but thankfully none of them is being saddled by ungainly contracts. That is, unless you are one of the Ovechkin-haters club working on NBC hockey broadcasts. Expect McPhee's biggest concern over the off-season to be getting prodigal center prospect Evgeny Kuznetsov to leave the KHL for the NHL, so that NBC's Russian-baiting Pierre McGuire can ream into him for no apparent reason before a live television audience.