It's a painful thing to declare a proud franchise "mediocre." It's even worse when you feel like that may be overselling them.
Sure, the Flyers have dealt with their share of adversity. Andrej Meszaros finally returned to action for his 5th game of the season. Scott Hartnell missed a significant amount of time with a broken foot. Matt Read and Danny Briere each missed some time.
Big deal. Injuries happen in hockey.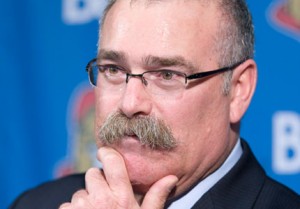 The injuries the Flyers have dealt with pale in comparison to what a more successful team, the Ottawa Senators, have faced. They're only missing Erik Karlsson, Jason Spezza, and Craig Anderson. That's their best defenseman, forward, and goaltender – gone. I can't imagine how bad the Flyers would look in multiple games without Claude Giroux, Kimmo Timonen, and Ilya Bryzgalov.
Ottawa has gone 3-2-2 in the 7 games since February 22, the day Anderson went down to complete their trifecta of woe. The Flyers have gone 3-4 while getting healthier.
The monumental collapse in the Wells Fargo Center against Pittsburgh wasn't as shocking as it should have been. When good teams have 3-goal leads, there's a confidence that shows as they continue to dictate the pace of the game. Against the Penguins, the Flyers lost control of the flow of the game from the opening faceoff of the second period.
The Flyers were expected to come out with more "jam" and redeem themselves against a strong Bruins team, but there wasn't any to be found in the midst of a 3-0 shutout loss. Allowing 3 goals in less than 3 minutes is a massive breakdown – even good teams suffer those from time to time – and a difficult pill to swallow. But contenders continue to battle, not go away quietly. Effort from a Philadelphia team isn't something that should ever be questioned.
Nobody's afraid to play the Flyers. Sure, every now and then their offense will score in bunches, but teams know they can score right back. And if they have a lead going into the second period, the Flyers are seemingly incapable of battling back – they are now 0-9-0 when trailing after the first period.
It's maddening to think that a team that's fairly stocked with firepower has yet to mount a comeback facing a deficit after the first period.
With Matt Read back in the lineup, the Flyers have good offensive depth. A third line with Read and Simon Gagne on the wings is pretty dangerous as far as third lines go.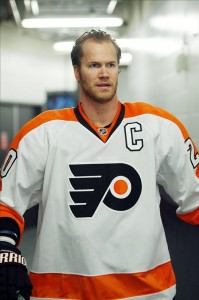 However, defense wins games – and the defense hasn't shown up often enough. They continue to give glorious scoring chances to opposing teams, who continue to convert them. The Flyers have allowed 8 more goals than they've scored over halfway through the regular season.
People will be tempted to chalk this up to Ilya Bryzgalov. Once again, his SV% has dipped below 90%. But do you really expect him to stop 9 out of every 10 attempts when they're breakaways and odd-man rushes? Only a few elite goalies will. I love Bryz, but the most elite part of his game is his contract.
In the Atlantic Division basement after 26 games – that's right, beneath the New York Islanders in the standings – the Flyers need a wake-up call. Firing Peter Laviolette would surely shake things up, but I doubt it would improve their record. The more likely scenario is that Paul Holmgren tries to conjure up a fix via trade before the heat starts to come down on him.
And I think the coast is clear to call their offseason moves a bust. Luke Schenn still looks like he could eventually become a shutdown defender, but James van Riemsdyk is already thriving in Toronto. I can't look at Ruslan Fedotenko without grumbling about how the Flyers could have signed Peter Mueller for a fraction of the price. Bruno Gervais is back to being a healthy scratch, but at least he was a solid low-cost addition.
The Flyers could attract some suitors with their crop of talented young forwards. Brayden Schenn and Matt Read, perhaps. Jakub Voracek has performed so brilliantly that he won't be going anywhere.
The other name that got tossed around in the offseason for players like Shea Weber and Rick Nash was Sean Couturier. His play in Game 2 of the first round in 2012 against Pittsburgh blew his stock through the roof. As a 19-year old in his second postseason game, he scored 3 goals and an assist while defending Art Ross winner Evgeni Malkin.
That Sean Couturier is certainly untouchable. But that version has been largely absent this year, though he's not likely to break out offensively like people have hoped playing 10:40 in a 4th line role with Max Talbot and Zac Rinaldo, like he did Saturday against Boston. If he could still be a major piece in a potential deal for a top-pairing defenseman, the Flyers are doing an awful job of showcasing him.
Losing isn't something that will continue to be tolerated by the organization, and the Flyers don't exactly "rebuild." They make changes during the season and not only expect to compete, but expect to win.
Whatever action they choose needs to happen soon. In a week full of measuring sticks, the Flyers fell painfully short.