This week, the hockey world was robbed of one of its brightest young stars when Matt Cooke sliced Erik Karlsson's achilles tendon with his skate while delivering a hit from behind. Karlsson's season is finished, and it is a pertinent question as to how long it will take, if ever, for Karlsson to recover the electrifying skating ability which made him the NHL's most exciting offensive defensemen since perhaps Nicklas Lidstrom in his prime.
The recently suspension-happy NHL decided not to levy any additional punishment on Cooke. This despite Cooke's status as being notorious in hockey circles for dirty play which has previously resulted in the end of Boston Bruins' all-star Mark Savard's career, due to a vicious elbow to the head in 2010. The NHL apparently based their decision on the fact that Cooke was looking the other way when his skate chopped down on Karlsson's ankle, prompting Ottawa Senators' owner Eugene Melnyk to state that Cooke should be "kicked from the NHL".
In an eloquent article for the Hockey Writers, Pittsburgh columnist Justin Glock argues that Cooke should not be suspended for Karlsson's injury: https://thehockeywriters.com/did-matt-cooke-slice-erik-karlssons-achilles-tendon-on-purpose/ While I respect the rhetoric of his opinion, I am forced to disagree with Mr. Glock. I have spent a large chunk of time watching film of a multitude of NHL players hitting other players into the boards, and have yet to find a single instance where the hitting player's skate left the ice and came down upon the leg of another player. It is a very awkward and quick play, but Cooke's skate is clearly raised for no apparent reason and then comes down with extreme force on the back of Karlsson's leg.
In the NHL, if a player inadvertently lifts his stick and it makes contact with an opposing player in the face, he is assessed a penalty. This is regardless of any sort of intent. Simply put, a hockey stick is a dangerous weapon, and players are rightfully held accountable for their location. I ask, is a skate not also potentially dangerous? Clearly, in Karlsson's case, Matt Cooke's skate was quite perilous to be around.
Personally, I agree with the Ottawa brass that Cooke has no place in the NHL. His consistent and blatant disrespect for other players' well-being has been re-proven time and time again. Yet it is impossible to prove his intent in the Karlsson injury. What is absolutely evident is that his use of his skate was irresponsible and resulted in a severe injury to one of the finest hockey players on the planet. For that, and as a multiple offender, I believe that Cooke should have been suspended for the remainder of the season, including playoffs.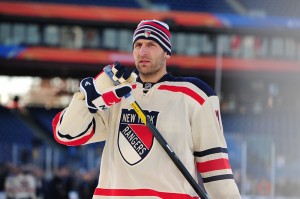 The Rangers may lack toughness after Rupp trade
Critics of hockey often ask why fighting is allowed to subsist in the NHL when it is a suspension-worthy offense in other sports. Defenders of the NHL often counter that the existence of fighting forces players to be held accountable for their on-ice actions. Quite simply, if a player slashes our stars, he's going to have to drop the gloves with our tough guy.
In the case of Cooke, this is unlikely. He will not drop the gloves with the Senators' tougher players, because he does not have to. He can simply skate away. If a Senator drops the gloves and Cooke does not, the Senator will be assessed a penalty. And Cooke has been notoriously unwilling to drop the gloves since being knocked out in one punch when trying to goon up Evander Kane a few seasons back.
This leaves it up to the league brass to police the players, but their failure to levy a severe suspension against Cooke proves that, once again, they are failing to protect their own stars.
In their desire to load their roster with talent and take a run at the Stanley Cup, the Rangers lost two tough players in Brandon Prust and Mike Rupp. If Matt Cooke, allowed to once again run rampant by the NHL, decided to chop his skate down on the ankle of Rick Nash or Marion Gaborik, would the Rangers be tough enough to dissuade him?
There is a strong possibility of a Rangers/Penguins match-up in this year's playoffs, as both teams boast elite talent on their rosters. Matt Cooke has proven multiple times that, to him, winning is more important than the well-being of his competitors. With the NHL again lax in policing the league, the teams may have to stock up with tough players to police themselves and protect their stars from the type of injury which Erik Karlsson unfortunately incurred. Unfortunately, after losing Prust and Rupp, only Aaron Asham remains on the Rangers' roster to intimidate the opposition from such actions. Though it should be the NHL's job to protect top players from the Matt Cookes of the world, the Rangers unfortunately may have to consider acquiring some tough players to protect their own stars.
Quick Hits (Around the NHL)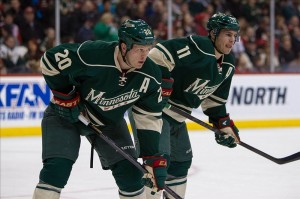 — During Ryan Suter's greatly ballyhooed free agency this past off-season, more than one critic in the hockey media insinuated Suter would be lost without his long-time defense partner in Nashville, Shea Weber. Yet, 15 games into his season Weber just has three points while Suter is about on his normal pace with eight points in 14 games. It's quite possible that Weber misses Suter more than the other way around.
— The Chicago Blackhawks look just about invincible right now, yet to lose in regulation 15 games into the season. Jonathan Toews has become perhaps the best two-way forward in the NHL, and Patrick Kane just might be the league MVP thus far this season. A great column on Kane and the Blackhawks by Randy Holt can be found on our site: https://thehockeywriters.com/blackhawks-patrick-kane-finally-reaches-superstar-status/
— Anders Lindback put up some very solid numbers as the back-up netminder in Nashville the past two seasons, and many thought his off-season acquisition would make the Tampa Bay Lightning a major player in the Eastern Conference playoff picture. Unfortunately, Lindback has been pretty porous thus far between the pipes, and it seems possible that he will join a long line of goalies to thrive in the Predators' defense-first system and then struggle elsewhere: Mike Dunham, Dan Ellis, Chris Mason, et al. Is it possible that Pekke Rinne's amazing statistical lines the past couple of seasons are also partially attributable to the Nashville system?
— Due to over a decade of on-ice futility, the Islanders are rarely featured on national hockey broadcasts. Sadly, hockey fans are missing out on the sublime play of John Tavares, who has become one of the top players in the NHL. I watched the Isles-Devils game on Saturday, and Tavares single-handedly defeated the defending Eastern Conference champs with the best single-player effort I have seen by a skater all year. Tavares will certainly be a major player for Team Canada in the 2014 Olympics, something you can read about in my upcoming series of preview articles for the 2014 Sochi Games right here on thehockeywriters.com.
Writer/lunatic, hockey columnist, mlb.com, aspiring cryptozoologist, estrogen addict, patron saint of vertigo, unintentional ghost hunter. Brooklyn, New York