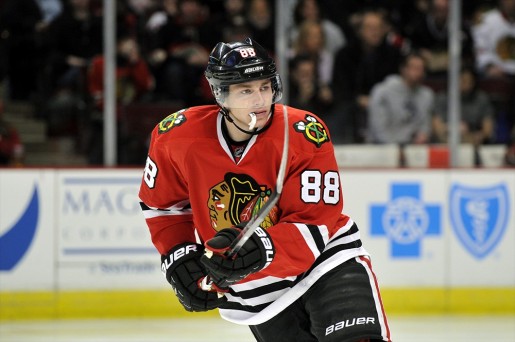 The Chicago Blackhawks are the best team in the NHL. There's no disputing that, given that they have yet to lose a game in regulation. Several elements have come together to allow them to get off to that scorching start this season.
Of course, one of the main ingredient in all of this has been the play of Patrick Kane. At this point in the season, he has to be the lead candidate in the Hart Trophy discussion. This is the Patrick Kane that we have all been waiting for.
Kane's 20 points in 13 games are second in the league, trailing only Thomas Vanek. Even more important than the point total is the way in which Kane has actually played this year. It's miles better than the version we've seen in the past couple of seasons.
The Hawks knew they were getting a premier talent when they drafted Kane no. 1 overall back in 2007. But while Kane has had a couple of very fine seasons, he hasn't really taken that leap to superstardom that was expected of him. Which led to those hilarious rumors involving Kane and Ryan Miller.
Last year was particularly frustrating for Kane. He finished with a career low 66 points as the Hawks struggled to maintain any sort of consistency. The fact that 66 points was considered "disappointing" indicates just how high expectations are for him. It's easy to forget that the kid is still only 24.
This year has been an entirely different story. We're seeing a Patrick Kane capable of taking over a hockey game. There are a couple of different reasons for that.
The main one credited for his turnaround is the fact that he played in Switzerland during the lengthy NHL lockout. That stint is credited with helping him to develop some much-needed maturity, as well as improving his conditioning by miles. If there's a way to get him to play in Switzerland every offseason, Hawks fans would surely take it.
He's also not trying to do too much with the puck, like he did last season. He's keeping it simple, even if it looks more complicated by everyone else's standards.
This version of Patrick Kane is unlike any other we've seen before. He has taken his game to the next level and been simply dominant. If he can maintain anywhere near this current level, he's going to take multiple types of hardware home with him this year.