The Washington Capitals (5-8-1) head to Madison Square Garden tonight for a matchup against the Eastern Conference favorites, the New York Rangers (7-5-1). Tonight's game marks the final stop of a three game road trip by the team from the nation's capital, as Washington look to sweep their first three game road swing since 2000.
The Capitals will be without smooth skating defenseman Mike Green, as John Carlson will likely see time on Washington's first power play unit. Defensive prospect Tomas Kundratek, who has four points and a minus seven on the season, will likely man the point on the Capitals second power play unit. Kundratek averages 13:06 minutes of ice time per contest.
"He scored a lot of goals in Hershey playing in Ovi's spot," head coach Adam Oates said this morning of Kundratek. "He's backing Ovi up and obviously fits in our terms of the right [handed] shot defenseman, how we like it. We're very confident in him."
Braden Holtby (4-4) will start in goal for the Capitals, as he looks to continue his hot play in net. The 23 year old net minder has lowered his goals against average from once above five to 3.89 heading into his ninth game in net this season. His counterpart Michal Neuvirth (1-4-1) holds a 3.05 goals against average and .889 save percentage, clearly better than Holtby, but head coach Adam Oates continues to ride the hot hand in net as Washington looks to stay in the playoff race.
"That's the hardest part of the game," center Mike Ribeiro told Capitals writer Mike Vogel. "Once you come into your own zone and stop and get into position, a lot of times we over-backheck or we swing away or stuff like that. It's still a detail of the game that we need to do, especially in our zone, come back and stop in position and go from there."
Shutting Down Rangers Top Line
Washington faces one of the best top lines in the NHL tonight, potentially having the challenge of shutting down forwards Rick Nash, Brad Richards and Marian Gaborik. The highly talented offensive trio has combined for 32 points on the season, with Gaborik leading the team in goals with seven on the season.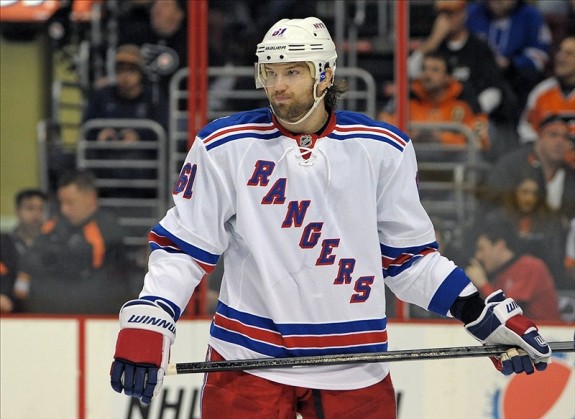 Defenseman Karl Alzner and Mike Green's replacement Tom Poti will likely face the task of shutting down the Rangers best forward line. Alzner is fourth in plus-minus for Capitals defensemen, holding a minus one along with one goal in 14 games this season. Poti is excited to get back into the lineup, as tonight will mark only his fifth game on the season.
"I'm pumped," Poti told the Washington Post. "It'll be fun to get back in playing some games and having some fun."
The Capitals blue liners must shutdown the Rangers secondary scoring as well, highlighted by speedy forward Carl Hagelin who is fourth in scoring for New York, with five goals and three assists. Center Derek Stepan is also a dangerous weapon for the Rangers, holding six points on the season to go with a plus five rating when on the ice.
Special Teams Play
Today's game will feature two man advantage units that are heading in different directions, as the Capitals enter at a 27.1% clip, good for fifth in the NHL, and the Rangers power play is last in the NHL with a 10.4% rate on the man advantage.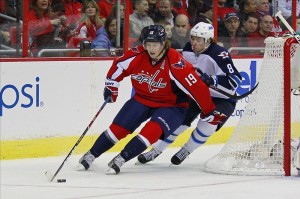 Washington's power play must convert against one of the best defensive teams in the league. The Rangers penalty kill enters at 83%, 12th in the NHL, but they are one the best teams at shot blocking. The Capitals must make precise passing plays while on the man advantage to avoid odd man rushes from New York's speedy forwards on the penalty kill.
Forward Mike Riberio leads the Capitals in scoring with 14 points on the season, and is tied with Alex Ovechkin for power play goals with four on the season. The top power play combination will likely include forwards Alex Ovechkin, Nicklas Backstrom and Troy Brouwer along with Riberio. This game could be a very close contest, and could determined by special teams.
Washington's penalty kill has struggled overall this season, but have killed off nine straight penalties. Washington has gone shorthanded only 22 times in their last seven games. Staying out of the penalty box will be critical to maintain pressure on Rangers goalie Henrik Lundqvuist.
Loose Pucks
 Capitals defenseman John Carlson will play in his 200th career NHL contest today
 The Hershey Bears travel to New York today, facing off against the Rochester Americans
You can follow Matthew Speck on Twitter @m_speck and email him at mspeck21@yahoo.com with any questions or comments.