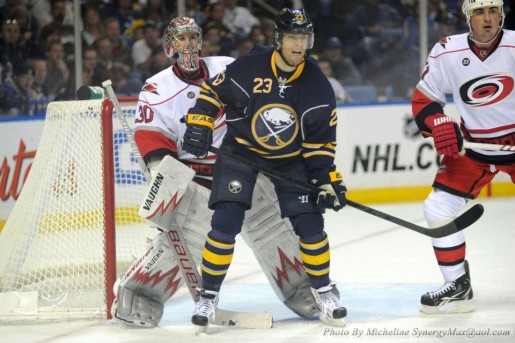 You have to guess that GM Darcy Regeir is thinking of asking Buffalo Sabres fans and his boss Terry Pegula for a mulligan on the Ville Leino contract.   In the silly season of July 1st Ville Leino was signed to a mystical 27 million dollar deal over 6 years.  Here is the announcement on WIVB TV.  Note how happy Regeir looks at the signing and then take a second and ponder how happy he is right now.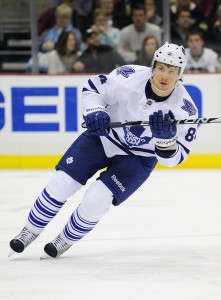 As we saw recently with the signing of Mikhail Grabovski in Toronto for 27 Million over 5 years, it's often as much about who else is available as it is about what the player can bring.  The Maple Leafs and GM Brian Burke decided to keep Grabovski from becoming available because the summer free agent crop at center was dim.  Grabovski is a good comparison to Leino because the money is similar, but really that's where the comparison stops.  Grabovski is a center who will be tough to replace.  He's in his 4th full season with Toronto, he's on pace to match his point totals from a year ago despite playing less games and he's a plus 7 on the 3rd worst defensive team in the league.  Is Grabovski worth 5.5 Million a season? No.  Not yet.
Back to Leino, Prior to this season, the 29 year old Finn had only 73 career NHL points.  53 of those points came last year. But in his career, Ville Leino has never scored 20 goals.   In fact, until a week ago, Leino had only 4 goals this year.  Last weekend against Vancouver, he notched the first two of the game to help his club defeat the Stanley Cup Finalist Vancouver Canucks.  In doing so, Leino climbed all the way up to 290th in NHL goal scoring.  Let's face it hockey fans, Ville Leino has been a brutal disappointment and at a salary of 6 million for this season and a cap hit of 4.5 million for the next 5 years, if he continues to produce at these unbelievably low numbers, he will be run out of town.
Attempting to not discount the displeasure that Sabres fans are enduring, I can say that all is not lost.  The Sabres find themselves embroiled in a playoff battle in which they are one of 7 teams vying for the final playoff spot.  The Sabres wouldn't even be in this place if it wasn't for the recent goaltending heroics from superstar Ryan Miller.  Their Top 7, per Yahoo Sports, which consists of Leino, Pominville, Roy, Vanek, Ennis, Stafford and Gerbe have combined for only 23 points in the past 9 games and yet they are 6-2-1 over that stretch with 13 of a possible 18 points.  It's time to turn that frown upside down Buffalo, especially for a hockey team who has the third lowest scoring totals in the Eastern Conference.  How hard would it be to play the Sabres if they could only score?
For a good read on playoff projections check out www.thehockeywriters.com editor Bob Mand's @BobmandBTR and click here for his full playoff projection.
But if Darcy Regeir brought Ville Leino to the Queen city for any reason, it was to give his Sabres more of a presence when the games matter the most.  That time is now.
Don't forget that it was Leino who scored the overtime winner in game 6 of the first round of last year's Stanley Cup Playoffs to even the series with Buffalo.  This was a goal that would eventually haunt the Sabres and their fans for the entire summer, as they were eliminated in Game 7.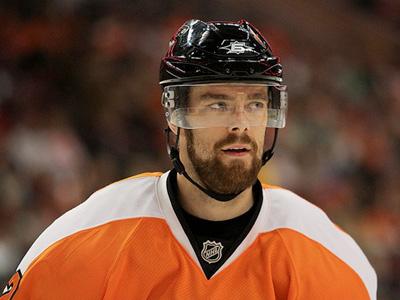 A season earlier, in the 2010 NHL Playoffs, Ville Leino who started as a healthy scratch, took the place of injured forward Simon Gagne and made the best of it.  He had 21 points in 19 games which were good enough for 6th in the league tied with teammate Claude Giroux.  The names in front of him tell the rest of the story.  They were: Briere, Toews, Kane, Richards & Sharp, all players that you would have no problem dishing out big cash for.  During that magnificent run where his Flyers just fell short of a Stanley Cup, Leino established or tied 3 playoff records for rookies, most notably was tying Dino Ciccarelli with most points in the Stanley cup playoffs for a rookie (21).
But in a city like Buffalo, where the fans have been stymied in recent years and kept from Lord Stanley's mug, the microscope is intensified.  Players who have expectations and perform such as Ryan Miller or to a lesser extent Tyler Myers are worshiped here.  But if Ville Leino continues to stumble along (5 points in his last 15 games) and the Sabres miss the playoffs, he may want to book the first flight out of town.
On the other hand, if they are able to push through and make the playoffs, the question Buffalo fans will be asking is "how many playoff games has Mikhail Grabovski played?"
See Ville Leino's Career Stats here
Twitter: @StonemanStephen | Email: stoneford@yahoo.com | Stephen's archive
For every Sabres article on THW, follow @THW_Sabres on Twitter.
Stephen is a writer for thehockeywriters.com covering the Toronto Maple Leafs and other Hockey Matters. Stephen attended Canadore College in North Bay, Ontario where he studied Broadcast Journalism and covered local sports for both Radio and Television. This included news coverage for the OHL's North Bay Centennials. In his personal time, Stephen blogs for his several fantasy hockey leagues.