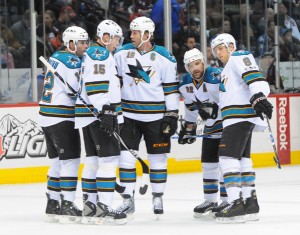 Fame and fortune is a magnet.
It can pull you far from home
With a dream in your heart, you're never alone.
Dreams turn into dust and blow away
And there you are without a friend
You pack your car and ride away.
"Do You Know the Way to San Jose?" — Dionne Warwick
Metaphors notwithstanding, the last thing the San Jose Sharks want is have their Stanley Cup dreams turn to dust and blow away, forcing them to pack their things and ride away. And yet, a dismal 4-10-3 stretch since early February is putting the team in jeopardy of doing just that.
Speaking of jeopardy, let's enjoy a rare Jeopardy semi-blooper to lighten the mood:
As of this writing, the Sharks sit 9th in the Western conference with 75 points, one point behind the Phoenix Coyotes and Colorado Avalanche and a potential also-ran for this year's playoffs. Before their February/early March swoon, they were 29-14-6, on pace to amass 107 points and secure a possible top seed in the conference. On the eve of tonight's critical Saturday evening game with division-rival Phoenix, they now have a 33-24-9 record, on pace for just 93 points. In recent history, that number has generally been right at the cut line for entry into the Western conference playoffs.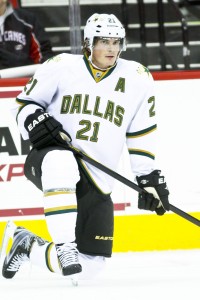 Amidst the uncertain, chaotic jostling for playoff positioning remains opportunity. The Sharks have games in hand on every other playoff rival, and Dallas' Pacific division lead over them is a slim four points. For that matter, every team north of the Edmonton Oilers in the standings still has a realistic chance to play their way in. The Pacific division crown is even further up in the air: the skidding Los Angeles Kings, just 6-9-2 since February 3rd and 11th in the 15-team conference, are still within five points of the divisional lead with fourteen games remaining.
"Perhaps we can just lay it on the line, go out and play," said Sharks' head coach Todd McLellan, summing their situation up rather succinctly. "We know there's only two options: play on or move on." Regarding his team's recent struggles, McLellan said, "We have some players that are under performing, some players that have to perform better. All teams at this point do." He continued by saying, "It's just who has the fewest, the ones that underachieve the shortest amount of time. You can't be perfect, no such thing as a perfect player or perfect game, you're going to make mistakes. It's just we've got to minimize it, shrink it up a little bit."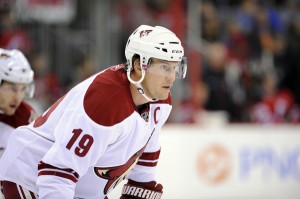 Tonight's game against the Coyotes kicks off a crucial three-game road swing through Phoenix, Edmonton and Calgary — three games in four days — that will go a long way toward determining the team's ultimate fate. San Jose is just a combined 2-2-2 this season versus the Coyotes and Oilers, although they are 2-1 against the Flames. The pathway to the playoffs is convoluted at best, an unusual position for a team that has earned no less than 99 points in any season since 2003-04.
A quick analysis of San Jose's remaining opponents is as follows:
Phoenix (March 10th, 24th and 29th): After a monstrous 12-1-1 stretch, the Coyotes have lost five straight games, scoring just nine goals in the process. Their temporary perch atop the Pacific having been toppled, they now sit 7th in the West with 76 points. After home games against San Jose and Nashville, a huge four-game road trip looms for Phoenix that could make or break their season. Counting tonight's game, San Jose still has three left versus the Coyotes.
Nashville (March 12th): With the trade deadline acquisitions of Hal Gill, Andrei Kostitsyn, and Paul Gaustad, along with rumors swirling regarding the possible addition of former Predator-turned-KHL-refugee Alexander Radulov, Nashville appears to be as dangerous of a team as there is heading toward the playoffs. A 6-3 record in their last nine, not to mention a dominating 32-10-3 overall mark since December 8th, puts an exclamation point on that characterization. Nashville is 5th in the West as of today with 85 points.
Calgary (March 13th): As stated above, the Sharks enjoy a 2-1 edge over the Flames so far this year. A quintessential bubble team, Calgary is 10th in the West with 75 points, having leapfrogged over Los Angeles with two straight wins.
Detroit (March 17th): The Red Wings are always an intimidating opponent, even when played in the friendly confines of the HP Pavilion. The Sharks have won two out of three versus Detroit so far this year; Detroit, with 91 points, is locked in a battle for the Central division lead with the St. Louis Blues.
Anaheim (March 19th and 28th): Left for dead after a 3-1 loss to San Jose on January 4th, the Ducks subsequently turned their season around, going 17-3-4 in their next 24 games. A recent 2-2 stretch has slowed their momentum, but the Ducks, no doubt buoyed by a 3-1 seasonal record versus the Sharks, represent a major obstacle in the way of the playoffs. Anaheim is 12th in the West with 68 points.
Los Angeles Kings (March 20th, April 5th and 7th): The Kings are a desperate bunch, falling far short of most pundits' predictions to this point in the season. The blockbuster trade for Jeff Carter has helped the offense, but it remains shockingly anemic considering the big names Los Angeles has in their forward ranks, not to mention former Norris finalist Drew Doughty. The Sharks have posted a 2-1 advantage over the Kings, who sit 11th in the standings with 75 points.
Boston (March 22nd): The reining Cup champions have been an uneven club since their seven-game winning streak in late December. However, they nevertheless remain the East's 2nd-seeded team with 83 points, three points up on the young Ottawa Senators with two games in hand. In their only previous encounter, San Jose skated away with a 4-2 victory.
Colorado (March 26th): The Avs secured a dramatic 3-2 shootout victory today over Edmonton, jumping over the Sharks into the 8th seed. San Jose is 2-0-1 against the Avalanche this year.
Dallas (March 31st, April 3rd): Perhaps as big of a set of games versus one opponent as any on this list, the Stars now find themselves alone in first place in the Pacific division with 79 points, seemingly in control of their own fate. However, storm clouds remain on the horizon for the Stars, not the least of which is San Jose's mastery over them this year, having gone 3-0-1 to this point in the season. The Sharks will take any seeding they can get, but winning the Pacific would go a long way toward salvaging what has to be considered an underachieving season considering the weapons — not to mention pedigree — the franchise has.