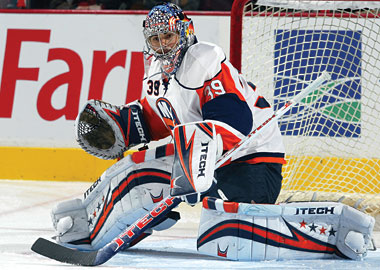 By now many Islanders fans have heard news of Rick DiPietro being waived, but that doesn't mean that some aren't questioning what the move will do for the team in the long run. In all likelihood, DiPietro will clear waivers and spend the rest of the 2013-2014 hockey season with the Bridgeport Sound Tigers of the AHL.
Some Islanders fans might be elated at the simple fact that DiPietro will no longer be playing on Long Island, but the move does have some larger implications for New York. While some might be wondering whether the Islanders will buy DiPietro out of his contract, the goalie's demotion opens up a slew of possibilities for the New York Islanders to consider in the long-run.
The Poulin Wall?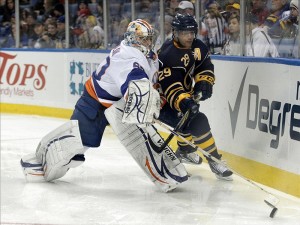 Kevin Poulin has had stints with the New York Islanders for the past two seasons, but the young netminder hasn't appeared in enough NHL games, so making an accurate prediction as to the backup's potential in the Isles' crease would be a bit foolhardy right now.
During the 2010-2011 NHL season, Poulin surprised many Islanders fans when he put up a 4-2-1 record for New York in ten games played. While Poulin put up very respectable numbers (2.44 GAA, .924 Save Percentage) with the Islanders in 2010-2011, the goalie suffered a freak injury (dislocated kneecap) during warmups and experienced a bit of a regression in terms of his numbers during the 2012-2013 hockey season. Poulin's numbers in 55 games between the Islanders and Sound Tigers weren't very appealing, but a part of that statistical decrease could certainly be attributed to getting back into the groove of hockey games after recovering from a dislocated knee.
Predicting statistics for goalies can be a bit of a crapshoot, but there is no doubt that Poulin could have an impact on the Islanders, whether it be this season or somewhere down the line in the near future. There is a reason why the Islanders have put a lot of stock into Poulin, and the goalie has certainly shown signs of promise in the past, but it will be up to the netminder to contribute some solid play as another prospect goalie in the Isles' system could challenge Poulin for playing time.
Anders Nilsson – Extending The Swedish Pipeline
Not only do the New York Islanders have some promising Swedish prospects in John Persson and Johan Sundstrom, they also have a young Swede that will probably be manning Bridgeport's crease once he returns from his illness.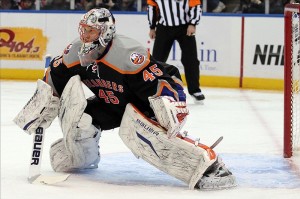 Anders Nilsson made a brief appearance with the Islanders during the 2011-2012 NHL season as he played in four games and compiled a 1-2-0 record with a .910 Save Percentage and 2.75 GAA. While some may remember Nilsson for getting his first NHL start against the Pittsburgh Penguins and promptly surrendering a beauty of a goal to Sidney Crosby in his first game back from his battle with concussions, the goalie played extremely well towards the tail end of the '11-'12 season in his final two NHL starts against the New Jersey Devils.
Nilsson's strong play in a small sample size undoubtedly intrigued Islanders fans and raised questions as to which Bridgeport goalie would be more prepared for NHL duties down the line, but Kevin Poulin's promotion was well deserved as he has been a workhorse for the Sound Tigers as of late. Despite the fact that Nilsson has missed portions of the 2012-2013 AHL season due to illness, he has had some inconsistent stretches with Bridgeport this season and could definitely benefit from seeing a fair amount of game action in Connecticut once he recovers.
The Swedish netminder will certainly have his chances to showcase his abilities for the New York Islanders in the coming NHL seasons, and hockey fans shouldn't be surprised to see Nilsson become a fixture in New York's lineup if he gains some more consistency in his play. After all, when you're 6'6″ and somewhat resemble the likes of Brock Samson, it is safe to say that you have a good chance of being noticed, especially if it's through some solid play.
Impact On Team Mentality
Rick DiPietro's departure from the Islanders might have an effect on New York's prospect goaltenders, but the current New York roster will almost certainly be affected by this move. Even though DiPietro's statistics (4.10 GAA, .855 Save Percentage) could tell a certain side of the goalie's struggles during his three starts with the Isles, one could sense an added amount of pressure on New York's defense with DP in the net.
Some could say that DiPietro was the victim of some unlucky circumstances and bounces as he had goals go in off of his own defensemen, but a team's potential success will ultimately be hindered if the skaters are focused on protecting their own goalie instead of adhering to their game-plan.
By demoting DiPietro and bringing up Kevin Poulin, the Islanders will receive a back-up goalie that can handle a fair amount of ice time and give Evgeni Nabokov some added rest. Nabokov has certainly been a serviceable goalie for an Islanders team that is prone to having defensive lapses, but Kevin Poulin's presence on the team will allow Jack Capuano to play his goalies in a more flexible fashion if needed. While Poulin, along with other Islanders goalies of the past couple of seasons, has allowed first-shot goals to be scored on him when with the Isles, the pressure won't be on New York's skaters to ease the tension on their goaltender.
Is This the End for Rick DiPietro?
The New York Islanders have some options during the 2013 offseason as they can decide which way they want to release DiPietro. For one, management could choose to buy out DiPietro in a traditional fashion and still keep the goalie's cap hit on the team. On the other hand, the Isles could use one of their compliance buyouts on DiPietro this summer and not have the goalie's cap hit count against the team for the 2013-2014 NHL season.
Whatever Islanders management decides to do in relation to DiPietro's contract is unknown at this point in time, but it is more than likely that the goalie will play out the rest of his '12-'13 hockey season on the other side of the Long Island Sound. Whether or not hockey fans have seen the last of Rick DiPietro remains to be seen, but Islanders fans can rest assured that they'll be watching part of their team's future develop in front of their eyes for the remainder of the 2012-2013 NHL season.