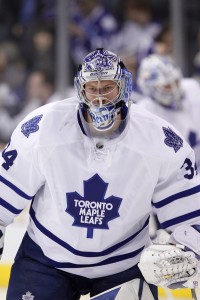 Heading into the 2013 season there were plenty of question marks surrounding the Toronto Maple Leafs' goaltending.
After putting together an impressive 20-10-5 record in his rookie season (2010-11) with the Blue and White, James Reimer struggled to find his game in 2011-12, posting a rather ordinary 14-14-4 record to go along with a paltry 3.10 goals against average and a sub-par 0.900 save percentage.
A neck injury and suspected concussion contributed to Reimer's fall, as did an apparent difference in goaltending philosophy with goaltending coach Francois Allaire.
With his injuries taking their toll and his confidence at an all-time low, there were questions about Reimer's future with the club and whether or not he would be able to perform at the level he showed in his rookie season.
With his sub-par season behind him, Reimer spent most of the summer and fall focusing on his strength and conditioning in an attempt to avoid future injuries.
Sources close to Reimer said he arrived in training camp in terrific shape and, just as importantly, with the mindset that he was going to be the Maple Leafs' number one goalie.
With his neck injuries seemingly behind him and the departure of goaltending coach Francois Allaire, Reimer looks to have found his game once again, posting an impressive 6-3-0 record to go along with a stellar 2.31 goals against average and a tidy 0.929 save percentage through ten games played in.
With Reimer playing well the team was off to the decent start that they needed. That is, until Reimer succumbed to a knee injury.
Prior to his knee injury, Reimer posted an excellent 0.929 save percentage, ranking him 11th overall, while his 2.31 goals against average ranked him 18th overall. While Reimer's numbers are hardly All-Star worthy, they were good enough for the Maple Leafs to earn their fair share of wins.
Meanwhile, with Reimer currently out of the lineup due to a knee injury, backup Ben Scrivens is making a strong case to replace Reimer as the Blue and Whites' go-to goaltender.
Scrivens, who had a grand total of 12 games of NHL experience heading into this season, owns a 5-4 record through ten games, 2 shutouts, an impressive 2.10 goals against average (tenth overall) and a tidy 0.931 save percentage (ninth overall).
Together, Reimer and Scrivens have played a huge role in leading the Maple Leafs to the eighth ranked defense in the league, allowing just 2.28 goals per game. That's a huge improvement over the 3.16 goals per game the Maple Leafs gave up last season, which saw them finish ranked 29th in that category in 2011-12.
Heading into Saturday night's match against the Ottawa Senators the Maple Leafs sit eighth overall in goals scored per game, averaging 2.83 per contest. The Maple Leafs finished the 2011-12 season averaging 2.77 goals per game, ranking them tenth overall.
With the Maple Leafs offense clicking along nicely and Reimer and Scrivens stepping up their games, Toronto looks destined to make a strong push for a playoff spot.
Of course, head coach Randy Carlyle's system has had a huge impact on the club, as has the play of the forwards and defense, which have managed to keep up their offensive pace from a year ago, while helping to drop the teams goals against by nearly one goal per game.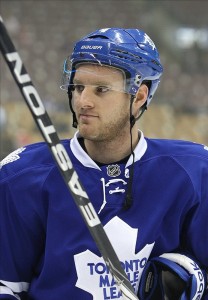 Unsung hero on defense such as Cody Franson (plus-11 through 15 games played) and Mark Fraser (plus-15 through 15 games played) have had a huge impact on the Maple Leafs' good fortunes defensively.
Meanwhile, forwards Phil Kessel (plus-5), Nazem Kadri (plus-5) and Jay McClement (plus-5) have all played well defensively this season. We expected as much out of McClement, but for Kessel and Kadri to be right up there with the teams best plus-minus is nothing short of miraculous when you consider how poorly both players have faired on the defensive side of the puck in recdent years.
And then there is new goaltending coach Rick St. Croix. His work with both Reimer and Scrivens has been excellent, choosing to concentrate on Reimer's and Scrivens' strong points instead of attempting to re-invent his young goaltenders.
Both Reimer and Scrivens struggle when playing the puck and neither goaltdner is considered "dominant". That said, both netminders have been very consistent and neither one has lost his confidence when faced with struggles or coming off a bad game.
With both Reimer and Scrivens putting up excellent numbers and with his team seemingly buying into his system, Carlyle can rest easy where his goaltending is concerned. There is no reason to believe that Reimer will not be back soon, and with Scrivens putting up better statistics than Reimer at the moment, who cares if Reimer takes a few extra days or weeks to get back to form?
When you add it all up, despite a number of articles out there that still suggest Vancouver Canucks goaltender Roberto Luongo should join the Maple Leafs, there is no need for Maple Leafs general manager Dave Nonis to go down that road.
Former general manager Brian Burke always said you need to build your team from the net out; it appears as though his plan has finally come to fruition.