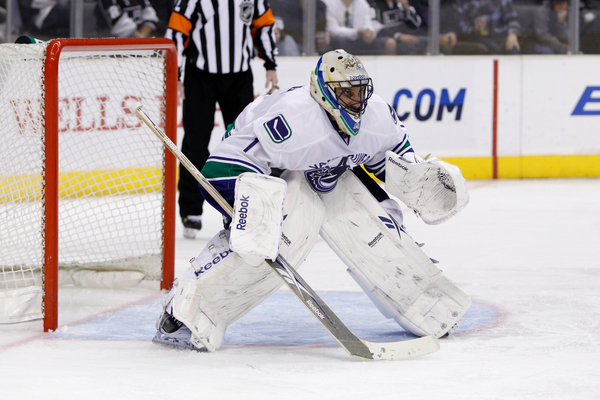 When you consider the roster Toronto Maple Leafs general manager Brian Burke looks content with icing to start the 2012-13 season (if there is one) one thing becomes very clear— even if starting goaltender James Reimer is healthy the Maple Leafs could use an upgrade between the pipes.
Fresh off the heels of another disappointing season, Burke all but admitted as much in his season end press conference earlier this summer when he acknowledged his goaltending "wasn't good enough this year" and that he had hoped to add a veteran goaltender this off-season.
"Positionally we have to look at the goaltending, it wasn't good enough this year," said Burke. "I think that James Reimer is the real deal; I think we can still plan on him being a number one guy, but we have to look at if we can bring in a guy that can bring us more options and more performance right from the get-go next year".
Burke started the upgrade between the pipes by trading Jonas Gustavsson to the Winnipeg Jets. Burke was to receive a seventh round pick out of the deal if the Jets signed Gustavsson, which they did not do. Instead, the man once referred to as "the monster" signed on with the Detroit Red Wings, a move I predicted Gustavsson would make at season's end.
With Gustavsson gone and Reimer's health still in question, Burke entered free agency with what many felt would be the intention of signing a veteran goaltender. Burke passed on Tomas Vokoun (who signed with the Pittsburgh Penguins) and seemingly made zero effort to go after any other unrestricted free agent goaltender this summer. Fans were excited at the prospect of signing legendary goaltender Martin Brodeur, but that opportunity never materialized.
Over the summer the Maple Leafs have come up in trade rumors for Los Angeles Kings backup Jonathan Bernier and Vancouver Canucks former starter Roberto Luongo. As we all know, thus far those rumors are yet to materialize, but there is still a chance both goaltenders will be considered by Burke once the new CBA is signed.
At just 23-years of age, Bernier is still relatively unproven at the NHL level. Through 16 games last season Bernier posted a 5-6-2 record to go along with a 2.36 goals against average and a .909 save percentage. Bernier is a combined 20-17-5 with five shutouts through 48 career games played, with a career 2.50 GAA and a .910 save percentage.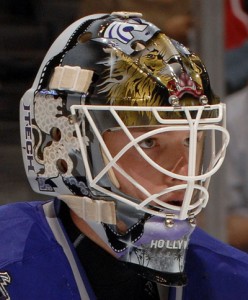 Bernier was once thought to be the Kings' goaltender of the future, but with Jonathan Quick leading Los Angeles to a Stanley Cup victory this spring and subsequently signing a monstrous 10-year, $58 million contract with the Kings, there appears to be no chance of Bernier earning the starters role in Los Angeles, which we presume is why Bernier asked to be traded.
While many hockey experts feel Bernier has the potential to be a solid number one goaltender, his addition to the Leafs lineup, while probably an upgrade, would do little to sway future free agents to sign with the Maple Leafs and certainly would not guarantee the Blue and White a playoff spot next season.
In Luongo, who stands 6'3" and weighs in at 217 pounds, Burke has a chance to land a legitimate number one goaltender who , despite his critics, is still capable of leading a team to the playoffs, even the Maple Leafs.
Through 727 career regular season games Luongo has amassed a record of 339-283-83 to go along with a .919 save percentage, 2.52 goals against average and 60 shutouts. Last season Luongo posted a 31-14-8 record through 55 games a .919 save percentage, 2.41 goals against average and five shutouts, which is right on-point with his career averages, proving at age 33, he is not slowing down.
The last time the Maple Leafs made significant playoff runs the pipes were manned by Curtis Joseph or Eddie Belfour. Both goaltenders were proven commodities, both were able to handle the scrutiny of the Toronto fans and media and both goalies helped attract key free agents who helped the clubs assent to one of the better teams in the NHL.
When you consider Luongo's career achievements all that is missing is a Stanley Cup ring. Luongo has two IIHF World Championship gold medals (2003, 2004), a World Cup championship (2004), multiple all-star appearances (2003, 2004, 2007, 2008, 2009) a William M. Jennings Trophy (lowest goals against in 2011) and a gold medal from the 2010 Winter Olympics with Team Canada.
During an interview with the South Florida Sun Sentinel Luongo lamented that he would prefer to be dealt to Florida where he could rejoin the Panthers organization, but that doesn't mean he will end up in Florida.
"[Florida] makes sense for myself, for my career and my family," said Luongo. "That being said, there's obvious other options as well. This is a preferred location for obvious reasons but I'm not shutting the door on other possibilities if it comes up."
If Luongo was to be traded to Toronto, he would be reunited with Francois Allaire, who once coached Luongo and Burke's assistant Dave Nonis, who brought Luongo to Vancouver. Luongo would also get a chance to play under head coach Randy Carlyle, who won a Stanley Cup with the Anaheim Ducks.
On there own, the chance to play with Burke, Allaire and Carlyle may not be enough to sway Luongo, that said, it's not like the Maple Leafs roster is a dud. Top-talent like Phil Kessel, Joffrey Lupul and Dion Phaneuf cannot be ignored. And besides, much like Luongo, Kessel and Phaneuf (and Mikhail Grabovski and Clarke MacArthur for that matter) were unwanted by their former teams, so there would be some kinship there.
Toronto is not an easy place to play, but Luongo has demonstrated the ability to perform in pressure situations (a few playoff gaffes aside) and there is no bigger stage for which Luongo could make a statement to the organization that seemingly can't wait to rid themselves of a goaltender who has done everything in his power to make the Canucks a winner.
Say what you will about Luongo's playoff shortcomings, last time I checked you win as a team, you lose as a team, and Luogno should never have taken all of the blame for the Canucks playoff failures.
The acquisition of Luongo would be complicated by the ten-years remaining on a 12-year deal that will see the veteran netminder pocket $5,333,333 in each of the next ten seasons and the fact that Luongo could veto any trade, but Burke has the cap room to pull it off should he wish to make a trade with the Canucks (new CBA not withstanding) and despite being ranked the worst franchise in pro sports by ESPN The Magazine, Toronto is a great place to play.
Of course, there is also the asking price. Canucks general manager Mike Gillis is said to be asking for a hefty return for Luongo, a return that (thus far) Burke has been unwilling to hand over. Still, even if the asking price is a little out of line, what price will Burke pay if he doesn't acquire Luongo? Worse yet, what if Reimer goes down and backup Ben Scrivens (who is also unproven at the NHL level) falters in relief? How will it look if Luongo is tearing up the NHL on a rival team and Burke is stuck scouring the trade market for a goaltender when he could have landed Luongo?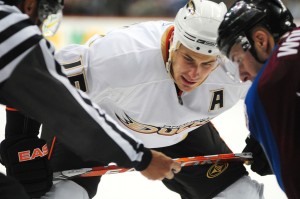 Think about it— not only would Luongo solidify the Maple Leafs between the pipes for the next 5-6 seasons, he would also give the Maple Leafs a nudge in the legitimacy department, which should make signing key free agents (Ryan Getzlaf or Corey Perry will be UFA's after this season) and keeping key players such as Phil Kessel and Dion Phaneuf in the fold, a lot easier for Burke.
Few players can impact a teams success like a true number one goaltender. Luongo is a legitimate number one and he is good enough to take the Maple Leafs from pretender status to contender overnight.
Sure, Reimer is a "good" goaltender, but if you were a free agent, would you sign with the Maple Leafs knowing Reimer (who has had injury issues in the past and is still an unproven commodity) was your number one goalie? Would Reimer's presence swing the pendulum when it came time to sign with a new club, or would you rather see Luongo standing between the pipes?
To me it's a no-brainer. Luongo has far more cache, far better numbers and he is exactly the type of player free agents want to play with— a winner.
Burke can take a chance on Reimer, maybe it pays off, maybe it doesn't. Burke can put his trust in the unproven commodity that is Ben Scrivens. Or, Burke could trade for Luongo and have as close to a "sure thing" between the pipes as he'll ever find, which would likely get the Maple Leafs into the playoffs (maybe even win a round or two) which would definitely save Burke's job and save the franchise from another year of futility and embarrassment.
Burke needs Luongo now, but just as importantly he needs him in order to solidify his teams future. For those reasons, Burke needs to do everything in his power to bring Luongo to Toronto.