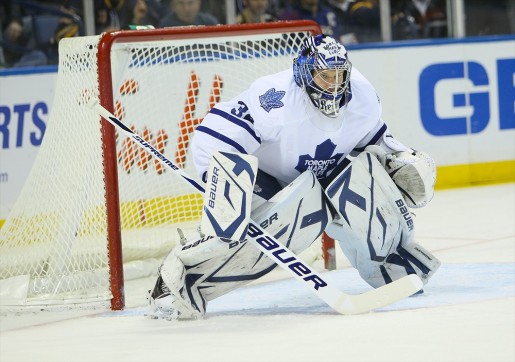 The 2011-2012 NHL season was an exciting one for the Toronto Maple Leafs. It began with success that saw the team as high as first in the league in November and they were still in playoff contention at the all-star break.
Then came the collapse.
It goes without saying that the success of a team relies on exactly that, the team. It must come together and play as one in order to excel in any given area, but individual performances can have a major affect as well, whether they are good or bad.
Those who stood out for the Maple Leafs last season include James Reimer and Jake Gardiner for opposite reasons. That's exactly why they made the cut to be two of the top five Maple Leafs players to watch this season.
No. 5 – James Reimer
There is a fine line between keeping an eye on a player and putting pressure on him, especially when you're talking about one that is coming off an injury-riddle sophomore campaign and is now being expected to hold down the starting role in net.
Various factors contribute to Reimer's placement on this list. For one, no one is entirely sure if general manager Brian Burke is still looking for another goalie to compete with Reimer for playing time, not even Reimer himself. No matter how much you are being paid, something like that is sure to weigh down on you and can't be any different for Reimer.
If there isn't another goaltender brought in─it currently looks as though there won't be─then it is guaranteed that Reimer will be the Leafs' number one. Jonas Gustavsson is no longer a member of the blue and white, leaving only Ben Scrivens to fight with Reimer.
Another factor contributing to Reimer's induction to this list: his health. Now with the chance to play a full season, he must overcome his health issues from 2011-2012 and show that he can still play at the same level he did in his rookie season.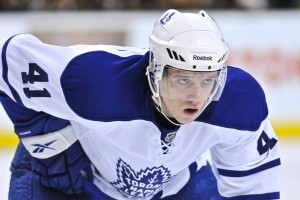 Fortunately for the Leafs, it sounds like he is 100 percent healthy and ready to tackle the starting job in Toronto.
No. 4 – Nikolai Kulemin
Needless to say, Kulemin had a rather rough go of things in 2011-2012. After a promising campaign that saw him score 30 goals and 57 points one season prior, he managed just seven goals and 28 points in 70 games, all three of which are career-lows.
Now Kulemin faces the same set of questions any player coming off an extremely disappointing season would. Will he be able to regain his old form? Will he be become a star or trade bait? Will he begin to see more time in the press box or on the top line? Will he even hold down a spot in the NHL for the entire season? This all sounds pretty bad, but there is reason to believe for the Leafs and their fans.
Up until last season, Kulemin had improved in goals, assists, point and plus/minus each season since he entered the league. While he had never made a big leap in growth until his third year, he was always consistent. Also playing in the Leafs' favour is that Kulemin showed flashes of his old self last season. He wasn't send-to-the-minors bad or even healthy scratch bad, and still played much of the season on the second line. Kulemin was able to maintain a solid level of defensive play, proving that there is still room for growth.
Now it's time for him to show it. With added competition in James van Riemsdyk, that might not be so easy.
No. 3 – Nazem Kadri
Unlike a few of the players on this list who may simply fall victim to depth and injuries, what Kadri accomplishes in 2012-2013 is entirely up to him. He will get the opportunity to play under an NHL coach not named Ron Wilson, he will enter training camp with more experience and heightened expectations of himself and he will certainly be given every chance to make the team.
Just like Kulemin, everyone is asking plenty of questions about Kadri. Unlike Kulemin, however, the questions that surround Kadri stem from his inability to stick with the team ever since he was drafted seventh overall more than three years ago.
Will Kadri be able to make the Leafs' roster out of training camp? Will he stick with the Leafs? How will he perform under a somewhat new head coach in Randy Carlyle? What role will Kadri play in?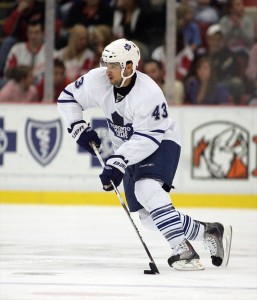 Perhaps what makes Kadri so intriguing this season is the fact that the Leafs now have seven forwards to fill six spots on their top two lines, not counting Kadri. This means he will have to play very well prior to the beginning of the season if he wants time on the first or second line.
Competition is key this time around for Kadri as it may be his last shot with the Leafs.
No. 2 – Jake Gardiner
As the 2011-2012 campaign approached, no one expected to see Gardiner in a Leaf uniform very much during the season let alone on opening night. He defied the odds, though, and made the team straight out of training camp. That, defying the odds, is something that he continued to do all season long.
Gardiner became one of the Leafs' top-four defenders in a short amount of time. He is now widely considered as the Leafs' most talented puck moving defenceman along with Dion Phaneuf and John-Michael Liles, and has become motivation for many. That's outstanding for a rookie, so there is now way he could possibly build upon last season, right? Wrong.
With Luke Schenn now a member of the Philadelphia Flyers, Gardiner, who came in second on Pension Plan Puppet's top 25 under 25 list back in February, has the chance to grow and mature even further in an expanded role. In fact, many believe the departure of Schenn gives Gardiner a strong chance to nail down one of the spots on the Leafs' top defensive pairing.
The Leafs will undoubtedly need a strong season from Gardiner given their shaky defensive play last season, so don't be surprised to see him heavily relied on in 2012-2013.
No. 1 – James van Riemsdyk
You thought there were questions around Kulemin and Kadri? Let's just glance at van Riemsdyk.
How will van Riemsdyk be used this season? Will he play a top-six role consistently? Will he play with more of a physical edge in Toronto than he did in Philadelphia? Will he be able to maintain good health? Is van Riemsdyk what the Leafs need up front to go to the next level? Will he continue to develop? Will van Riemsdyk be the 25-30 goal scorer the Leafs are hoping for?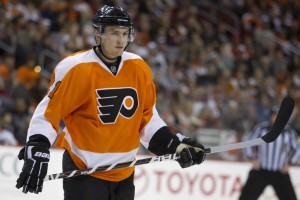 Those and more.
Let's be realistic. What van Riemsdyk isn't is a grind-it-out, fight for position type of player despite what his six-foot-three, 200-pound frame might suggest. Regardless, the man some call "JvR" will bring offensive talent to a Leafs team that needs it. He has succeeded at every level thus far but he does have more room to grow in the NHL.
Given the Leafs' mediocre depth among their top-six, it's unknown exactly where van Riemsdyk will slide into the lineup. He could find himself beside Mikhail Grabovski or Tyler Bozak, or he could wind up playing down the middle himself.
Here's the biggest question concerning van Riemsdyk: Will he be able to succeed under the spotlight in Toronto this season and help the team to its first post-season berth since 2004?
Then again, doesn't that question concern everyone named above?
Twitter: @LukasHardonk | Email: lukas.hardonk@gmail.com | Lukas' archive
For every Leafs article on THW, follow @THW_MapleLeafs on Twitter.
Check out Maple Leafs Central, a THW Network site.