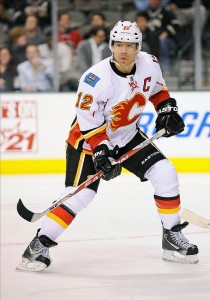 After three seasons without a playoff appearance, the Calgary Flames will be hoping to change their fortunes when the 2012-13 regular season kicks off. The offseason saw a series of changes for the club, bringing in some new faces both on and off the ice.
The Flames will now be helmed by head coach Bob Hartley, fresh off a championship with the ZSC Lions of Switzerland's National League A. A former Stanley Cup winner, Hartley is a man the Flames brass hopes can push the team over the hump and back into the playoffs. Goaltending coach Clint Malarchuk is the only returning member of the coaching staff with Brent Sutter, Dave Lowry and Craig Hartsburg leaving the club. He'll be joined by new associate coach Jacques Martin and former Flames player (and new assistant coach) Martin Gelinas.
On the ice, the club waved goodbye to Olli Jokinen, David Moss and Scott Hannan. But the team has added some newcomers in Roman Cervenka, Jiri Hudler and Dennis Wideman, as well as rookie Sven Baertschi.
But will any of these changes make a difference to their playoff fortunes? A deeper look may provide the answer.
FORWARDS
The Flames have 11 forwards on one-way contracts. They also have several young players that are competing for roster spots when camp opens, which will probably lead to some log-jamming as the team will have to find places for all of their personnel.
First Line Forwards: none
Second Line Forwards: Jarome Iginla (35), Mike Cammalleri (30), Alex Tanguay (32), Curtis Glencross (29), Jiri Hudler (28), Roman Cervenka (26), Mikael Backlund (23) and Sven Baertschi (20)
The Flames have horrible top-line depth and great second-line depth. The problem is this means that there will be (a) three guys playing first line minutes that probably shouldn't and (b) two of these eight guys will probably be bumped down to the third line, rather than playing in a second line role. The Flames are very high on Cervenka and Baertschi and will give them every chance to succeed. Backlund is a wild-card here, as he's one of the few Flames forwards that can push possession against tough opposition, but his offensive numbers have been lousy the last few years. Iginla and Cammalleri are due for bounce-back years and most of these guys can be counted on for some fairly consistent offensive production. But none of them are going to blow the doors off of the opposition.
Third Line Forwards: Matt Stajan (28), Lee Stempniak (29), Blake Comeau (26), Roman Horak (21) and Paul Byron (23)
Horak and Byron were good in spurts last season but will probably start the year with the AHL's Abbotsford Heat due to the numbers game. Stajan is a bit over-paid but was very effective down the stretch. Stempniak was a great utility player last season, playing everywhere and in every situation. Comeau has a cheap contract and can play on the penalty kill. Odds are, this may be the group where healthy scratches come from, as these guys have limited scoring ability and are marginally more defensively effective than the fourth line guys.
Fourth Line Forwards: Tim Jackman (30), Blair Jones (25), Lance Bouma (22), Greg Nemisz (22), Akim Aliu (23) and Max Reinhart (20)
Jackman, Jones and Bouma could become a very strong checking and agitating line. Bouma impressed down the stretch and is the prime reason why Tom Kostopoulos wasn't re-signed. That said, it's also possible that any two of these three guys could get scratched from game-to-game due to upper-line forwards being displaced. Nemisz and Aliu both were effective in checking roles late in the season but should likely start the year in Abbotsford. Reinhart is another wild-card, as he's very highly touted after several strong years with the Kootenay Ice and was excellent in a handful of AHL games, but he'll need to oust a veteran to get a roster spot.
AHL Forwards: Bryan Cameron, Ryan Howse, Mitch Wahl, Michael Ferland, Ben Street, Turner Elson, Gaelan Patterson, Ben Walter, Carter Bancks, Krys Kolanos and David Eddy
The majority of these guys are depth options, at least for now. Kolanos was decent in his NHL call-up last year. Eddy, Street and Ferland were good at development camp, but will need a bit of time with the Heat.
In terms of forward depth, the Flames lack a great centerman and are a bit shy on elite scoring depth. However, adding Cervenka, Baertschi and Hudler gives the Flames more options up-front, and the club is hoping for bounce-back years from Iginla, Cammalleri and Backlund. While it's unlikely that everything will break their way this season, it's also very unlikely that the team will be besieged by injuries like last season and have to rely on their bottom-six depth as much. That good, because their top-six depth will really need to carry the mail for the Flames to return to the post-season.