This past Saturday, the Leafs signed free-agent University of Penn State forward Casey Bailey to a two year entry level contract.  This is all well and good, but who is Casey Baily and why should we care about the Leafs signing him?
Well, we shouldn't actually.  While it's true that lots of teams were looking to pick him up after a point-per-game season in the Big Ten, he is an undrafted free-agent like Tyler Bozak and Christian Hanson. The fact is, he's a lottery ticket.  Maybe he he's a late bloomer who can use his size and shot in the NHL and he'll be an amazing bonus pick up for the Leafs.
But, likely, he's just another Christian Hanson.
There's nothing wrong with taking these players, because you literally have nothing to lose, but in the end, it's a long-shot.  Nothing against the kid, he's played  himself into a position where he'll likely be making his NHL debut tomorrow, and that is an amazing accomplishment for anyone, let alone someone who wasn't drafted.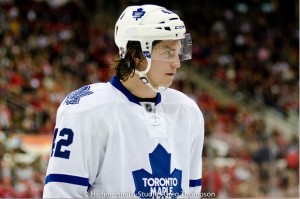 Scouting Report 
Baily is 6'3″ which is tall, but at under 200lbs he's not overly big for the NHL.  His strength is said to be a rocket of a shot and a quick release.  All good things, but how these things translate to the NHL is anyone's guess.
Here is a detailed scouting report but I caution that you need to take it with a grain of salt because when you're playing against university competition, some of these things won't transfer to the NHL.  For instance, at one point in the report, it suggests that Bailey's best attribute is a rocket from the face-off circle.  Fine for the league he's in, but good luck scoring on an NHL goalie from there.
So, in the end, Bailey is a nice pick-up for the prospect starved Leafs.  He might be an effective player, but most likely he'll play out the year in Toronto (burning year one of his ECL was why he agreed to sign with the Leafs, apparently) and spend next year in the AHL playing for the Marlies before moving on.
Then again, Adam Oates and Ed Belfour were never drafted either. (Although scouting is much more advanced these days, lessening the chance of a Hall-of-Famer going un-drafted).  Maybe Bailey joins their elusive ranks and tears up the NHL in an unexpected fashion.  That's the reason you sign a guy like him, but likely, he is just another body to fill out your roster while you cycle back through to being competitive. But maybe, just maybe, he's a diamond in the rough who makes you look like a genius.
Ultimately, the risk/reward on a player like Bailey is very favorable and at worst, the kid get's a few hundred thousand bucks and a dream job for a while.  It's a feel-good story all around.
Good times.
Covering the Leafs for the Hockey Writers.