When the NHL expands in the coming years, the Boston Bruins will have to protect several players from the expansion draft. Boston, like every team, will be sure to protect whomever they believe is their franchise player, a player they will look to continue building their team around in the years to come. That begs the question: Who is Boston's franchise player?
Aside from talent, there are several important characteristics that a franchise player must have. One extremely important quality is a player's character. A franchise player should be someone who cares about the good of the team, and is willing to sacrifice, and work their you-know-whats off to help the team.
And that brings us to our next quality: Loyalty. A franchise player needs to be someone who is extremely loyal to their team. It would make no sense whatsoever to try to build a team around a player who would leave for another team to bring in a few extra bucks.
And finally, our last quality: Youth. A franchise player should be someone who is relatively young. No, they don't need to be a rookie, but it would make no sense to designate a player who is going to retire a year down the road as their franchise player. Age is a big deal.
So who is Boston's franchise player? Here's a look at a couple of players that Boston could consider their franchise player:
Patrice Bergeron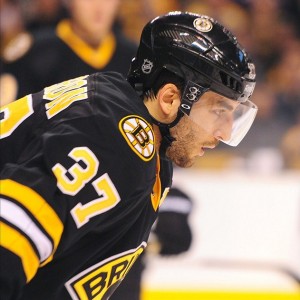 Let's face it, Patrice Bergeron is the heart of the Boston Bruins. I don't care what the letters on the jersey say, Bergeron is Boston's leader. He's a player that has been in the Bruins system since he was 18 years old. Yes, Bergeron was a Bruin at the age of 18. Now, eleven years later, Bergeron remains a Bruin, and the favourite has been one of Boston's key pieces for years, including their Stanley Cup run in 2011.
There's no doubting that Bergeron is a loyal Bruin. He's spent his entire career in Boston, and has always been well received by the team, the city, and the fans. Part of that is due to his character. Bergeron is a fantastic human being, on and off the ice. It's hard to find a classier, harder-working player than Patrice Bergeron, both on and off the ice.
And finally, the guy has talent. You don't play in the NHL at 18 years of age if you don't have serious skill. In 740 career regular season games with Boston, Bergeron has 550 points. At the same time, he's won the Selke Award three times as the league's best defensive forward. He's extremely reliable in the defensive zone, is a big offensive threat, and is one of the best centers when it comes to face offs in the entire league.
At thirty years old, Patrice Bergeron is extremely valuable, and is a very good candidate for Boston's franchise player.
Tuukka Rask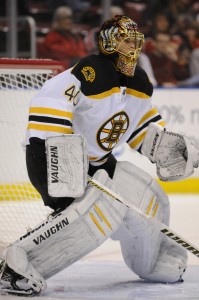 Any good team needs a great goaltender. Simply put, the goaltending position is the most important position on the ice. You can't have a successful team if you have a bad goaltender, it's a fact. And Boston's Tuukka Rask is a darn good goaltender.
Rask has established himself as one of the best goaltenders in the National Hockey League. His .926 career save percentage and 2.16 career goals against average are extremely solid numbers for the goaltender that Boston put their money on when Tim Thomas left. The 2013-14 Vezina Trophy winner is easily one of Boston's most important pieces. Even last season, when Boston missed the playoffs, Rask was a bright spot, and was a huge reason that Boston could contend for a spot at all.
On top of that, Rask, at 28 years old, has plenty of time left in his goaltending career. Unless something crazy happens, Rask will occupy the Bruins' staring position for years to come.
If you want to build a solid team, why not start with a great goaltender?
David Krecji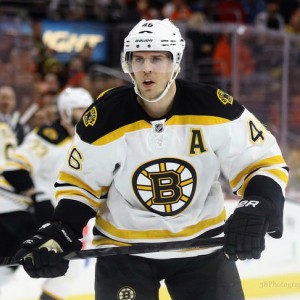 David Krejci has been a rock for the Boston Bruins. When healthy, Krejci has been extremely productive for the black and gold. In 551 regular season games, the center has tallied 409 points. That offensive success carries over into the postseason, where the Czech center has notched 77 points in 93 games.
Krejci, too, has spent his entire NHL career in a Bruins uniform. Drafted in 2nd round by the Bruins in 2004, Krejci has been a Bruin ever since making his NHL debut in the 2006-07 season. And, at 29 years old, Krejci has plenty of time left to make an impact for the Bruins.
He too, is a very strong candidate for building an offensively minded team.
David Pastrnak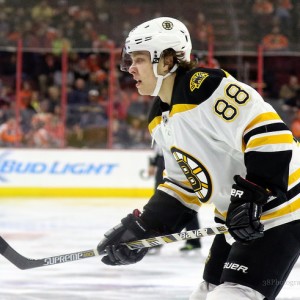 David Pastrnak, the wild card. What fun would selecting a franchise player be if we didn't throw a gamble in there? At 19 years old, Pastrnak has not had nearly enough time to prove himself as an All-Star caliber player in the NHL. However, many people believe that he's the future of the Boston Bruins, especially given the fact that Dougie Hamilton was shipped out earlier this offseason.
Despite his lack of experience, Pastrnak has begun to prove himself as a very useful player. In his rookie season with the Bruins, Pastrnak was one of the bright spots in an otherwise forgettable Bruins season. The rookie winger tallied 27 points in 46 NHL games with the Bruins, and was a +12.
Pastrnak's big draw is clearly his age. If the Bruins keep him around a while, he too, will probably develop into a loyal Bruin, seeing as he was only one of two Bruins in the last fifteen years to suit up for the team at 18 years of age (the other being Bergeron). And, of course, the young Czech has plenty of time left in what could be a very exciting career.
If you want to start a team with youth, David Pastrnak could be the way to go.
The Verdict
So, who do you think earns the label as Boston's franchise player? Would you choose the all-around Patrice Bergeron, the stone-wall Tuukka Rask, the offensive monster that is David Krejci, or the young prodigy David Pastrnak? Or, would you choose a different Bruin?
Let us know! Reach out to us in the comments, or let me know on Twitter @CamHasbrouck!
Cam is a Broadcast Journalism student at the University of Maryland. He's the Boston Bruins Beat Writer at The Hockey Writers, and is an avid college hockey fan. Find him on Twitter @CamHasbrouck!