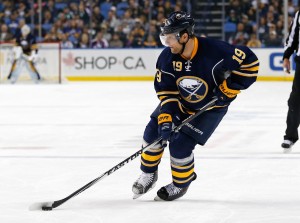 The Buffalo Sabres have spent the last two years tearing apart the team in order to set themselves up best when it came to building for the future. Now that general manager Tim Murray has completed his deconstruction of the on-ice product in order to secure a pair of high draft picks, the rebuilding process has begun.
It started with the selection of Sam Reinhart in last June's NHL Draft, and continued with the blockbuster that saw Evander Kane come to Buffalo along with Zach Bogosian in exchange for Tyler Myers, Drew Stafford and a few other pieces. But as new pieces come into the organization, room has to be made in order to accommodate said pieces. So, which players could very well be done with the Sabres as the rebuild continues?
Cody Hodgson
The first name that comes to mind when thinking of players who could be finished with the Sabres is often Cody Hodgson. Less than two years after signing a six-year, $25.5-million contract, Hodgson has seemingly played his last game in Buffalo, especially with Boston University's Jack Eichel likely coming into the fold.
Hodgson tallied 20 goals and 44 points for the Sabres in 2013-14, but the 2014-15 season was the worst of the 25 year old's young career. In 78 games, Hodgson scored just six goals and 13 total points. When breaking it down, Hodgson was paid $269,230 per point based on the $3.5-million he was paid in salary.
He's a player who may very well still have a long, productive career in the NHL. However, it just seems that after a very poor year and an influx of centers in the fold, Hodgson may be wearing a new jersey come next season.
Mikhail Grigorenko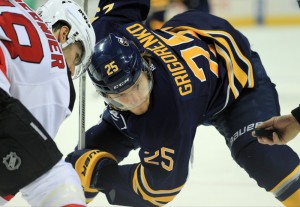 Grigorenko is a tough player to include on this list. The pending restricted free agent hasn't been given much of a chance to succeed in Buffalo since being the 12th overall pick in 2012. He's had three coaches in three years as a pro, which can never be good for a young developing player. He's only 21-years old, and has plenty of time left to grow into the successful player many expected him to be coming out of junior, but it may not be with the Sabres.
It's no secret that general manager Tim Murray wants to use the 21st overall pick the Sabres possess to either move up or acquire another player. In order to do so, it's likely going to take a player who is NHL ready to move up, or add another NHL player. Other than Hodgson, Grigorenko is the only other player that could realistic be used in a trade to improve the roster in other places.
It's likely that new head coach Dan Bylsma could attempt to move Grigorenko to the wing to see if he could make it, but it's quite possible that Grigorenko is donning a new sweater come the fall.
Patrick Kaleta
There was a time when Kaleta was believed to be able to be a nice fourth-line forward who would be able to contribute on the score sheet.
He put up 10 goals and five assists during the 2009-10 season, including a breakout game against the New York Rangers. However, it was clear that his offensive production was nothing more than a flash in the pan.
In the five seasons since that year, Kaleta has scored just 10 goals total, and recorded only 23 points for the Sabres. He's coming off a three-year, $3.75-million contract, and doesn't really seem to have a role at the moment with the Sabres. With better fourth line players available like Nicolas Deslauriers and Marcus Foligno, Kaleta's time in Buffalo should come to an end.
Cody McCormick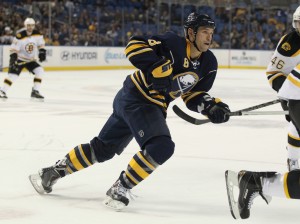 Another fourth line player who just doesn't justify his salary based on what he offers is McCormick. He missed most of last season due to a blood clot in his leg, but is expected to be ready for training camp in September.
McCormick is under contract for two more years at $1.5-million per, but one has to assume he's a prime candidate to be released or buried in Rochester for the next two seasons. As mentioned with Kaleta, the Sabres have enough potential fourth-line players that will likely contribute much more at both ends of the ice than McCormick.
He's been a great person for the Sabres during his time with the organization, but the time has come to move on and replenish the bottom of the lineup with younger talent.
Mike Weber
Having been with the Sabres since the 2007-2008 season, Weber has been a regular in the team's lineup since 2010. Early on in his career, many fans hoped Weber would be a solid stay-at-home defenseman as well as a leader for Buffalo for years.
Though he has been a leader both on and off the ice, his play just hasn't justified the idea of him remaining on the roster any more. He was a nice piece to keep around as the tear down of the roster was happening. But now that the rebuilding has begun, there's just no room for Weber when the defense pool is as deep as it is for Buffalo.
Michael is a former Managing Editor for The Hockey Writers. He's covered the Buffalo Sabres, along with the NHL in general, for various outlets since 2009. His work has been featured on outlets such as Yahoo, Sports Illustrated and Fox Sports.