In Dan Bylsma's world, Scott Hartnell is a heartless bully who picks on the handicapped, while insisting senior citizens be stripped of their healthcare, voting rights, and social security. The coach's post-game perspective on the scrum between Hartnell and Penguins defenseman Kris Letang was so outlandish, he later backpedaled, insisting his comments were "in jest." But if we're truly keeping score when it comes to bush league tactics, let's not only fairly assess the Hartnell-Letang scrum, but check the scorecard as well.
Keeping Score With "A History"
Kris Letang's return from a stroke he suffered 10 weeks ago is nothing short of miraculous. His rare misfortune for a man his age, 26, reveals just how valuable and fragile life can be. And with nothing but relief and well wishes, Letang has been back on the ice for Pittsburgh's last two games. But if Letang is still vulnerable, however, to further damage his well-being, why is he even back on the ice in the first place?
In a game with large implications for the Flyers, the Pens upped the ante on their bitter cross-state rivals. Pittsburgh, who had the Eastern Conference's second seed locked up already, threw the kitchen sink at Craig Berube's team, outhitting the Flyers by a 35-24 margin. So it's understandable if Scott Hartnell showed up to do what he's paid to do – get under the skin of his opponents.
After trading goals in the third period that resulted in a one-goal Flyers lead, Pittsburgh turned up their pressure, playing with the urgency of a team that was fighting for their playoff lives. As Letang, who had already recorded a goal and an assist, moved in towards Flyers goalie Ray Emery, Hartnell re-established his presence by delivering a hit to Letang and ending his scoring chance.
#DanBylsma should be more aware of his "tongue-in-cheek" comments when it comes to Hartnell-Letang episodes. #CraigBerube is right — again.

— Stan Fischler (@StanFischler) April 12, 2014
Bylsma's "stroke" reference was a joke, but he was still tweaking Hartnell. Why Letang said he "wasn't surprised" when he saw who it was.

— Will Graves (@WillGravesAP) April 13, 2014
Hartnell's physicality didn't sit well with Bylsma after the game, despite his own team's dirty actions that resulted in Flyers goalie Steve Mason suffering a possible concussion (More on that later).
"He had the play and the puck on his stick to try to score a goal and it fell off the stick and the whistle and everything ensued after that," said Bylsma. "A guy picking on a guy who had a stroke."
If there's one defense to Bylsma's outlook, though, it's the past that Hartnell and Letang share. Back in 2009, Letang accused Hartnell of biting him in a scrum; an accusation Hartnell neither denied nor admitted.
"A lot of stuff happens on the bottom of the pile," said Hartnell when asked about the incident. "He had his hands in my face, doing the face wash, and we were rolling around. I can't say what happened."
But since we're keeping score, what about the countless slashes to Claude Giroux's wrists from Sidney Crosby in the 2012 quarterfinals? The type of "roughhousing" that resulted in a broken wrist in which Giroux played through.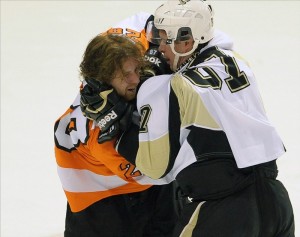 "I don't try to go after his wrists, but if I caught it, I'm not sorry for it," chirped Crosby. "I really like to win the face-off. I think it's hilarious that I hear that stuff from Philly. It's comedy to me, to be honest with you. They're probably involved in that stuff more than any team in the league and they're the ones always talking about it.
"I guess I'm not apologetic. I was trying to win a face-off and if I caught his wrist, then I caught his wrist. He seemed to play okay so I couldn't have hurt him that bad."
While Giroux did play "okay" throughout that particular series, it's believable that Giroux's wrist injury caught up with him in the following series against New Jersey. But you'll have to forgive Crosby; he was in rare form in that playoff series, whether it was on the ice or in post-game interviews.
Nevertheless, the year is 2014. Even Todd Bertuzzi is back to playing under anonymity with Detroit. And while it's absurd to even allude to the fact that biting another play is acceptable, Hartnell's hit on Letang on Saturday was anything but dirty.
"Personally, watching it happen live was a little unsettling. Kris Letang had a stroke was essentially the first thing to come to mind here, too. But that's as far as it can go. Unless it's a hit far outside the norm — and Hartnell's was not — it has to end there. For everyone. Letang, unlikely as it may be, is playing hockey at its highest level, and deserves to be treated as such." — The Sporting News
Karma, The Result Of Keeping Score?
Craig Berube's response to Bylsma's comments echoed such sentiments. After hearing of Bylsma's take on the situation, the first-year coach quickly came to the defense of his veteran forward.
"Then he shouldn't play," Berube shot back. "He shouldn't be out there playing, bottom line. It's a stupid comment."
And then there's the actions of Jayson Megna, who shoved Flyers defenseman Andrew MacDonald into Steve Mason, resulting in Mason's early departure from the game, and a potential concussion diagnosis.
"I don't see our guys doing that," said an irritated Berube.
But then again, why would they? The Flyers have owned Marc-Andre Fleury, beating him three times this season and leaving him with an .885 save percentage in the season series. In other words, taking an eye-for-an-eye would have been counterproductive to what the Flyers were trying to do – score goals.
If Penguins do play Flyers in first round Brendan Shanahan is somewhere smiling that he's not head of NHL Player safety anymore.

— Josh Rimer (@JoshRimerPR) April 12, 2014
But it is interesting, nonetheless, to note that Megna was rightly penalized for shoving MacDonald into Mason, while Hartnell and Letang were both penalized. And before the official-bashing begins (by those who have likely never officiated a hockey game in their lives), the Penguins had four power play chances to Philadelphia's two.
Let's not forget about Tanner Glass' third period cheap shot on Jakub Voracek, who just coincidentally scored two of the Flyers' four goals on the day.
"Regulation's over at that point. I didn't see any need for him to go at him," said Flyers defenseman Hal Gill. "Jake took exception to it, and I did too."
Keeping Score – The Pot Calling The Kettle A Heartless Bully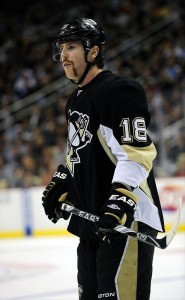 If the "dirty team" label being lobbed from Pittsburgh to Philadelphia isn't the definition of irony, it's straight slap schtick. This is not to say the Flyers are a team littered with Lady Byng candidates, but it's time to acknowledge the truth – Pittsburgh is just as, if not more dirty than Philadelphia. The proof of that is found beyond the bitter rivalry between the two teams.
Lost in the chaos surrounding Shawn Thornton's attack on Brooks Orpik earlier this season was James Neal's blatant unsportsmanlike knee to the head of Boston's Brad Marchand. Speaking of Neal and history, he has one; just ask Sean Couturier. And then there's Brooks Orpik, who masterfully pulls off the "Who, me?" mantra. While his devastating hit on Loui Eriksson came during the same game, it was just one of his many hits that have been labeled "borderline dirty."
"In watching the replays, I thought Brooks was just kind of lining him up," said Bruins coach Claude Julien. "No matter what, he was going to line up the hit more than even attempt to play the puck. Maybe people will argue that it touched his blade but it certainly wasn't from him (Eriksson) trying to take a pass. It took a weird bounce off the boards."
It's equally surprising to see Bylsma and the Penguins playing the victim card since their poster boy for integrity and fair play, James Neal, is the only player in the league to be threatened with suspension for racking up three embellishment penalties.
"I have also seen enough of his play to know something else: James Neal is not my type of hockey player. He has been involved in multiple incidents, showing reckless disregard for the safety of fellow players. Furthermore, he's a player who has acquired the reputation for being a diver.

"The law of diminishing returns, which I learned in my college days at the University of Pennsylvania, comes into this. For all of Neal's talent, he is at risk of starting to cost his team more than he gives. Which each new incident, he becomes more and more of a distraction to his own team.

"When I was an active referee, I would tell the team leaders and the coach to get control of such players or I would have to do it for them — and they wouldn't like the result. If I told Ray Bourque or Dave Poulin to get someone on their team in line, I never had another problem with that guy. I would hope Sidney Crosby could be told the same thing by an official, but I have not seen that sort of leadership from him." — Former NHL Official, Paul Stewart
It's beyond obvious that Dan Bylsma, and the likeminded folk who regurgitate such bias, is dead bolting a door that's attached to a house of cards. As for Berube, Pittsburgh's antics are nothing new to his coaching eyes. The former enforcer lambasted the Pens back in the 2012 playoffs when he served as an assistant under Peter Laviolette.
"They (Evgeni Malkin and Sidney Crosby) slash, they punch guys in the face, they do all these little things," Berube said. "I got no problem with what (Brayden) Schenn does, and if somebody runs [Crosby] over, that's great, they should run him over. This guy gets away with too much in my opinion, whines to the refs all day and all night, it's a joke."
For a team that complains about dirty hits more than any other, the Pens are found guilty a lot. Now it's Deryk Engelland, five games.

— Jack Todd (@jacktodd46) December 19, 2013
Yes, the Flyers are the most penalized team in the NHL. And yes, they're in the top three in the league in major penalties, misconducts, and game misconducts. It'll be difficult to find anyone foolish enough to argue they're a disciplined group of choir boys. But let's not turn a blind eye to Pittsburgh's pair of match penalties, which is one more than Philadelphia has committed. Especially if you plan on riding a high horse to and from the arena.
Andy is a contributor for The Hockey Writers, covering the Philadelphia Flyers. He holds a Bachelor's Degree in Communications from Walsh University. He enjoys spending time with his family, golfing, and reading. He is married with a daughter. You can follow Andy on Twitter @ADudones.