There's no doubt that Shea Weber is one of the faces of the Nashville Predators. He's played there his entire career since he made his début in 2005, and the fan-favorite has been captain since the 2010-11 season.
However, could a man who is seemingly untradeable really be dealt?
It's something that's getting traction and now some wonder why is Nashville feeling the pressure to deal its captain.
The Question
That question was posed a couple of times in separate Yahoo! Puck Daddy blogs by Josh Cooper and one by Ryan Lambert, who used Weber an example for trading stars on the decline. Those pieces have set Preds fans a Twitter (pun intended) about the future of the influential captain. Here are some of the reactions I saw.
Some were on board
To those that like looking at the numbers Shea Weber has been an ideal trade chip for 2 years now. Peak perception value, fading results

— Ryan Wilson (@GunnerStaal) August 1, 2015
But others weren't down with it.
stupid article here. nashville trading shea weber would be a huge mistake… defenseman like weber dont grow on trees http://t.co/bTgvEXUWc3

— George Foussekis (@CanucksFin56) July 30, 2015
The Reasons
Weber had a down year (by his lofty standards) last season with his lowest non-lockout goal total with 15 goals and 30 assists. However, he didn't have to do a lot of heavy lifting as Roman Josi and Seth Jones emerged to shoulder some of the scoring load. The rest of the defense really helped out after Weber's sublexed kneecap ended his season in Game 2 of Nashville's opening-round series against the eventual Stanley Cup-champion Chicago Blackhawks.
The success of the defense without their captain has gotten people thinking that there could be life after the captain. Here are some of the reasons why General Manager David Poile could deal Weber in the next year or two.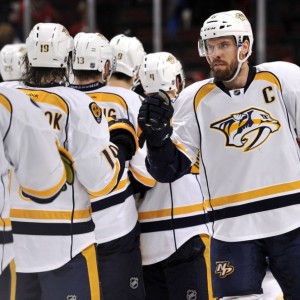 The Money
The main issue arguing for Weber getting traded is the salary cap hit. Nashville will never be a team like the New York Rangers, Boston Bruins or any other large market teams that often face a salary cap-crunch. The Predators try to have plenty breathing room between them and the cap, as it's standard operating procedure for them.
Weber has the largest contract in team history (and league history at the time) thanks for the Philadelphia Flyers signing him to an offer sheet in the 2012 offseason. The 14-year, $110 million deal has a cap hit that works out to $7,857,143 a season. Nashville matched the offer sheet five days later.
That is a big hit to a smart-spending team like the Predators, who couldn't afford to lose the face of their franchise and a top-flight blueliner. Weber's booming slapshots and hits market this team in an area known more for pigskin than pucks. He's carved a spot into the consciousness of the sports fan in Tennessee, and Weber helps sells tickets.
However, there is a temptation to try to get that contract off of the books to invest in more pieces of the team that's got to keep up in the loaded Central Division. Weber makes the Predators one of the best defenses in the league, but this team missed key goal-scoring when it needed it. Weber could bring in a nice haul from a team like the Edmonton Oilers that have talented, young forwards to burn.
Declining Skills?
The stats showed that Weber didn't score the points at his usual clip, but he played the role of a more stay-at-home defenseman in 2014-15. His partnership with Josi is arguably one of the best in the entire league, as they complement each other. Josi is a smooth skater that reminds people of Erik Karlsson of the Ottawa Senators, while Weber is a throwback to the blueliners of the past.
Weber is physical and is one an oak tree on defense at 6'4", 233 pounds. He can skate. He can shoot. He can score, but he can also mix it up if he needs to. (Like when he sticks up for Josi after Colorado's Gabriel Landeskog drilled Josi.)
That rough-and-tumble style might be wearing on Weber. I posed the question near the end of the season when Weber was injured.
RELATED: Can the Nashville Predators Win Without Shea Weber?
Players like Nicklas Lidstrom, Chris Chelios and Mathieu Schneider were prime point-producers late into their 30s. However, guys like Phil Housley, an assistant on the Predators, and Scott Stevens had a sharp drop-off in points after they hit 30. Does Nashville want to risk not getting the most value for a sought after commodity like him?
Weber will turn 30 on Aug. 14, and the fear that he might be on the downslope of his career is one that rattles around in the heads of Nashville's management. Is he going to bounce back to the Norris Trophy-caliber player that he's usually been or was last season the start of a regression trend?
The Future
The Predators have a young team that including youthful forwards loaded with potential. Some of those young players like Filip Forsberg, Seth Jones, Craig Smith and Colin Wilson are starting to realize their potential and that talent doesn't come cheap.
Both Wilson and Smith were signed to long-term deals, but players like Forsberg, Jones and Mattias Ekholm will be deserving of a pay raise. Jones becomes a restricted free agent after his entry-level deal runs out at the end of the coming season, as does Forsberg and Ekholm.
Poile has been good about rewarding the players that have given some solid contributions, but he doesn't want the club to be in salary cap hell. Getting Weber's contract off the books could help the team get some cash needed to build to the future.
The Verdict
It's always tempting to try to look to the future. However, I'm not so ready to ship Weber off unceremoniously. He's been a rock to the franchise and helped establish the club in a non-traditional market. It was such a big deal when the Predators matched the Flyers' offer sheet.
Weber should only be traded if the offer is just too good. Nashville does have a lot of talented defensemen, but there aren't many guys like Shea Weber. It could take years to unearth another player like him.
I take the approach of fellow Predators writer Colin Fitts, where he wants to see if Jones and Josi can do it again before deals get tossed around.
What do you think? Leave your comments below.
Dan Mount is a Nashville Predators staff writer for The Hockey Writers. You can follow him on Twitter, @DanMountSports.
Covered hockey since attending SUNY Oswego in Upstate New York in the early 2000s. Has written about college, major junior and professional hockey for the last five years.
Resides in Watertown, NY.