The Ottawa Senators are 11th place in the Eastern Conference and falling. The team is ten points out of a playoff spot (two games in hand) and Sports Club Stats say they currently have a 9.9 percent chance of making the postseason.
Sell.
They are bottom five in the league for shots against, bottom three for faceoffs, and have, by far, the worst winning percentage when playing with a lead. When the Senators score first, they have a 36 percent chance of winning the game.
Sell.
While Ottawa is 3-5-2 in their last ten games, the teams they are trying to catch – Florida Panthers (6-3-1), Boston Bruins (6-1-3) and New York Rangers (8-2-0) – are all pulling away from the back of the pack. We're a month and a half away from trade deadline day and this team is looking like they're going nowhere.
Sell, Sell, Sell
No one likes a rebuild (except the Oilers, apparently), but when the turn around could be as quick as one, maybe two years, how can you say no?
It would actually be more of a restructuring than a rebuild. Ottawa has a strong core and no one's saying they should tear it down. Bobby Ryan, Kyle Turris, Clarke MacArthur and Erik Karlsson are the future franchise players that are going to solidify this roster for years to come. It's the bits and pieces that bring the most concern.
After Daniel Alfredsson left town the way he did, it seems management felt they had to be more generous to their beloved veterans. Chris Phillips got an extension, Milan Michalek got a contract, Chris Neil got more playing time, and then they took a chance with David Legwand. Now, halfway through the season, you could argue that the four of them can be easily placed in Ottawa's bottom six players.
Too bad they all have limited no-trade clauses. Oh, what a time it is in Ottawa!
Why the Senators have waited to waive Colin Greening so long, I truly have no idea. Greening has 1 point – a goal – in 20 games this year. If Bryan Murray is trying to get something in return for Greening, good luck to him because Greening's value has declined drastically since the start of last season.
Marc Methot and Craig Anderson are two interesting cases. If the Senators can't get an extension done with Methot before the trade deadline, they either have to gamble and hope a deal gets done before free agency, or put him on the market.
Craig Anderson's trade value has never been higher. On a struggling Senators team, he's been able to stay in the top four in GAA in the league, all while being substantially outshot every night. Anderson is the Senators' outright M.V.P. and it's not even close. But if you deal him, that means Robin Lehner is a No.1 goalie at 23-years-old.
Management Wants to Buy
A few days ago, Murray announced he was interested in improving the forward corps.
"What I've talked to several teams about is a forward. A guy is maybe a little more experienced, a known point-getter or at least has a chance to get points. Those aren't easy to come by." – Bryan Murray. Ottawa Sun. Published: Jan. 11, 2015.
The Senators are currently around the league average for goals per game and their scoring is quite spread out between their top two lines. Thinking of adding a top-6 forward is just straying away from the fact that this team's problem is clearly on the defensive side.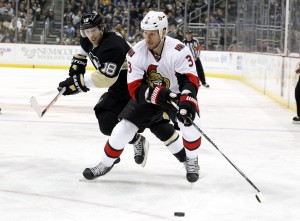 Now that Methot's injury woes seem to be over, Karlsson and Methot look to be the the only adequate defensemen playing on a nightly basis. And you'd be able to add Patrick Wiercioch to the conversation if he wasn't subbed out for Chris Phillips every other night.
Regardless of what type of player the Senators are after, it doesn't make sense. On this date last year, the Senators were a single point out of a playoff spot. The day of the trade deadline, they were only four points out. Acquiring Ales Hemsky from the Oilers, though Hemsky would later ship off to Dallas, was warranted. The team had a legitimate chance of breaking into the playoffs and the move they made was low risk.
********
In acknowledgement of the Senators being the league's lowest spending team, Eugene Melnyk has voiced his casual opinion.
"I'm not at (the) least embarrassed about spending at the bottom. I'm happy about it, because we'll be able to spend more in the future." – Eugene Melnyk. Ottawa Sun. Published: Dec. 15, 2014.
For the past couple years, Melnyk has stated that even though the Senators aren't spending a whole lot of cash in the offseason, there's always money available for Murray to spend later in the season if the club is doing relatively well.
But that kind of mentality is handcuffing the organization.
Teams that are in a playoff spot this time of year have almost always spent around the cap in the offseason. And teams that don't spend usually are sitting at home watching hockey on their TV screen in May.
If Melnyk is in fact telling the truth and money is available for Murray to spend, why only do it around the trade deadline and only if the team is somewhat holding their own?
In the NHL, if you spend money, your team will have success.
In the Senators' organization, if your team has success, you'll be able to spend money.