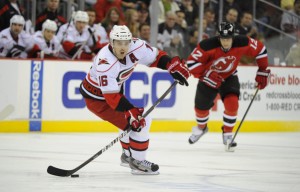 Brandon Sutter learned last week that he was coming to the Pittsburgh Penguins in a trade that sent Jordan Staal to the Carolina Hurricanes. In the days leading up to the trade, Staal had turned down a massive 10-year contract offer from Penguins General Manager Ray Shero.
Since Staal declined such a generous offer, Shero realized that the chances of keeping Staal in Pittsburgh long-term were very slim. Shero sent Jordan, the Penguins former #2 overall pick to Carolina to unite with his brother, Eric Staal.
Jordan Staal arguably had his most productive offensive season as a Penguins player despite missing significant time due to a knee injury. Whether Staal would admit that he did not care what his role was with the Penguins, his play was speaking a different tone. This past season, Staal was more productive offensively and eclipsed his career high in points in only 62 games. He tied his career high in playoff points as well with his offensive output against the Philadelphia Flyers in the 1st round of the 2012 NHL Playoffs.
While Staal's stellar offensive production may have been the sole reason why the Penguins and Flyers series went as far as six games, his defensive play declined. Staal's play was no longer showing the signs of a responsible 3rd line center. Staal was showing not only that he can, but that he wanted to score more goals instead of shouldering the responsibility to shut down other teams' top scoring lines. This change in Staal's play really hurt the Penguins at the defensive end of the rink.
The Penguins were the highest scoring team in the NHL during the 2012 season. Goal scoring is not an issue going forward for the Penguins. They need players who can play defense and keep other teams from running up the score on them like the Flyers did in the 1st round of the playoffs. This is why the trade for Brandon Sutter makes sense for the Penguins.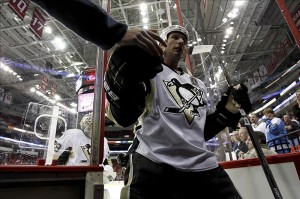 By no means will Brandon Sutter be the same player as Jordan Staal, but Sutter will definitely fill a voided defensive-forward role by playing center on the 3rd line in the place of Staal. Sutter is versatile and can fill multiple roles on the Penguins by penalty killing, checking other teams' top scoring lines and filling in on the power play when he is needed. These are all aspects that Staal did extremely well in his 3rd line center role being a strong two-way player in the years leading up to the 2012 campaign.
While Staal seems to have greater ambitions, Brandon Sutter seems to have no problem filling the 3rd line center role with Sidney Crosby and Evgeni Malkin centering the Penguin's first two scoring lines.
"I'm four years into my career now and I'm still yet to play in a playoff game. For me I'm at a point now where it's about winning. That's what I want to be there for. I want to help with that. What goes on with the line-up over the course of a couple years isn't in my hands. With the two big guys down the middle playing behind them is going to be a great opportunity for me. I just want to win some games. I'm really looking forward to the opportunity and to play with some great players."
While Sutter is going to be heavily relied upon to be a defensive center for the Penguins he has the mindset and the game of a well-rounded player who can be efficient at both ends of the ice. With the offensive fire power that the Penguins have on their roster, Sutter hopes that his offensive numbers will improve playing for the talented Penguins. Sutter was not given the offensive opportunities in Carolina that he will enjoy in Pittsburgh within the system that Head Coach Dan Bylsma preaches.
"I don't want to be looked at as just a defensive player. I want to score goals and do things too. I think in the past where I had the opportunity to play a little bit of the power play here and there and it helped."
Brandon Sutter knows the role that he is expected to play for the Penguins and is anxious to fulfill his role at both ends of the ice. At the same time, he does not want to be limited to playing only a defensive role as he sometimes felt he was restricted to in Carolina.
"I am comfortable with the role that I am in, but I think it is important and it has been the last couple of years that I don't want to get stuck playing defense every shift. I think obviously with Crosby and Malkin, if we can find a way to get the 3rd line to produce like they have in the past, again you have that three-line force."
Sutter may not put up the goal scoring stats that Staal posted over this past season, but he will be heavily relied upon, as was Staal, to score big goals and anchor one of the top penalty killing units in all of the NHL.
"I'm obviously very comfortable on the penalty kill and checking. I think if you can combine the two you can turn yourself into a good player."
Sutter hopes he will be able to provide a stable brand of two-way hockey where he is able to center a 3rd line which is effective at both ends of the ice throughout the 2012-2013 season.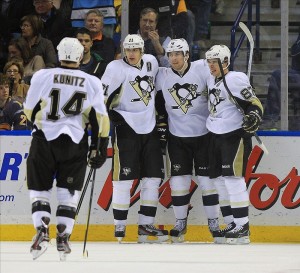 With Sutter only being four years into what expects to be a very promising career, Ray Shero has to be commended for the player he found to step into Jordan Staal's old role. Staal wanted to start scoring goals and was fading away from his defensive responsibilities as a 3rd line center. The problem is that the Penguins already have enough goal scoring talent on their top two lines.
The Penguins needed a player who was willing to play center and accept a defensive responsibility. Brandon Sutter was the perfect player for this role. While he doesn't want to get stuck playing only defense, he knows that playing on a team as offensively talented as the Penguins, his offensive opportunities will dramatically increase from what they were playing for the Carolina Hurricanes.