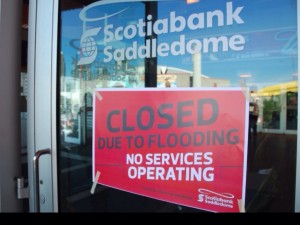 Brian Burke's mouth, as it so often does, has made headlines in recent weeks concerning the Calgary Flames' "embarrassing" home arena, the Saddledome. Burke's call for a downtown stadium is nothing new to the sporting world, but it does bring up the hotly debated discussion of whether or not a new NHL arena should be publicly funded.
Is using taxpayer money to fund a new arena beneficial to the community? In terms of dollars, studies say no, but an NHL team's value isn't solely based in economics.
The issue of publicly funding an NHL arena is obviously more complicated than the numbers suggest because, despite the fact there is little advantage for a city in building a new arena, multiple municipalities have recently provided part of the financing for a new stadium regardless.
EVERYTHING WRONG WITH A PUBLICLY FUNDED ARENA
The most fascinatingly disastrous example of a publicly funded stadium gone wrong resides in Major League Baseball, specifically Miami.
"Last year the Marlines opened $639 million, publicly-financed ballpark and parking complex. Usually teams thrive when they first move into a new stadium because of higher attendance, splashy amenities and luxury seating boost revenue. But the Marlins stadium has been a disaster and Miami-Dade county taxpayers are getting hosed like nobody before them." – Mike Ozanian, Forbes
The taxpayers of Miami are not seeing anything in return for their investment. Sure the Marlins are .500, but that doesn't mean they are a playoff contender and after last year's fire sale, there isn't much going for the team.
Marlins park may be an exception to the larger issue of taxpayer funded stadiums since the entirety of the stadium was publicly bankrolled and Marlins owner Jeff Loria decided to save money by shedding payroll only a year after it was built. However, the stadium serves as an excessive example of the problems smaller projects will face.
The discrepancy between the pros and cons of a publicly funded arena lies within the fact that the cost of such is an identifiable number and the benefits for the people are based in hypotheticals. Local businesses, such as restaurants and hotels, would also see a rise in profits, but the issue there is that this economic growth resides in private entities while the arena driving the benefits was built off the back of public money.
Dr. Sarah Wilhelm from the University of Utah conducted a study aimed at gauging the revenues publicly funded arenas create:
"The academic literature on the economic benefits of sports stadiums concludes that there is no economic growth associated with professional sports franchises and stadiums." – Dr. Sarah Wilhelm, The University of Utah
Wilhelm's findings seem to shut the door on the most used argument in defense of publicly funding a stadium. So if a new arena doesn't create economic growth as promised, why are cities still handing over public cash in order to fund these new projects?
ALBERTA'S NEW TOYS
A brand new downtown arena is being built in the Province of Alberta; it's just 3 hours too far north for Brian Burke's liking.
Edmonton City Council approves plan to build new arena for #Oilers one which will be funded mainly by tax payers.

— NHL EXPERT PICKS (@NHLexpertpicks) January 24, 2013
The city of Edmonton is appeasing Daryl Katz's demand for a stadium under threat of relocation by providing over $200 million of public money towards the production. Clearly Edmonton's new arena, redundantly named Rogers Place, shows that the issue of public money in arena projects is more complicated than simply saying yes or no to the economics of the project.
Sarah Wilhelm also found that there is an unquantifiable benefit of a new arena in raising the quality of life within a certain population. Her findings suggest that there is another reason cities decide to fund arenas outside of monetary gain, an aspect that can be seen in Edmonton's new arena.
"As part of the deal, the Oilers agree to stay in Edmonton for at least 35 years. The arena is owned by the city, but run by the Katz Group, which covers all operating and maintenance costs and keeps all revenue. The city operates the community rink and keeps all the revenue." – Gordon Kent, Edmonton Journal
The deal states that Katz receives all the direct revenue coming from the stadium and the people of Edmonton get… 35 more years of the Oilers. That's it?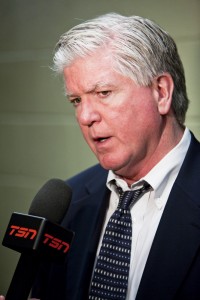 This is where the value of a hockey team goes beyond finances and makes the issue that much more complicated. Could you imagine the Oilers anywhere but Edmonton? Katz's verboseness regarding relocation proved that the answer to this question is no and the city of Edmonton knows how much the Oilers mean to the community.
The same goes for Calgary. Even though publicly funding a stadium doesn't provide many economic benefits, the city of Calgary will nonetheless provide public funding for N. Murray Edwards and company. That's a guarantee.
A caveat to the Flames' value is if their rebuild goes as poorly as Edmonton's. When a team is winning and their fans aren't throwing their jerseys on the ice in defiance, asking for public money is easier than when the team is mired in a seemingly never-ending rebuild. If Calgary continues to struggle, would the Flames' owners have to pull a Katzian propaganda tour in Seattle in order to get some funding?
"Burke received a chilly reception after putting forward an argument for a new arena. Just days later, the Canadian Taxpayers Federation announced it had started a petition against spending any public funds on a yet-to-be-announced replacement." – Editorial, The Calgary Herald
The environment of Canadian franchises is one where cities must decide to publicly fund an arena or else lose the tea to relocation. With storied franchises such as Edmonton getting their way, it's hard not to see Calgary getting theirs.
EXPANSION, EXPANSION, EXPANSION
Building a new stadium in Edmonton and Calgary in order to keep the Battle of Alberta raging for years to come seems like a no brainer, even if they are publicly funded. But those are Canadian markets where as in American markets it's even more convoluted.
Bankrupt Detroit to help fund new #RedWings arena: http://t.co/UU5Pl1H3Fc

— Sportsnet (@Sportsnet) July 24, 2013
A bankrupt Detroit spending public money on a new Red Wings arena is outlandish. This money could be better used in trying to save the ailing city.
But if using the money keeps the Red Wings in Hockeytown, I can understand why the city did it. The Red Wings have been a staple of the Detroit community since 1926 and are another example of a municipality ignoring the numbers in order to keep a piece of their city's pride in tact. Detroit's low self esteem may never recover if one of its most important elements is removed. That in itself could be worth millions.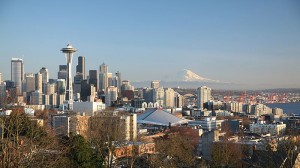 Moving on from Detroit, the next area of arena building is the potential expansion of the league, specifically in Seattle. The Emerald City has never had an NHL team and do not possess the luxury of having a built in hockey market such as Edmonton, Calgary or even Detroit. Therefore, the unquantifiable value of a potential NHL club is a big fat question mark.
Seattle seems like a good spot. They love their sports and have a rivalry waiting to happen with the Vancouver Canucks. A new arena could also lure back the NBA to the Pacific Northwest.
But it's not a good idea to thrust multi millions of dollars into an arena based on possibility. Yet a new arena in Seattle is inevitable.
Such is the complicated environment of not just the NHL, but also the sporting world today. As a taxpayer, a municipality's careless disregard for the public in handing over millions of dollars to a billionaire for their new toy is appalling. As a hockey fan, having your city build a new arena in order to keep the team you love or to bring one closer to home is something to be applauded.