Rumors suggest that St. Louis Blues General Manager Doug Armstrong had a deal in place to acquire Buffalo Sabres goaltender Ryan Miller at the trade deadline in exchange for goaltender Jaroslav Halak and defenseman Kris Russell.  The deal breaker was Halak going down with an injured groin just two days before the NHL Trade Deadline.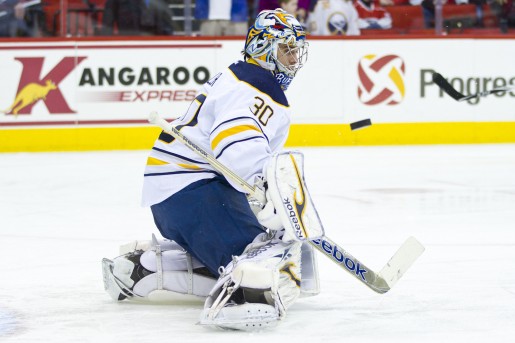 This speculation has fueled more discussion about the possible move now that both teams are out of the playoff picture, as St. Louis writers and bloggers have begun questioning whether Miller could be brought to St. Louis this summer.  St. Louis Post-Dispatch columnist Jeff Gordon suggests that Armstrong could go after Miller because it would "give his team a different look."
When millionaire and long-time Buffalo sports fan Terry Pegula bought the Sabres in early 2011, he promised the fans that a Stanley Cup was in their sights.  Despite making some major roster changes during the summer of 2011, the team has failed to make the playoffs since that time.
Miller has been the face behind the team's struggles, possibly warranted by a career-low 2.81 GAA this past season.  Most recently, Miller was the target of a booing home crowd, after he surrendered three goals in under 1:30 remaining in the first period against the New York Rangers on April 19.  As he left the ice, he gave a sarcastic wave to the fans in what was one of the final home games of the season.
Yes, this is the same goalie that was the American hero during the 2010 Winter Olympics.  The Michigan-born Miller has one year remaining on his contract with $6.25 million owed to him.
Although Miller can still bounce back from his average play as of late, bringing him into a young St. Louis club with a win-now mentality may prove to be counter-productive.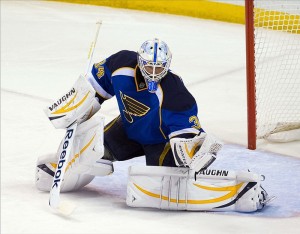 The Blues do have some questions to answer in net this off-season.  With rookie Jake Allen stepping in last season and posting an impressive 9-4-0 record, the Blues' goaltending future has been described by Armstrong as "cloudy."
This terminology does not mean that the club is in search of a new culture in the crease.  Halak has battled through groin problems since the 2012 playoffs but has been very serviceable when healthy.  Brian Elliott was shaky to start last season, but finished better than any goaltender in the National Hockey League.  His 11-2-0 record, 1.28 goals-against average, and .948 save percentage in April earned him the NHL's second star of April.  With the possible exception of the last goal scored in the playoffs (which was deflected by defenseman Roman Polak), he was the Blues' strongest player throughout the six-game playoff with the Los Angeles Kings.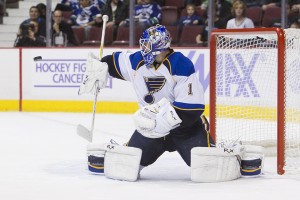 Take into consideration that the club asks its goaltender to stop an average of 24 shots per game, and it becomes even more obvious that the tight-budget team does not need to take on a laboring, $6 million goaltender.
Armstrong also has a bundle of important restricted free-agents to worry about, including young defensemen Kevin Shattenkirk and Alex Pietrangelo.  This will be his top priority heading into the free-agency period.
In terms of additions, Armstrong will be looking to sure up his offense.  The Blues, who ranked 17th during the regular season with 2.58 goals scored per game, mustered just 10 goals in six playoff games, including a severe lack of production from the club's top-six forward unit.
Miller would not suddenly spike this team's offense.
If a deal comes along that forces the Blues to part with two of their goaltenders, Armstrong would be in obvious pursuit of the Sabres goaltender.  In lieu of that unlikely scenario, do not expect to see Miller in a Blues jersey any time soon.
I am a former NHL media member and reporter for the St. Louis Blues, working for various media outlets. Currently, I am an NHL News Writer and Editor for The Hockey Writers. I live in St. Louis and work as a freelance copywriter in numerous industries.