The New York Rangers' search for offensive help culminated with the return of a former Blueshirt.
Multiple reports indicate that Mats Zuccarello — who played for the Rangers in parts of the last two seasons — will rejoin the club in the coming days. In 52 games as a Ranger during the 2010-11 and 2011-12 seasons, Zuccarello tallied eight goals and 26 points.
The 25-year-old can certainly provide offense to a team that is 28th in the NHL in goals per game. In addition to the well-documented struggles of Brad Richards and Marian Gaborik, the Blueshirts' bottom six forwards corps has struggled mildly this season. Brian Boyle and Taylor Pyatt each have one goal in their last 27 games, Chris Kreider has been jettisoned back and forth from Manhattan to the minors, and 20-year-old J.T. Miller has two points (both assists) in his last 20 games.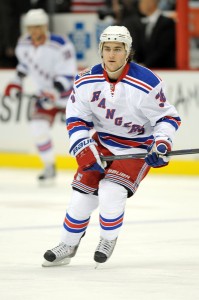 All of those signs give reasoning to why the Rangers would sign Zuccarello. But here's the catch: where does Zuccarello fit into the offense?
In recent games, the trio of Carl Hagelin, Derek Stepan, and captain Ryan Callahan was the only unit to maintain chemistry on a consistent basis. John Tortorella reunited Richards and Gaborik with Rick Nash, but that line was broken up midway through the Blueshirts' contest with the Capitals on Sunday. Gaborik was demoted to the third line, while Kreider was put with the two struggling stars.
If Zuccarello doesn't play on a line with either Stepan or Richards, he will be among the bottom six forwards, and play with linemates who don't have similar offensive capabilities. If Zuccarello ends up on one of the bottom two lines, it would create a clumsy fit of a playmaker and a couple of grinders.
The Rangers could, however, benefit from having Zuccarello on the power play. But, the Blueshirts are struggling to draw penalties, let alone score when they have the man advantage.
It's a proverbial catch-22: Zuccarello needs to consistently be on the top two lines to be effective, but there are no guarantees that he will get the chance to play among the top six.
After all, the Rangers weren't sold on the Norwegian being a full time player for them this season. After last season, Zuccarello said that he wanted to return to New York, but only if he was offered a one-way contract.
"I have to think about how much I played and what's best for me," Zuccarello said shortly after the Rangers season ended last spring. "I would love to stay, but…they have a good team (so) if they don't have room for me, I have to go and do something else."
That something else came in the form of a contract with Metallurg Magnitogorsk in the KHL, where Zuccarello totaled 28 points in 44 games.
Now, he is back, but it's far from certain the Rangers offense comes with him.