Some might toss off yesterday's announcement that San Jose Shark winger Raffi Torres will be undergoing a second surgery on his right knee as an insignificant event for the team's season. How long he's out is currently unknown, but it will be months, with the Mercury News' David Pollak saying January is optimistic. Torres is a depth winger on a roster that is front-loaded with veteran talent like Patrick Marleau and Joe Thornton and rising stars like Logan Couture, Joe Pavelski, and Tomas Hertl.
But the team's bottom six, despite the presence of young players with potential, is a bit of a mess. It's anyone's guess how that grouping of Tyler Kennedy, James Sheppard, Mike Brown, Tommy Wingels, Andrew Desjardins, John Scott, and Adam Burish shakes out.
If you thought the Torres injury was an insignificant event in an offseason loaded with insignificant events for the Sharks, you'd be wrong.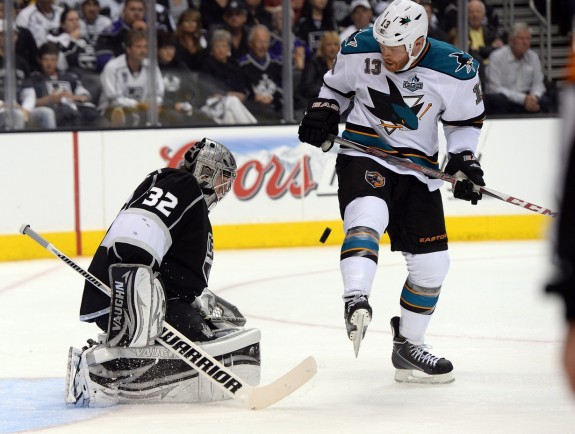 Ch ch ch changes
Without rehashing too much, we have to talk about the "rebuild." I'm sorry.
The Sharks rebuild, or rebuild from within, or we aren't rebuilding, what are you talking about?, has taken strange turns during the offseason. We can't know the long-term plan of general manager Doug Wilson and head coach Todd McLellan, but what we can see is a team who has done little this offseason but lose players and bring in some borderline AHL players and a couple of physical players who will see their fair share of healthy scratches.
It seemed like a joke for a bit, but with the first injury of their season coming in August, it's easy to see how a lack of significant moves in the offseason has left the Sharks vulnerable. They look like a good team, a playoff team, on paper, but what was one of the deepest forward corps in the league last season is suddenly looking like it lacks depth.
Getting Bigger
This postseason they've re-signed Mike Brown and 6-foot-7 235-pound Taylor Doherty. They've also signed 6-foot-8 270-pound John Scott. The team appears to be interested in size and grit. But once the season is underway we hope that they remember that they had a very good team last season without having an enforcer presence on the team. Once (and if) they're winning it's hard to imagine that they're going to choose to play Scott over a player who offers any offense whatsoever.
What Torres Offers
Torres has a patchy history. That is, a career quilted in suspensions. But Torres offers the grit the team is clearly looking for without the dearth of offensive production that you're going to get from Brown and Scott. If the team is going to play a single tough guy in a game, Torres may be able to enter the lineup, provide offense and grit and stop the team from looking like the Chiefs in Slapshot. Torres' may have the ability to stop the team from playing Scott and Brown as much as they might in Torres' absence. He could also be a stabilizing presence in the bottom six, which, as mentioned, lacks clarity at this point.
With Torres out for months, that increases the likelihood of Scott and Brown getting minutes and that's bad for the team. Neither of them offers shutdown potential on a depth line and you can almost guarantee that neither of them are going to be involved in the creation of any offense.
No, Torres isn't Pavelski, but in the five games he did play last season he had three goals and two assists. That's a rate of production he is unlikely to maintain, especially with a notable 33.3% shooting percentage. But it's production. In Torres' last two full seasons he was over 20 points. We aren't questioning his exclusion from the All-Star team with those numbers, but we are seeing numbers that merit some discussion.
Mike Brown, on the other hand, had five points in 53 games last season, two points in 39 games the year before that, and four in 50 games the year before that. (All regular season.) John Scott has six career points in 240 regular and postseason games.
Torres is producing enough and creating enough of an impact on the ice that he's going to play and he has the ability to help the team both through his production and creating the mythical "deterrent" that supposedly stops players on opposing teams from targeting star players. I don't buy that logic — and it would seem that history doesn't either — but if they Sharks do buy that, they are better off with Torres on the ice than with Scott or Brown. He can also provide stability as a known quantity in a bottom six stocked with young players who have had wild ups and downs in their career.
The Sharks are a lesser team with Torres out of the lineup, not only because of what his absence means to the team, but because of what will fill the void he leaves in the depth chart.
Dustin Nelson writes about news and the Minnesota Wild for The Hockey Writers.