So much for the foregone conclusion that the Flyers were moving veteran forward Vincent Lecavalier. Excluding any colossal breaking news of a trade that would include Lecavalier, he's here to stay – for this year at least. Beyond next season, however, conditions could change. If Lecavalier is eventually moved, is a trade then imminent? Or could Lecavalier possibly become the first player in NHL history to be bought out for a second time?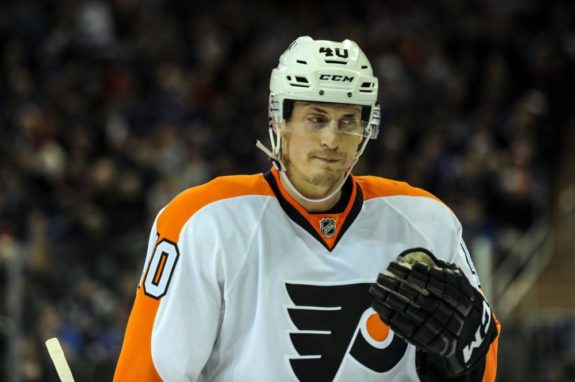 The Price of Four More Years
With Chris Pronger's upcoming move to the LTIR, the Flyers will compliantly enter the upcoming season with little to no room to spare. And although Vinny Lecavalier's $4.5 million cap hit sits as the sixth highest on the team, it certainly isn't helping first-year GM, Ron Hextall, in his efforts to mold the team independently.
"There's really nothing conventional about the Flyers and the lineup is kind of a mixed bag, but there's talent there to put something together.

"One of the stranger things about this club, however, is that there are more expensive players outside of the core group than in, which isn't usually a good thing." — Chris Peters, CBS Sports
The forwards mentioned by Peters in this "core group" include, Claude Giroux, Wayne Simmonds, Jakub Voracek, Sean Couturier, and Brayden Schenn. Lecavalier's omission from this list suggests what most already know: he's not a long-term solution for a team that's currently fighting the salary cap, and has a logjam at the center position to boot.
When Flyers signed Lecavalier, an exec told me he'd be first player to be bought out twice. If Flyers dump him, pretty close.

— Nick Cotsonika (@cotsonika) July 3, 2014
Even if Lecavalier bounces back from a disappointing first season in Philadelphia as some predict, he'll turn 35 next April. To demonstrate that concern, the long-time member of the Tampa Bay Lightning has failed to appear in at least 70 regular season games in a single season since the 2009-10 campaign. It's a decline that causes unease considering the 400 goal scorer played in 76 games or more from 2001 to 2010.
"Lecavalier's new deal with Philly isn't horrible in the short-term, it's just that the Flyers don't have the room to take it on right now." — Ryan Kennedy, The Hockey News
That was written last year after Lecavalier signed his five-year, $22.5 million deal. Since then, the room Kennedy spoke of has shrunk, and the former Stanley Cup-winner is a year older. And although Lecavalier was one of seven 20-goal scorers in the lineup last season, he was healthy enough to play in only 69 regular season games, while giving the Flyers virtually no versatility in positional changes.
Kennedy is also right in respect to the positive Lecavalier brings to the Flyers from a short-term approach. His occupancy of a roster spot brings leadership of a veteran who's been there, done that in reference to winning a Cup. And despite the adversity Lecavalier encountered in his first year in Philadelphia, he reached the 20 goal mark for the 13th time in his last 14 seasons.
"People forget he scored 20 goals last year," said Hextall.
https://www.youtube.com/watch?v=hNHagAMXDqc
Lecavalier's eight power play points should increase as well, if he's able to stay healthy. With familiarity on the second unit, along with Craig Berube's overall system, an unforeseen injury should be the only thing that separates Lecavalier from a terrific bounce-back season.
"The Lecavalier-playing-on-the-wing experiment blew up, so Lecavalier should be the second-line center when the season begins. Schenn may play better in the middle of the ice, but he is a faceoff and defensive liability. The Flyers need a stable second-line center and with a full offseason, Lecavalier could have a bounceback year in production and in the faceoff circle." — Tom Foti, Broad Street Buzz
All the "could's" and "should's," along with the "if's" and "but's" surrounding Lecavalier's upcoming season alone reveals the potential long-term liability threat that he and his contract could create. So why not just trade him? That solution, as we've seen, isn't as easy as it sounds.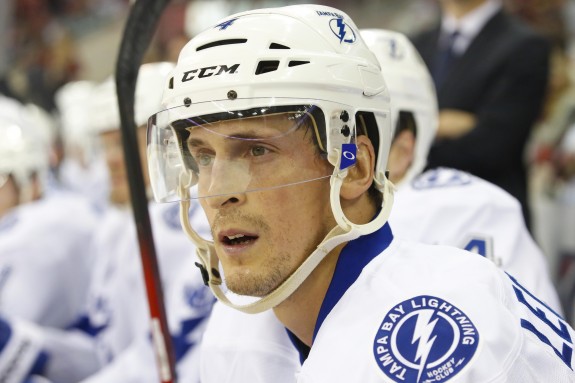 Does a Lecavalier Buyout Make Sense?
Even with a salary cap that was increased to $69 million for next season, Hextall's decision to hold onto Lecavalier over the course of the offseason was really a no-brainer. Yes, Lecavalier was on the trade block. But with insufficient offers for the 15-year veteran, he's nearly a lock to be in orange and black when the Flyers hit the ice for the first time this season.
"We all know when you get older you aren't probably producing the big numbers you used to," said teammate, Kimmo Timonen, who was recently lost for an indefinite period of time. "I have no problem with Vinny coming back, or whatever happens. I like Vinny as a guy and a player. Hopefully he's coming back."
Even if Lecavalier wasn't well-received by his teammates, buying him out this past June wouldn't have been a wise decision, financially speaking. With four seasons left on his contract, his NHL salary will be $6 million for the second straight year. After the season, however, his salary will dip to $4.5 million for the 2015-16 season, and then $3 million for the remaining two seasons.
https://twitter.com/JohnBorukCSN/status/352192303575740417
Why is that relevant? According to CapGeek.com, the answer is in the buyout calculations:
When a player is bought out, the team still takes a cap hit for the player over a period of twice the remaining length of the contract. The amount of the cap hit (by year) is determined as follows:

Take the actual salary due for each remaining year

Take the Averaged Player Salary (cap hit) for the current contract

Calculate the buyout amount (as described above)

Spread the buy-out amount evenly over twice the remaining years of the contract

Take the number in No. 1 and subtract the number in No. 4. This is the "buyout savings."

Take the cap hit from No. 2 and subtract the buyout savings from No. 5.

This calculation is done for each year, meaning the buyout cap hit is not necessarily the same for all years. It can even be negative, meaning a team can receive a credit.

This formula also applies to 35-plus contracts. 
If the Flyers were to choose this option with Lecavalier after the 2014-15 season, they would open a little over $5.333 million of cap space over the duration of the current contract. The downside, of course, is taking the $2.888 million yearly cap hit for the next three seasons for a player who doesn't even play for them. Furthermore, the Flyers would incur a $2.666 million hit for the three seasons beyond his contract length ($888,889 per year).
In all, the Flyers would be saving $2.667 million of cap space when the hypothetical buyout is all said and done. So the next question begs, is it worth it?
"Projections for future league revenue are also on an incline, so it's not too farfetched to think the following seasons could also see cap increases." — Evan Sporer, SB Nation
Hextall could use the added cap space to either assist in re-signing Michael Del Zotto, or locking up key pieces such as, Jakub Voracek, Sean Couturier, and Brayden Schenn. The Flyers could also make a run at a free agent or two as well. Mark Staal, Johnny Boychuk, and Cody Franson are all slated to hit the free agent market as of now, although it's a bit of a reach since Braydon Coburn, Luke Schenn, and Nicklas Grossmann will all have a year remaining on their deals.
If Lecavalier doesn't perform to the level of his contract next season, finding a suitor for a trade will increase in difficulty – as if it hasn't been hard enough already. That leaves the buyout option a legitimate, and attractive one. Especially with Scott Laughton knocking on the door.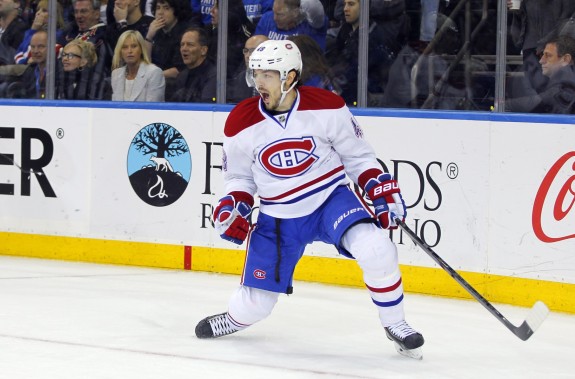 Hindsight of Past Buyouts
In comparison to the two compliance buyouts that former GM Paul Holmgren used on Daniel Briere and Ilya Bryzgalov, Lecavalier's potential buyout seems like pocket change. But a return to reality shows a cap space deprived team paying a financial penalty for Lecavalier's lesser deal since the Flyers used their pair of Get Out of Jail Free cards on Briere and Bryzgalov.
Upon initially signing Lecavalier, the Flyers were getting short-term cap relief for an established player who was two years younger than Briere. In addition to that, Lecavalier scored seven more goals and 12 more points than Briere in the exact same number of regular season games.
Unlike Lecavalier, though, some of Briere's missed time was a result of sitting in the press box as a healthy scratch. Naturally, of course, Briere held the edge in post-season production. In nine more games than Lecavalier, Briere tallied five more playoff points.
"With Briere, the Flyers knew his declining productivity did not match his $6.5 million salary-cap hit. If the Flyers could have just held on and been patient for this season and next season – at a significant savings since Briere's contract was front-loaded and they would have only needed to pay him a combined $5 million in real dollars – they would have kept that flexibility this summer to buy out one other bad contract free of cap implications." — Frank Seravalli, philly.com
While that statement is true, it's hard to really blame Holmgren for this scenario. After all, who really foresaw Peter Laviolette getting fired three games into the season last year? And aside from the contracts, Lecavalier is clearly the better of the two players. If Lecavalier's career trend holds true in Philadelphia, talks of a potential buyout will be tossed aside with the weekly garbage collection.
We're currently stuck in Philadelphia waiting for them to tell us we can leave. We're the Vinny Lecavalier of Amtrak.

— Greg Wyshynski (@wyshynski) July 15, 2014
In Tampa Bay, Lecavalier played for five different coaches. In each year of a new coach taking over, Lecavalier's production slipped from the previous season.
When John Tortorella replaced Steve Ludzik in 2001, Lecavalier went from 51 points in 68 games in 2000-01, to 37 points in 76 games in 2001-02. When Barry Melrose/Rick Tocchet took over for Tortorella in 2008, Lecavalier again saw a dip. This time, it was from 92 to 67 points. And when Guy Boucher relieved Tocchet in 2010, Lecavalier went from 70 to 54 points.
That's good news for Craig Berube and the Flyers moving into the upcoming campaign. And if the trend gets bucked, there's always that other option.