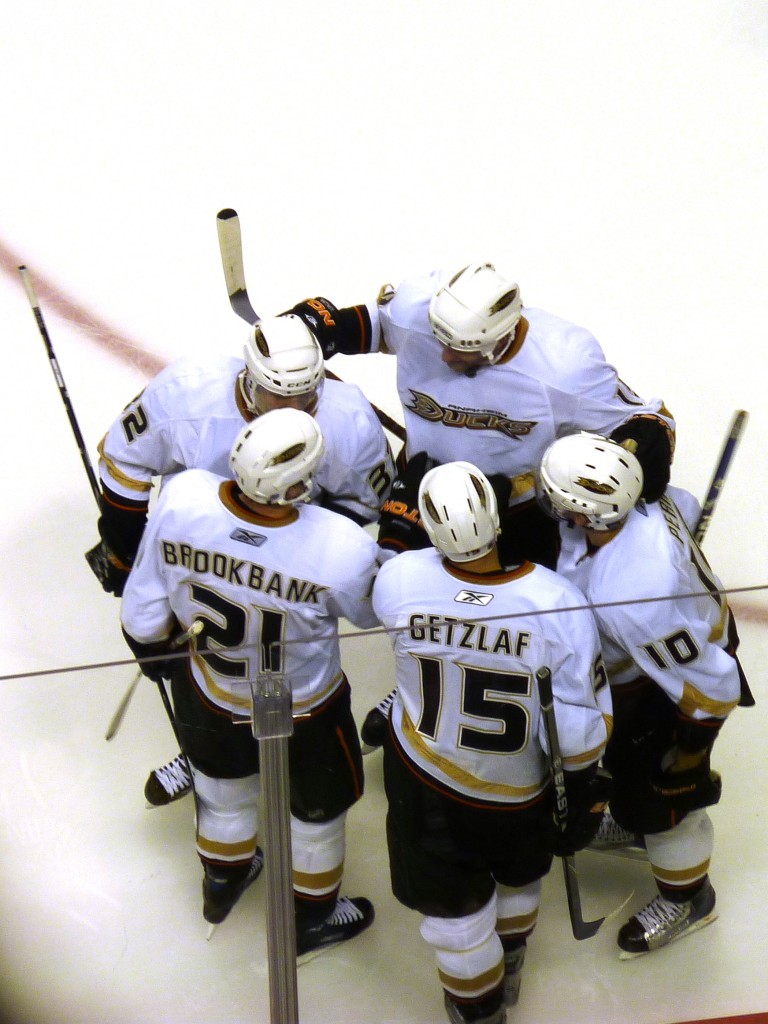 The 2011-2012 season for the Anaheim Ducks was, in blunt terms, a disaster. The Ducks finished in 13th place in the Western Conference, fifteen points behind Pacific Division rival and eighth-placed Los Angeles Kings, as well as fifteen points ahead of the last-placed Columbus Blue Jackets. Anaheim finished last in their division, nine points behind the Dallas Stars, and 25th overall. For a team that won the Stanley Cup only five seasons previous, it was a catastrophic season full of calamity and, at its lowest point, featured the firing of head coach Randy Carlyle, the same coach who had brought Anaheim its first ever NHL championship. It was an especially tough pill for Ducks fans to swallow, even though it ended with some hope and pleading, as Anaheim had finished fourth in the Western Conference the season before.
What Happened?
Last season was absolutely abysmal for the Ducks. But why? Many teams find themselves plagued with injuries and significant losses in personnel which result in a subpar season, but not the Ducks. Of their main core, only Lubomir Visnovsky (missed 14 games), Jason Blake (missed 37 games), and Devante Smith-Pelley (missed 33 games) missed significant time due to injury. Teemu Selanne, Ryan Getzlaf, Cam Fowler, Andrew Cogliano and Francois Beauchemin played all 82 games, while Corey Perry, Sheldon Brookbank and Luca Sbisa played in 80 games.
The Offence
One of the biggest problems was goal-scoring. The Ducks scored only 2.45 goals per game last season, compared to 2.87 goals scored per game in 2010/2011. Anaheim finished 23rd last season in that category, while in the year previous they finished seventh. Additionally, the Ducks had the 21st-ranked powerplay, scoring at a rate of only 16.6%. Not surprisingly, the year before the Ducks had one of the best powerplays in the league, finishing third best with a rate of 23.5%.
Additionally, Bobby Ryan had to deal with his name being mentioned in trade rumours all year. This obviously bothered him and may have affected his ability to put up even higher numbers.
The Defence
The defence was also a problem, though not quite as dreadful as the offence. The Ducks finished in 19th place in terms of goals against, surrendering 2.73 goals per game. That being said, defence was not a strongpoint in the 2010/2011 season for the Ducks, as they finished in 20th place with 2.84 goals against per game. The defence actually slightly improved last season. Defence has been a point of ineptitude for the Ducks for many years, except in the championship season of 2006/2007 when they finished seventh in goals against.
Basically, what it comes down to is that winning games means putting the puck in the net more often than the opposition. Even though the Ducks haven't had phenomenal defence in years past, they were able to score in droves and were able to mask their defensive woes. Last year, goal scoring dropped, and so did the Ducks in the standings.
Shooting Percentage
Important to note, however, is the amount of shots the Ducks took last season compared to the 2010/2011 season, and the correlation it had on goal-scoring. Last season, the Ducks averaged 27.9 shots per game and scored 2.45 goals per game. That means that the Ducks scored on 8.7% of their shots. The year previous, the Ducks took 28.5 shots per game and scored 2.87 goals per game, for a 10.07% scoring percentage as a team. For a player, a decrease of about 1.3% in shooting percentage would not be a big deal, but for a team as a whole this is a significant statistic.
Goaltending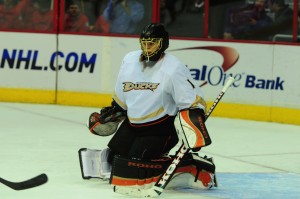 Jonas Hiller wasn't phenomenal in 2011/2012, but he was steady. He had four shutouts, good for 15th in the NHL. He had a .910 save percentage, which placed him at 23rdamongst goalies who played at least 40 games last season. He had a 2.57 goals against average, which ranked him 19th overall for goalies who played 40 or more games. Hiller wasn't spectacular, but he wasn't the problem.
Player Totals
This is where we get to the root of the problem. Obviously, a team's success as a whole is dependent upon players' individual achievements. When you look at a team with the likes of Corey Perry (Hart Trophy and Rocket Richard Trophy winner), Ryan Getzlaf (All-Star starter, scored 91 points in 2008/2009), Teemu Selanne (guaranteed Hall of Famer, has averaged over a point per game in 1341 NHL games), and Bobby Ryan (has scored more than 30 goals in each of the past four seasons), you wonder how it could have problems scoring goals. Well, quite frankly, they did. Let's look at the offensive totals of the most important Ducks from last year:
Ryan Getzlaf – 82 games played, 11 goals, 46 assists = 57 points
Corey Perry – 80 games played, 37 goals, 23 assists = 60 points
Teemu Selanne – 82 games played, 26 goals, 40 assists = 66 points
Bobby Ryan – 82 games played, 31 goals, 26 assists = 57 points
Saku Koivu – 74 games played, 11 goals, 27 assists = 38 points
Andrew Cogliano – 82 games played, 13 goals, 13 assists = 26 points
Cam Fowler – 82 games played, 5 goals, 24 assists = 29 points
Luca Sbisa – 80 games played, 5 goals, 19 assists = 24 points
Francois Beauchemin – 82 games played, 8 goals, 14 assists = 22 points
I didn't include Niklas Hagman, Jason Blake, or Lubomir Visnovsky in these point totals because they are no longer part of the Ducks organization. These players represent the core of the Anaheim Ducks. Promising young players such as Devante Smith-Pelley and Nick Bonino will no doubt be integral to the Ducks' future success, but their point totals from last year do not come into the equation when analyzing the offensive woes the team had.
A quick analysis of these point totals show us why the Anaheim Ducks were so terrible last year. Ryan Getzlaf, the team's first-line centre, scored eleven goals. Eleven. That put him at 213th place on the NHL goal-scoring list. Corey Perry scored 37 goals, and while that is a respectable number, it's far off from the 50 he scored the year before. Not only was his goal-scoring down, but he had only 23 assists last season, compared to the 48 he attained the season previous, in which he won the Hart Trophy. Bobby Ryan had 31 goals, which is just three fewer than the previous year, but he had only 26 assists, compared to the 27 he had in 2010/2011. Even Teemu Selanne, who was one of the few bright spots of last season, had 66 points, down from the 80 points he had the previous season. The defencemen, namely Cam Fowler, Francois Beauchemin, and Luca Sbisa, chipped in decently, if not remarkably, on the offensive side, with a combined total of 65 points.
Why Next Year Will Be Different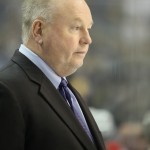 1) Bruce Boudreau will have an entire season (knock on wood) to get the team on board with his system and motivate them (read: curse at them incessantly) to achieve their full potential. The players loved Randy Carlyle, but his tactics had run their course and a change was needed. The Ducks showed signs of improvement after Boudreau took over, but having the reigns of the team for a full season, including training camp, will help make the team officially his.
2) The shooting percentages of the team will increase. There is no guarantee that this will happen, but luck goes both ways and one must think that the horrendous shooting percentage that the Ducks experienced last season must go up.
3) Corey Perry and Ryan Getzlaf are UFAs at season's end. You can choose not to believe that a contract year motivates players to increase their performance totals, but you'd be wrong. After a disastrous year for Getzlaf and a second-rate season for Perry, they will be fiercely motivated to put the puck in the back of the net. If they don't, their demands for pay will likely need to decrease (although, who knows, what with the craziness that ensues on July 1st these days), and if there's one thing that's sure to increase a professional athlete's propensity to perform, it's money.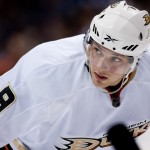 4) Either Bobby Ryan will play with a chip on his shoulder and produce big numbers, or the Ducks will trade him and use the players they get for him to spread out the offence in their forward lines.
5) The Ducklings will continue to develop. Cam Fowler has developed exactly as the Ducks organization had hoped, and he will continue to make steps in his attempt to become an elite all-around defenceman, one that might remind Ducks fans of another swift-skating defender of years now past. Players like Devante Smith-Pelley, Nick Bonino, Brandon McMillan, Kyle Palmieri, and Matt Beleskey will step up and produce for the Ducks. Additionally, the opportunity is there for 2012 first-round draft pick Hampus Lindholm to make the team in his first year with the organization and have an immediate impact.
6) Jonas Hiller will, at the very least, be as good as he was last year. As stated earlier, Hiller wasn't phenomenal last season, but he was consistent and reliable. As long as he delivers that to the Ducks, the goaltending will be alright.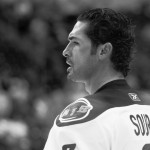 7) The new players will have a positive impact. While many argue that Sheldon Souray was an overpay on free agent day, the 36-year-old has the capability to be a point-producer from the blueline. He has had significant problems in recent years, particularly in regards to injury as well as a major falling out with the Edmonton Oilers which resulted in him spending a season in the minors, but the potential reward factor is high. Bryan Allen provides stability to the defensive corps, and Brad Staubitz adds toughness.
8) And finally, this:
While last year was a disastrous one for the Anaheim Ducks, next year brings new promise. The sleight is wiped clean, and the potential is there for the Ducks to get back into the playoffs and succeed.