Out with the old, in with the new. Well, sort of. Despite Paul Holmgren taking over the Flyers' presidency, Ron Hextall's emergence to the Flyers GM position has the Flyers fan base jubilant. Gone are the ridiculous contracts for underperforming, over-the-hill players. Waive your pom-pom's, Flyers fans – fiscal responsibility is finally here! But despite the public's perception, the Flyers are (and have been) competitive because of Paul Holmgren; not despite him.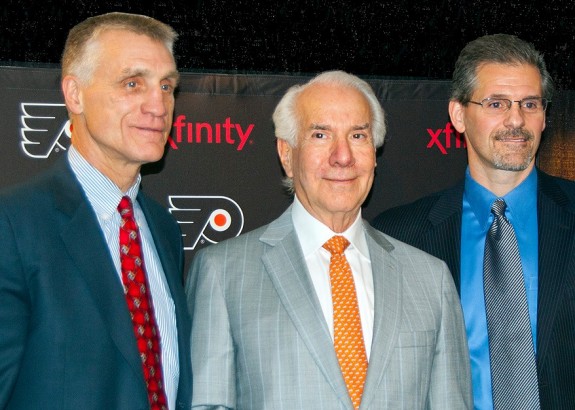 A Tail of Two Inheritances
Ron Hextall inherits a Flyers team that by all accounts, has its list of obstacles. Not only was Philly's blue line exposed in the playoffs, their forwards were consistently out-worked by a hungrier New York Rangers team. As Hextall breaks into his new office with a nameplate and comfortable rotating chair, he does so not ignorant to the fact that his roster will enter next season with a projected cap space of just over $6.5 million.
As Marty Huggins would say, "It's a mess."
But is Hextall's inheritance a bigger mess than Holmgren got? Not a chance.
Hextall takes over a Flyers team that not only recorded 94 points last season, but the only team in the league that boasted seven different 20-goal scorers as well. Hextall has no issues in leadership with captain Claude Giroux, who has led the NHL in total points over the course of the past four seasons, along with Stanley Cup-winning veteran Vincent Lecavalier. Furthermore, Hextall steps in with the tiring task of finding the team's long lost goaltender already taken care of for him. Paul Holmgren's laundry list upon being named GM in November of 2006, on the other hand, was vastly different.
"Obviously Holmgren's reign as general manager, after taking over for Bobby Clarke in 2006, will be remembered for several blockbuster highlights (the Danny Briere signing, the Chris Pronger trade), questionable calls in hindsight (blowing up the locker room with the Mike Richards and Jeff Carter deals, only to see them win a Cup together in Los Angeles) and a parade of truly disastrous decisions in goal, thus continuing the legacy of Clarke." — Puck Daddy
Despite Holmgren's "disastrous decisions in goal" throughout his tenure as Flyers GM, credit him for pulling out all the stops until he found Steve Mason. And although Holmgren rocked the foundation of the organization by trading Mike Richards and Jeff Carter, the deals have paid dividends for the Flyers. Wayne Simmonds has established himself as one of the league's most lethal threats on the power play with 24 points, and Sean Couturier immediately gave the Flyers a shutdown forward.
"Over the past eight seasons, Paul has done an outstanding job," said Flyers Chairman Ed Snider upon Hextall's promotion. "He picked up the pieces of our disastrous season in 2006 and immediately made changes that took us to the Conference Finals the very next year, and we have consistently been in contention ever since.   He's been a Flyer for 35 years and has earned the opportunity to run our entire organization…"
Paul Holmgren is like a reporter who constantly asks tough questions. He pisses some people off, but he's damn good at his job.

— Todd Cordell (@ToddCordell) July 21, 2012
It's funny seeing tweets calling Paul Holmgren an idiot. He's only built a team that's top 3 in the NHL in playoff wins past 5 years

— jsaquella (@jsaquella) April 30, 2012
Even in the face of inevitable change, the comparison of the two inheritances is night and day. Upon assuming the role of GM in 2006, Holmgren acquired a team that was in need of a complete make over. And although this offseason could potentially bring some sort of major change, Hextall's Flyers are miles ahead of Holmgren's initial roster. Hextall gets a team that includes one of the game's most prolific players in Claude Giroux, along with talented forwards such as Jakub Voracek, Matt Read, along with Simmonds and Couturier. And let's not forget that it was Holmgren who is responsible for these players donning orange and black in the first place.
"I think we have a good young team going forward," added Snider. "We have a nucleus. We need some pieces, but I think we're going in the right direction.
"I think back of when Paul first got the job, it was right after we had a disastrous season, as you all know, and the very next season, by moves that he made, we were back in contention. I'm really very happy, and that's why I was very happy to promote Paul to the position that he's taking now."
Holmgren was able to transform the league's worst team and turn them into a team that found themselves in the Eastern Conference Finals the following year. "Homer" accomplished this feat with far bigger handicaps than Hextall faces today. But for some reason, most are still caught up in Holmgren's eagerness to deal and spend. Although some of Holmgren's decisions came up short, focussing on this aspect is misleading and shortsighted.
Contracts & No-Movement/No-Trade Clauses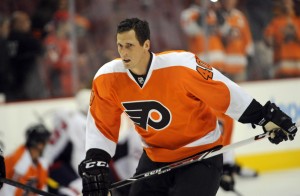 Talk to a Flyers fan long enough, and you're all but guaranteed to be swaddled with their complaints about the immovable contracts that Holmgren has handed out throughout his time as GM. In present tense, you're bound to hear the frustration over Philadelphia's seven current immovable contracts (Not counting Chris Pronger's contract). And although there may be some shred of merit as to who has received these commitments, the verdict overall on all of them is anything but in.
"When it comes down to it, while the Flyers are near the top in distributing no-trade and no-movement clauses, they aren't as irresponsible as some fans may like to portray them. It certainly could only help to have fewer, but the Flyers fall in line with the rest of the league with respect to these clauses." — Broad Street Hockey
What? How can this be? Aren't the Flyers leading the league in these type of contracts? The answer is an unequivocal "no." Not only are there six teams with more immovable contracts than Philly, four of them have 10 or more. Of these teams ahead of the Flyers in the NTC/NMC department, all but one of them (Vancouver Canucks) qualified for this season's playoffs.
Of the four teams with only one or two players with such contracts, only the Los Angeles Kings were postseason eligible. Of the teams who share the same number of NTC/NMC contracts as the Flyers, only the Phoenix Coyotes and New Jersey Devils called it a year at the duration of the regular season.
Unafraid to Shake Things Up
Yes, the Flyers are cap-strapped; and yes, there are questionable dollar figures throughout that roster. But make no mistake about it, it's because of Paul Holmgren that the Flyers have been as competitive as they are.
Excluding the 2006-07 season, where Holmgren took over after the season had already started, the Flyers have gone 286-192-62 with Homer as the GM. Along the way, he's pressed more right buttons than wrong. When signing a top tier free agent, or even making a trade, a successful GM knows that he must give to get. The business of hockey isn't Candyland, where all the desires of one team are met without giving up anything.
Holmgren has not only shown the fortitude to make the difficult decisions that need to be made, he's done so at the right times. He's fired John Stevens and Peter Laviolette, but didn't wait until the offseason in both instances. Stevens, who stood behind the bench when the Flyers went from last place to the Eastern Conference Finals, was fired in December of 2009. He was replaced by Peter Laviolette, who finished his stint with the Flyers with a 145-98-29 mark. Both Stevens and Laviolette experienced success with the Flyers, with trips to the Conference Finals, and even the Stanley Cup Finals. But successful teams and GM's don't rest on their laurels, and Holmgren effectively pulled the trigger on both at the right time.
The best GMs are the ones who have a plan and a vision, but aren't afraid to adapt. That is why Paul Holmgren is one of the best.

— Arik Parnass (@ArikParnass) April 20, 2012
Absolutely the most underrated, under-appreciated good coach, good guy this season is my buddy #CraigBerube. What a fine Paul Holmgren move.

— Stan Fischler (@StanFischler) March 9, 2014
"I'm making this change at such an early point in the season, I can go back a little bit to last year and my concerns for how the team played," Holmgren said after promoting Craig Berube last October. "I was looking back you think lock-out shortened year, we didn't have a training camp; we had a lot of injuries. I thought it was important Peter had another shot with our training camp.
"I think some of the additions we have this summer were good additions, Ray Emery, Vinny Lecavalier and Mark Streit. I thought there was some excitement about our team going into training camp. Right from Day One at training I was concerned with how the team looked. Obviously, 0-3 is 0-3, and we still have a long way to go in the season, but it was more about how we played and it was unacceptable. We don't look like a team at all and I felt I needed to make the decision. I made the decision last night on the plane when we came back from Carolina. I didn't like the direction the team was heading and I felt we needed a change."
 "General manager Paul Holmgren made the right call when he fired Peter Laviolette after an 0-3 start and promoted the coach known as 'Chief.'"

After a small adjustment period, he had the Flyers playing as one of the top teams in the conference, leading to a 42-30-10 (94 points) finish." — Dan Gelston, The Associated Press
When it comes to the "Win Now" mentality, Holmgren is considered by many as the type of GM that lives by such a mantra. But few possess the foresight to see how moves such as, trading James van Riemsdyk for Luke Schenn, or signing Ilya Bryzgalov to a nine-year, $5.67 million contract, would turn out. In both instances, the Flyers were in dire need at each position. Both Schenn and Bryzgalov came to Philadelphia as highly touted players, and even the harshest of critics were excited at some point, even if they're not willing to admit it.
Even Andrej Meszaros, who was recently traded away this past season, was the result of Holmgren upgrading a team need. In 2010, Homer sent a 2012 2nd round draft pick to Tampa Bay for Meszaros. And despite his decline in consistency and production, Meszaros played well, earning the Barry Ashbee Trophy in his first season wearing orange and black.
It was Holmgren, who also took the chance on Steve Mason. After being burnt several times in an effort to solve the Flyers' Rubik's Cube in net, Holmgren not only acquired Mason for next to nothing, he made Mason prove himself before rewarding him with a three-year, $12.3 million deal. And despite Mason's early success in Philadelphia, Holmgren had a plan if Mason didn't pan out. Holmgren nabbed Ray Emery off the free agent market for $1.65 million last offseason, which at the time, gave the Flyers the cheapest goalie combo in the league – a cost of a little over $3 million.
The Hextall Era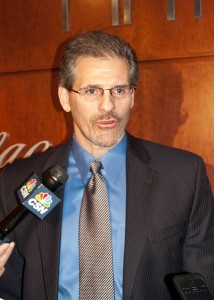 With Ron Hextall taking over as GM, there is plenty to be excited about, even if the Flyers have been successful because of Paul Holmgren. He's one of the most popular former Flyers of all-time, and brings valuable experience he gained while under the tutelage of Kings GM Dean Lombardi in Los Angeles. Hextall gained even more understanding for the position since coming back to Philadelphia as the assistant GM and Director of Hockey Operations.
While Hextall continues to say the right things, it doesn't discredit the job Paul Holmgren has done. Although Holmgren has been criticized for giving up on prospects too soon, or trading them away for older talent, Hextall's new approach doesn't automatically result in instant results, or even a modern day dynasty.
"I like young players and I like draft picks," said Hextall after being named GM. "My vision is to build this team and continue to make this team better through the draft. That doesn't mean we won't make trades. It doesn't mean that at some point, if it's a good enough player and we have to trade a young player we may look at that, but it's not a vision of mine to trade young players for older players. It would have to be a really, really strong deal for us."
While no one will disagree that this philosophy is smart, it does suggest that Holmgren holds absolutely no value for draft picks or prospects. If this were true, however, Sean Couturier, or Scott Laughton would have already been sent packing. After all, Holmgren isn't aloof to the needs of the current team.
Even Hextall himself, knows how valuable Holmgren's experience and expertise is. After assuming his new role, Hextall admitted he'd be "an idiot" if he didn't utilize Holmgren's knowledge.
"He'll be somebody I talk to, bounce ideas off of," said Hextall. "No different than talking to our professional scouts or amateur scouts about pros or amateurs. Absolutely I'll bounce ideas off [Holmgren]."
While Hextall assumes a Flyers team that's not far from being considered elite, he'll have the help along the way that Holmgren never had: Paul Holmgren. After all, it's because of Paul Holmgren that the Flyers are where they are today; and that's anything but an insult.