It doesn't seem like that long ago that trade rumors were constantly surrounding New Jersey Devils forward and captain Zach Parise. While some may speculate that he could still be traded, the New York Post has recently said otherwise.
The Post reports that Parise will stay in New Jersey for now and that they will trade his rights to a team that wants to talk to him ahead of the start of free agency on July 1.
This report has the potential to be a good thing for the Devils, who are looking at getting back into the playoffs after failing to qualify in 2010-11. Not only has Parise been a key contributor once again, he has also been widely endorsed as team captain and sees a bright future ahead in New Jersey.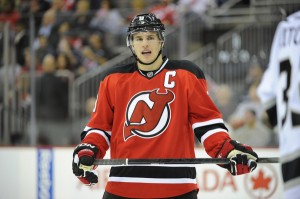 Here are five reasons why the Devils should keep Zach Parise and not change their stance on keeping him, perhaps leading to him staying around long-term.
He Is a Good Leader
Prior to the start of the 2011-12 season, Parise was appointed the ninth captain in Devils history. He was previously an alternate captain before assuming the captaincy.
Devils coach Peter DeBoer was confident in his choice, telling ESPN:
"When you look at Zach as a coach, this guy plays the right way, prepares the right way, prepares the right way, handles himself the right way. There's not really a lot of flaws in his character in how he plays the game. I've always been a believer that your best players – if you're going to win – have to be your most honest players. I think he fits that category."
Veteran goaltender Martin Brodeur agreed, explaining to Rich Chere of The Star-Ledger:
"I had no doubt he was the best suited for it. It's well-deserved. He's huge for our organization and I think he's grown to be a prominent player and a prominent figure in our locker room. I think it's a wise decision for him where he's at in his career. You have to be a guy that wants it. I think he really wants to be the best player and he's that guy. That's great for us."
Parise is not only a talented player, he has the backing of more experienced teammates. It would be a waste to trade him away when he's earned respect and confidence in the locker room and on the ice.
He Is Still Young
Parise is 27 years old and will turn 28 this coming July. Youth is an asset to have on the Devils right now, as forwards such as Patrik Elias and Dainius Zubrus are in their 30s. Ilya Kovalchuk, one of New Jersey's alternate captains and the second-leading scorer, is just 28 right now, but he will be 39 by the time his mega-contract expires in 2027.
This means the Devils won't have to be concerned about Parise's production dropping off, at least not immediately. If they choose to re-sign him, they can give him a deal that ensures he won't be too old or out of energy by the time his contract is up.
Possible Face of the Franchise
For years, Martin Brodeur has been New Jersey's most recognizable player. However, he is no longer the elite goaltender he once was, and many are starting to wonder when he will hang up his skates.
Brodeur told The Star-Ledger (see above link) that Parise is "responsible to represent this organization," and his point holds water. Parise has been in the spotlight as an alternate captain of Team USA at the 2010 Olympics and as a two-time winner of the Devils MVP award.
He has also shown that he is a good role model. Aside from positive remarks about his character from teammates and coaches, he also participates as a Library Champion for the New Jersey's public library system, promoting the importance of reading among school children.
When it comes to other recognizable players getting older or not holding as much star power, Parise is the obvious face to represent the Devils to the people of New Jersey and NHL fans as a whole.
He's Successfully Bounced Back From Injury
As if it weren't enough that the Devils missed the playoffs last year, they had to get through the season without Parise.
He tore the meniscus in his knee in October 2010 and needed surgery, which forced him to miss the majority of the year. He was limited to 13 games and scored just six points. Before he was hurt, he had only missed three games in five years and put up four seasons of 30 goals and 60 points.
This season, he is back to the Parise Devils fans know and love. He has not missed a game and currently has 49 points, putting him on pace for a 72-point campaign.
If Parise was struggling in some way, perhaps then the Devils could entertain moving him. However, he is playing like he has not missed a beat, and New Jersey should be thankful. Their offense has improved from being near the bottom of the league to ranking 14th with 2.64 goals scored per game, and Parise is part of the reason why.
He Believes in the Devils
In a recent article on NHL.com, Parise said he is confident in the changes Peter DeBoer has brought to New Jersey, helping the Devils get back in playoff contention. He recognizes things haven't been perfect, but that he sees the Devils accomplishing good things.
"I think we're reacting well," Parise said. "We'll have slip-ups here and there, but the best thing about it was that DeBoer was patient with us at the beginning of the season.
"We've been playing a certain way for years and for someone to come in and change things, it's tough. As players, we've been doing the same thing for so long, but he wanted to change things, and I think all the players, from day one, were right on board. He was patient while we were learning, but I think it's all coming together well."
Parise is also focused on the present and does not want to discuss his contract status while the season is ongoing. He realizes certain things are out of his control and that all he can do is focus on his game and help New Jersey keep winning.
With such a good attitude, it is hard to find a good reason to give Parise to the highest bidder.