Over the first 3/5ths of the NHL season, stars in goal have stumbled while hidden talents have shined over the hockey world. It was expected that Philadelphia would finally have the goaltending they have dearly missed over the last decade and that Buffalo was ready to take off after a few large signings. We had also expected that Phoenix's NHL team would be coming to an end as they had lost their standout goaltender in Ilya Bryzgalov and for the Islanders to be abysmal again with a disinterested Nabokov, injury-prone Dipietro and a bunch of the same up front. But like every other hockey season, not much has gone to plan and we're going to do our best to make sure you don't have the same misfortunes for your last resort of defence. Here are a number of goaltenders that are believed to be buy-lows candidates for the upcoming season and beyond:
Follow me on twitter @thelandshock for fantasy hockey analysis and line updates throughout the week.
Ten'ding Your Goal
Plenty of options await impending free-agent, Josh Harding. Having Finnish talent Niklas Backstrom consistently in the driver's seat, Harding has never had a chance to show off his starting-goalie talent at the NHL level.  Earlier this season when the Wild gave Harding the ball to run with, he posted a 6-1-0 record and allowed one or zero goals in four of those seven starts. It's possible that we'll see a hole in New Jersey, and it's important to note that Tampa's goaltending prospects are still years away from playing in the big leagues.  In addition, it's difficult to say who will be starting opening night for the Caps in DC for the coming season.  All of these teams have much better offensive talent than Harding's Wild.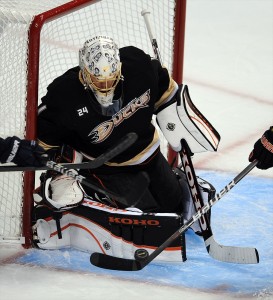 It may be wise to stronghold the fantasy manager who owns Jonas Hiller at this point in the season. The undrafted one-time Davos goaltender sits at an even .500 on the season and ranks in the bottom ten for starters in save percentage and goals against average. Prior to Hiller's vertigo diagnosis, he recorded three consecutive seasons well above the .500 mark and managed 26 wins last year in only 46 starts. The Ducks have a tremendous amount of firepower with Perry, Getzlaf and Ryan, and while the defensive corps may be weaker than average, he'll return to his winning ways sooner rather than later. The Swiss native has won nine of his last thirteen and has allowed two or fewer goals in twelve of his last fifteen starts.
Mike Smith has managed to exceed all expectations fantasy owners held for him when they took that chance in drafting him this past season. This one-time Brad Richards trade piece has recorded a 23-14-7 record so far this year with a superb .925 save percentage and 2.33 goals against average. The reason Smith is available in most keeper leagues is that the owner is stuck with the question, "Can he do it again?"  While behind Marty Turco in Dallas and Antero Niittymaki/Dwayne Roloson in Tampy Bay, Smith hasn't really gotten a chance to be a starter at the NHL level.  Furthermore, it has been years since Smith has recorded exceptional numbers, but like the Phoenix Coyotes, he just won't go away.
Corey Crawford is having a month to forget along with every other player wearing the Blackhawk symbol on their chest. In the New Year, he has won three out of nine starts with a 3.69 goals against average and an .873 save percentage. Prior to the Hawks' struggles, Crawford recorded a 15-8-2 record and in a large market like Chicago, it doesn't take a league-shattering goals against average or save percentage to woo over the "Hockey House" (remember Antti Niemi?). Crawford is only in his second full season at the NHL level, so the quirks are expected … but don't lose faith. One red flag may be waved as Emery hasn't fared much better.  Not to mention, one would have to think the 'Hawks will go after another backup for the upcoming season unless they become comfortable with Alexander Salak.
It seems as though Jacob Markstrom is going through the illustrious "sophomore slump" with some below-average numbers and a few injuries to boot. This Swedish standout led the SEL in both save percentage and goals against average at the tender age of 21 and it has been said that he is the best goaltender not in the NHL. If a Markstrom owner is troubled by his struggles on North American ice, remember that at the NHL level this season he stopped 923 out of 1000 shots and has recorded 2.66 goals against average with a sub-par Florida defence. Theodore is signed through next season, but with Clemmensen as an upcoming unrestricted free agent, there's a hole left in the backup position.  Only time will tell if Markstrom is in fact a diamond like Lundqvist, or a dud like Gustavsson.
Evgeni Nabokov has taken a stranglehold over the starting goaltending position on Long Island and one is forced to believe he could do the same in many other cities around the NHL. The former SKA member has won seven of his last ten starts and has allowed one or fewer goals in six of those starts. It's no secret that Nabokov isn't a big fan of the Isles' franchise, so expect this upcoming free agent to get a good look around the league.  It is clear Nabby won't be a long-term option in keeper leagues at 36 years of age, but there are holes in the backstopping positions in Tampa, Colorado, Columbus, Toronto and New Jersey.  Come July, this KHL outcast is in for a starting position and a big-time cash payout.
"When I sign here, people were like, you know where you're going? You're going to hell. They hate, like they never have a goalie, they go hard on goalies…it's a miserable market for goalie." Ilya Bryzgalov is proving these people right so far as a Flyer with an AHL calibre .900 save percentage, a 2.78 goals against average and even being the backup goaltender at the highly-profiled annual NHL Winter Classic. Could anything go worse for this Togliatti native, as he is now suffering from the flu causing him to miss over a week of hockey? The reason as to why he is an intriguing buy-low option is that he still sports a 19-11-6 record despite his struggles in the net and is signed up until 2020. The Flyers will have Giroux, Schenn, Briere, Van Riemsdyk, Pronger, Carter and Richards for years to come giving him incredible odds to rack up the wins.  Furthermore, he makes the big bucks which always help a struggling player's case to rebound.
One of two Duby's in the NHL, Devan Dubnyk looks to be the last line of defence for the Oilers for years to come. Olivier Roy is playing average in the ECHL and the two goaltenders in the AHL are not exactly budding prospects. Dubnyk has been receiving the majority of starts in Edmonton despite the Oilers attempting to showcase Nikolai Khabibulin. The former first-rounder has won five of his last seven starts for the young Oil' squad even though he has allowed over four goals in three straight starts. One doubts that Oiler fans even care about the way Dubnyk wins his matches, as long as he wins them.  Khabibulin will be an unrestricted free agent following next season and once Dubnyk signs on the dotted line this offseason, he'll be set to produce Shell-like numbers for fantasy owners.
It is doubtful that Matt Hackett will be the starter on opening day for the Wild next season, but it is very possible he'll be between the pipes for Minnesota come the last game of the year. The nephew of former NHLer, Jeff Hackett, is tearing up the American Hockey League in his sophomore season with a .921 save percentage and 2.36 goals against average. The AHL averages 2.88 goals per game, per team, meaning Hackett is well below the norm. With the likely departure of Josh Harding, the backup position will be Hackett's to clutch and it will be no time before he's knocking on Backstrom's door for the starting gig.
This may be the only window to buy-low on Tuukka Rask for the remainder of his career. The Bruins have an incredible nucleus and have a pipeline as deep as the Keystone, and of course, just fresh off a Stanley Cup. Rask is winless in his last four starts and was even pulled against the Sabres shortly into the second period one week ago. Tim Thomas won't be getting any younger, so Tuukka will have every chance next season to prove that he's more than just a backup and that his numbers from 2009-10 were not a fluke.  Take a look at what Rask has to say: "The truth is I want to play more.  I don't want spend my entire career on the bench."
Honourable Mentions
Any chance one had at buying-low on Ryan Miller is now kyboshed after a red-hot end to January and a rock-solid February which saw him only let in nine goals in seven games. If the Sabres go on another losing streak, make sure to remember this streak and of course years past during the offseason when attempting to pry Miller from your trading partners' hands.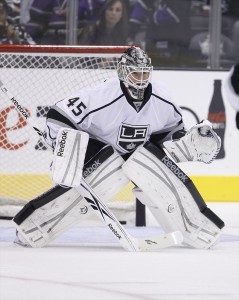 Jonathan Bernier has been anything but special for the Kings and the other John in LA has taken the starting role and placed his hat into the ring for the Vezina Trophy. The former Kings first-rounder has a 3-5-1 record this season with an standard .900 save percentage.  It is likely to assume that Quick is the goalie of the future for Los Angeles and that Bernier is on the trading block. As was once mentioned, the Devils, Lightning, Avalanche, Blue Jackets and others are looking for a long-term goalie and Bernier may be the key.
Over the next few months the Toronto Maple Leafs are hoping to make the playoffs for the first time since the lockout and of course, they'll need a goaltender to do that. If they stick with what they have in their pantry, either Jonas Gustavsson or James Reimer will be manning the goal. Each goalie has shown flashes of brilliance and has had their name shouted from the rafters in approval at the ACC.  Depending on how the Buds finish, we may see a solid goaltender for the 2012 season.
What more could be said about Vancouver's "backup" Corey Schneider?  It seems as though he's managed to find his way onto the honour roll on TSN for every single start this season with jaw-dropping, eye-popping saves. We'll never know whether or not he'll ever be on the market, but if Bobby Lou falters, Schneider's outstanding play on a nightly basis will give him a chance to shine.
It'll be difficult to pry Carey Price out of anyone's hands, disappointingly to even the most diehard of Leafs fans. But if you have the chance, look for a rebound season in 2012-13 and years beyond. This year was clearly an off-year for "Les Habitants" but it doesn't seem like they'll be in shambles for too long. They have a young growing core in Max Pacioretty, David Desharnais and PK Subban along with the usual suspects in Gionta, Gorges and Plekanec. Price ranked sixth in save percentage and eight in goals against for starters last season, and he's only 24 years of age.