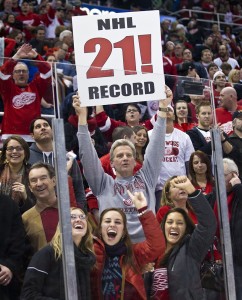 History was made last night at the Detroit Red Wings beat the Dallas
Stars 3-1 to set a new NHL record of 21 consecutive home wins; they
even saluted the fans from center ice – the first time that I can
remember the team doing such.
They are not done yet.
Currently sitting on a home stretch the Red Wings are already focused
on the next game on Friday. The Nashville Predators are coming to
Detroit and they always come with their A game against the Red Wings.
Shea Weber's slapshot will be something that Joey MacDonald has not
faced this season (MacDonald has gone 4-1-1 since he was called up
from the AHL's Grand Rapids Griffins after Jimmy Howard broke his
finger).
If Detroit is able to hold the fort down when the Predators are on the
attack then they will head into Sunday's game with Jimmy Howard back
as the conference rival San Jose Sharks try to break the streak (and
hopefully not another one of Howard's fingers).
The Detroit Free Press has a fantastic photo gallery