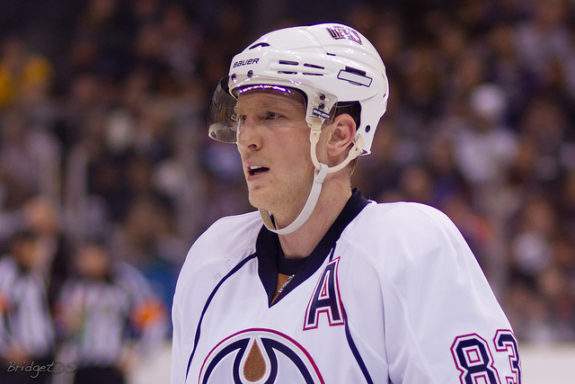 The trade deadline is less than 2 weeks away, and the Edmonton Oilers find themselves in 14th place in the Western Conference with a very difficult hill to climb. The Columbus Blue Jackets have officially been eliminated from playoff contention, and the Oilers might not be far behind despite winning 4 of their last 6 games. Trade rumors have been swirling around the team, landing mainly on pending UFA Ales Hemsky. Oilers General Manager Steve Tambellini spoke on the state of his team today, and many of the questions were focused around Hemsky's status.
"We've spoken with Ales' agent for quite some time," Tambellini said. "We spoke over the summer, we've had recent conversations and I would expect to have more up closer to the deadline. I'm not really here to discuss what we're talking about (Hemsky's place in the organization), but we've had good communication." – Oilers.com
It's hard to gauge exactly where the organization stands on Hemsky, especially considering his recent injury trouble and low offensive output this season. The winger has just 4 goals and 24 points in 42 games. But the skill set is there, and a change of scenery might be what the career Oiler needs at this point. He had expressed desire, however, to remain in Edmonton.
"I like it here," [Hemsky] said. "I've always liked it here. I have so many friends here and I love the guys in the locker room. I like the coaches and I like the city. In the end, it has to make sense for me, too." – Oilers.com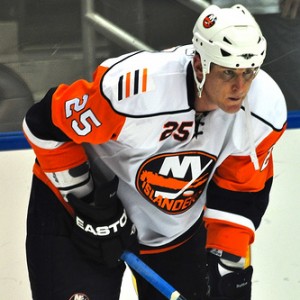 But does trading a top-six forward make sense for the Oilers? Edmonton has a lot of pressing needs, and it's not likely Hemsky will fetch an impact player who can help the team now and in the future. Will trade partners be willing to give up a big part of their roster for a rental player? The Oilers need a top 4 defensemen, and those aren't easy to come by. The organization has a lot of strong prospects, so stock-pilling more draft picks isn't the main focus. They need NHL players to help them win games. The rebuild, one that is clearly going to continue into next season, isn't sitting well with some pundits around Edmonton. In particular, the recent re-signing of defenseman Andy Sutton (1 year at $1.5 million), hasn't been very well received. Mc97hockey had some strong words on the contract extension:
"It's as if there's not a soul in the Oilers' front office who thinks about these things in terms of leverage. Andy Sutton is a 6/7 defenceman on the second worst team in the NHL. He was ditched by his last team, for whom he couldn't crack 15 minutes a night, in exchange for a bad contract because they didn't want him around any more. His agent has to know what the market usually looks like for guys like him – $1MM is a great payday. We KNOW that the Oilers are aware of CapGeek; do they not have a guy who tries to figure out what guys like this get paid? It's baffling."
Tambellini's reasoning for the re-signing was focused on what Sutton offers both on and off the ice.
"He's a big presence. He's a goalie's best friend the way he blocks shots," said Tambellini. "He's earned the respect of the coaching staff. You also need to have some fun around the dressing room and he's a big part of it with his teammates. That's important." – Vancouver Sun
The new contract means that Sutton is off the table come trade deadline, but there are still a number of other players who could be the block. While the GM stated that he has no intention of trading Ryan Smyth or goaltender Nikolai Khabibulin, if the right offer comes knocking, there's certainly a possibility of them moving. Smyth has no desire to leave Edmonton, but he understands that Tambellini has to do what's best for his franchise.
"[Tambellini is] going to do what's best for the hockey club for sure," he said. "I have that no-move clause in place for a reason and I'd have to assess it as that would come, but I don't think it would get to that. I don't know, though. I'd be going against my word coming out of LA. We're here as a family and I'm here as an Edmonton Oiler." – Oilers.com
There may be a lot of changes in Edmonton in the next little while, but they also might stand pat until the summer. Either way, while this team is slowly taking steps forward in development, it needs to start following that up with progress in the standings.
Marcy, a former hockey player, is a hockey correspondent on CTV News and TSN radio. She began her career as a Sports Journalist in 2009 and has been part of The Hockey Writers since 2010, where she is currently a senior writer and editor.