Life hasn't been easy for Derrick Pouliot, the Pittsburgh Penguins' first first-round draft pick in the 2012 NHL Entry Draft. Being a first round draft pick brings high expectations, and going eighth overall doesn't make life any easier. Add on that the year before Pouliot was drafted, he scored 70 points in 58 games with the Portland Winterhawks and was a plus-40 skater.
If expectations weren't high enough, consider that the Penguins second first-round draft pick turned out to be Olli Maatta, who was drafted 22nd overall. While Pouliot has yet to make a significant impact at the NHL level, Maatta has been (would have been if not for injuries) an NHL regular in all three of his NHL seasons. He also just signed a six-year, $24.5 million contract extension, while Pouliot still has a year remaining on his rookie deal.
Before I go any further, this isn't supposed to be a pity party for Pouliot. I've even suggested before that the Penguins aren't giving him a fair shake and that he deserves a chance at the NHL level.
However, over the last few days, I've spoken with sources around the league and have some new insight on why Pouliot isn't being played in Pittsburgh. A lot of people have speculated that there's an off-the-ice problem, like maybe an attitude issue, that's keeping him off of the ice, but that could not be further from the truth. He's taken the adversity of being in and out of the lineup as well as anyone can imagine, especially since he was playing well right before being taken out of the lineup.
Why Aren't the Penguins Playing Derrick Pouliot?
To start off, Justin Schultz has a lot to do with Pouliot not seeing the ice. The Penguins made a gamble before the trade deadline by acquiring Schultz from the Edmonton Oilers for a third-round draft pick. He's a player who has all of the physical tools, offensive smarts and draft pedigree to be a top-four defender in the NHL, but it just was not working out for him in Edmonton.
The change of scenery has been a great change for him and he's playing some of the best hockey of his career in Pittsburgh. Since was traded to the Penguins on Feb. 29, the team has a record of 15-4-0.
Of those 19 games, Pouliot has played in just six of them and he's wasn't playing his best. One game, he would look defensively sound and the next he would make some crucial mistakes.
The most common defense for Pouliot is simply looking at his Corsi For percentage, which is quite impressive at 58.8 at even-strength. However, the Penguins management looks at a lot more than just advanced analytics. And if you want to see what I'm talking about, took a look at his Corsi For percentages game by game in this graphic.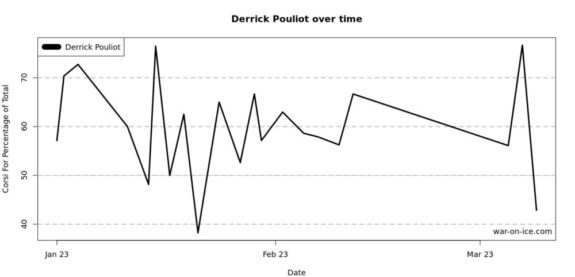 For the most part, he has been well above the break-even point of 50 percent, but the inconsistencies are shown by this graph.
Does Derrick Pouliot Fit In Current Defensive Pairings?
The Penguins current defensive pairings look like this.
Trevor Daley – Kris Letang
Brian Dumoulin – Ben Lovejoy
Ian Cole – Justin Schultz
Do you notice anything about those pairings? They're all balanced in terms of handiness, each has a right and a left shot on it. Pouliot would likely slide into the third pairing replacing either Schultz or Cole.
Consider the type of player that Pouliot and Schultz both are; they're offensive defenders who skate well and move the puck fluidly, but Schultz is bigger and more physical, while possessing the ability to kill penalties. That leaves you with replacing Cole. But he's also a much more solid defender than Pouliot and the Penguins' coaching staff views playing Pouliot and Schultz together as a defensive liability and it's likely we will not see that pairing.
But here's the most interesting piece of information I was able to gather: I spoke with a source with the Penguins organization and here's what he had to say about Pouliot.
Shayne Gostisbehere's really a good player and he's really a special talent. Derrick Pouliot is the same type of talent, he just hasn't shown it yet at the NHL level. Watch in the playoffs, someone (a defender) will get injured and Pouliot will come in and play out of his mind and never look back.
There are a lot of people within the Penguins organization who see a lot of talent and skill in Pouliot, he just has yet to put it together at the NHL level. Considering the year that Gostisbehere has had in Philadelphia, it's high praise coming from someone in Pittsburgh and there's faith that Pouliot will develop into the player that many think he can be.
If they're right and Pouliot gets a chance in the playoffs, that puts him in perfect position to take a starting spot next season. Defender Ben Lovejoy is unlikely to re-sign with the Penguins, it's no lock that Pittsburgh re-signs Schultz and I could easily see Pouliot be given ice time over someone like Trevor Daley or Ian Cole next season.
Right now, the Penguins like how their team is playing and why shouldn't they? The team is 9-1-0 in its last 10 and have won eight in a row without star players like Marc-Andre Fleury, Evgeni Malkin or Maatta. Pouliot will get his chance in Pittsburgh; all it takes is one player to go down with an injury and there's a lot of faith that Pouliot will bring his game to another level.
Michael Pityk is an analyst who has written for numerous sites since beginning his professional career. He's acted as a credentialed member of the media for the Philadelphia Phillies, Philadelphia Flyers, Pittsburgh Pirates and the Pittsburgh Penguins. His work has been featured in Sports Illustrated, The Sports Journal, MSN, PensLabyrinth, Montreal Hockey Talk, ESPN Pittsburgh, The Hockey Writers, Todays SlapShot and The Bleacher Report. He formerly was the editor of Pens Labyrinth and an analyst for The Sports Journal. Michael presently acts as an NHL Analyst for The Hockey Writers