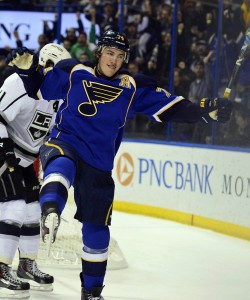 It's not show friends, it's show business
The Olympic showcase displayed by Blues forward T.J. Oshie opened many eyes to his immense talent. By beating Vezina Trophy winner and Team Russia goaltender Sergei Bobrovsky four out of six times in the classic and much-publicized tilt, Oshie became a relative unknown playing in a mid-market city to a big-name star.
This is precisely why the Blues need to trade him now.
As the Blues have repeatedly shown in playoffs past, their failure to score the big goal and compensate for lineup holes was never more evident than in the 2013 playoffs versus the Chicago Blackhawks. If only the shootout was a factor in the postseason, Oshie might have had a bigger impact. However, there are teams (New Jersey Devils, I'm looking at you) that couldn't crack the final eight due to shootout ineptitude, squandering valuable loser points. For them, the idea of gaining an asset like Oshie would help mitigate the PR and ticket sale backlash associated with missing the playoffs, while helping them potentially gain entry into a tournament where — especially in the East — almost anyone has a chance at a Finals run.
By now many Blues fans have already clicked off the page, enraged at the thought of selling off the youthful face of the franchise and breaking the hearts of South St. Louis girls everywhere. But consider this for a moment: would two solid forwards — picking on the Devils once again — Henrique and perhaps a veteran like Danius Zubrus — not help this team begin to overcome their postseason woes? Does anyone think Oshie's stock and perception will ever be higher than it is now? What do you think the Devils would pay to make the playoffs and allow the chips to fall where they may? After coming within two wins of the Cup in 2012, they may think they're on the precipice of being a real postseason threat in the East. Given the seemingly random nature of the teams that emerge from the East, they may be right.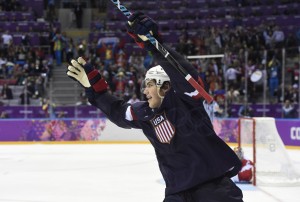 You have to pay to play
It's easier for transactions like this to happen between Conferences, since the likelihood of one team trading an asset that comes back to bite them in the playoffs is relatively slim unless they meet in the Finals — and gamble most franchises will make. To fix real problems outside of picking in the top two or three or plucking a valuable free agent, teams need to give to get. A player such as Oshie that's an almost-star in terms of production now has that most enviable trait that teams in need covet — an asset with a league-wide perception that he's better than he really is. Call it the Ryan Miller syndrome. When a team can gain real help and roster depth for a long springtime battle without much impact to their regular-season standings, that's a proposition that's hard to ignore. And while fans might point to Oshie's shootout production as a real reason to not move him, others might argue that a primary cause for showing up in the shootout is the inability for the team to close the deal in regular or overtime to begin with — a malady that translates into problems scoring goals when it counts in May and beyond.
Potential backlash
The casual Blues fan will have issues with trading Oshie, but like any trade what matters is the return. No movement of a player as popular as he will receive proper perspective until after the playoffs are over, with all forgotten should the Blues skate with the Cup in June. The team is in a financial position to acquire solid free agent help in the form of Paul Stastny, trade for Jason Spezza without sacrificing Oshie or simply have confidence that their current core is enough. Regardless of the path chosen by Armstrong and company, it's responsible asset management to think about moving a player that's still largely operating on the equity of potential.