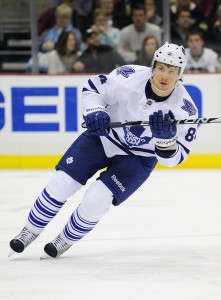 The Toronto Maple Leafs haven't qualified for the post-season in eight years, don't have a number one centre, are coming off one of the worst collapses in NHL history and recently underwent a coaching change. That certainly doesn't make them sound like an underrated team, yet they are one.
Year in and year out since the 2004-2005 lockout, experts, correspondents and bloggers have ranked the Maple Leafs outside the Eastern Conference's top eight heading into the upcoming season. We now sit about a month and a half away from the beginning of training camp 2012 and the situation isn't any different.
What many people fail to remember is that the Maple Leafs had tremendous success during the first half of the 2011-2012 season, at least for a team that wasn't expected to make the playoffs. They sat first in the entire league in early November and were still in the hunt for the post-season at the All-Star Break. Then, somehow, some way, the Leafs managed an epic collapse that sent them to 13th in the conference, 12 points back of eighth.
All the negativity surrounding the Leafs just goes to show that it is the last bit of something that leaves the biggest impression. People tend to forget the good, and that's exactly what has happened with the majority of Leaf fans and much of the media.
All it takes is one glance back at the first half of the campaign. Take that glance and you will realize that the Leafs are capable of qualifying for the post-season.
It all starts up front, where Leafs general manager Brian Burke has improved his top-six group, although not as much as many would like to see. Still, James van Riemsdyk fits will into head coach Randy Carlyle's system. Also, as long as he continues to develop and becomes what many people think he can, van Riemsdyk will regularly find himself on the Leafs' top line in no time.
JvR compliments centres Mikhail Grabovski and Tyler Bozak nicely, as do wingers Phil Kessel, Joffrey Lupul, Nikolai Kulemin and Clarke MacArthur. They all bring various offensive and defensive traits to the Leafs' lineup that many others couldn't.
On the back-end are the likes of Dion Phaneuf and John-Michael Liles, both of whom bring a level of experience to the Leafs' room that no one else on the roster can. Both have seen plenty of highs and lows during their careers and are now two of the Leafs' best defenders.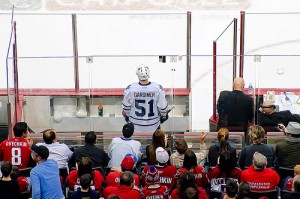 Below Phaneuf and Liles are Jake Gardiner, Cody Franson, Carl Gunnarsson and Mike Komisarek.
Gardiner had an outstanding rookie season and is sure to play a key top-four role on the Leafs' blue line this season. Franson and Gunnarsson each went through their own ups and downs, but they maintained a relatively high level of play for much of the campaign. Komisarek is a defenceman who many would like to see off the Leafs' roster, although he does provide size and a veteran presence.
Perhaps the biggest question is in net, where you will find two inexperienced goalies.
James Reimer and Ben Scrivens have plenty of learning to do in the NHL. Reimer had a successful rookie campaign to years ago, but struggled through injuries last season. Scrivens tried to step in on occasion, but failed to hold down the fort with a 3.13 goals against average.
The good news for the Leafs is that Reimer is believed to be 100 percent healthy. Also, Carlyle's defensive style favours the goalies and defencemen more than ex-head coach Ron Wilson's offensive run-and-gun system.
What seems to concern people the most, though, doesn't stem from poor defending, weak goaltending or any offensive struggles the team might go through this season. Rather, it's what many people are calling a young and inexperienced roster.
It's believed the lack of veteran leadership is what led the Leafs to collapse last season, which could easily be true. It's also true that there hasn't been much improvement in that department this summer with Jay McClement being the only addition that could be called a veteran leader.
It was a tweet one of my readers sent me on Monday afternoon that got me thinking about the Leafs' leadership a little more.
@LukasHardonk can't disagree but ideally a solid NHL club has a good mix of youth/vets or ya end up "just getting your ass kicked" right BB

— Mark R (@markriese) August 6, 2012
What people fail to realize is that if what happened in 2011-2012 taught the Leafs' youngsters anything, it's how to avoid going through that again. They know what went wrong, what to do in order to avoid it and how to get out of it if they wind up in a bad scenario this season.
It comes down to three major factors: the Leafs are a closer and more experienced team, talent has been added up front and a full season under Carlyle's more physical, defensive system will do the team good.
The Leafs enter the 2012-2013 campaign in a similar situation as the New Jersey Devils, who went into the 2011-2012 campaign coming off a very disappointing 2010-2011 season. But people believed in the Devils.
Now it's time to believe in the Maple Leafs.
Twitter: @LukasHardonk | Email: lukas.hardonk@gmail.com | Lukas' archive
For every Leafs article on THW, follow @THW_MapleLeafs on Twitter.
Check out Maple Leafs Central, a THW Network site.