Zach Parise bolting town for Minnesota sent a seismic tremor through the New Jersey Devils organization this summer. Now that the smoke has cleared and the shock has worn off, it's time to look at who might be able to step up and try to fill some of the void left by the team's Captain jetting off to the prairie to play in front of his hometown fans.
Certainly, Parise was the heart and soul of the gritty, tenacious team that overachieved to the tune of an Eastern Conference Championship last season, so simply replacing him is out of the question. But someone is going to have to fill the gaping hole that has been left in his absence.
General Manager Lou Lamoriello, never one to press the panic button, has spent most of the off season re-signing other key players, such as Martin Brodeur, and patching up a depleted coaching staff that was rife with defections. He has resisted calls for him to make an overwhelming offer to free agent Alex Semin (who eventually signed with Carolina) and reinforced the feeling that Parise can't just be replaced with the stroke of a pen.
"We will do everything we can right now to go to Plan B," Lamoriello saidafter Parise's exit. "We'll do whatever we can to get ourselves better, but  you don't replace a Zach Parise. You just don't do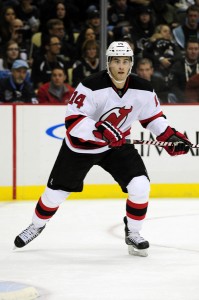 that."
So, with Lamoriello still pushing the "status quo" line, who will step up and steer this team now that it's lost a huge piece of on-ice leadership?
Obviously, the smart money is on Ilya Kovalchuk to be named the team's Captain. He's clearly the biggest star and the team's most dangerous offensive threat. Kovalchuk also turned a lot of heads in the postseason with his all-around play, shedding the reputation that he was a selfish player in the process. But, while Kovalchuk may very well be awarded the "C" this fall, the simple fact is that 31 goals and 69 points hopped a flight to Minnesota on July 4. Someone is going to have to pick up the slack in the scoring department besides Kovy.
Enter Adam Henrique.
The Calder Trophy finalist had an incredible rookie season last year, registering 16 goals and 35 assists to go with an impressive plus-8 rating. In the playoffs Henrique was simply magic, notching 5 goals and 8 assists. Perhaps more impressive than his post season numbers was his ability to come up big in the clutch, as he netted the series-winner in overtime vs. Florida in Round 1 (one of two goals he scored in that Game 7) and the series-winner in overtime vs. the Rangers in the Conference Finals.
Although playing different positions, Parise and Henrique's rookie numbers are strikingly similar, as is their style of play, something that bodes well for Devils fans.
In 2005-06, Parise logged 14 goals and 18 assists for 32 points in 82 games. Lamoriello is undoubtedly counting on an uptick in Henrique's numbers this season, just as he saw with Parise during his second year, when Zach's scoring output nearly doubled.
This fall, Henrique will no longer be a rookie, he'll be entering his second season a veteran of the gauntlet that is a long playoff run in the NHL. That experience will give him credibility as he assumes more of a leadership role. The stellar rookie year should also allow him some comfort as he settles into a more prominent playmaking role–the role Zach Parise played–on this team.
Henrique may not be the "replacement" for Parise, but if his rookie season is any indication, he certainly has the ability to make big things happen for New Jersey.