Despite what has been an uncharacteristically slow summer as far as results and signings go for the Flyers, fans of the team shouldn't get too worked up.
Once the disappointment subsides from the swing and miss on Shea Weber, there is a ton to be optimistic about with this current Flyers team. Let's not forget this is the same team that went into Pittsburgh last year and pushed them around and beat them in the first round. They also got under Sidney Crosby's skin and caused him to lose composure more than any team probably ever has.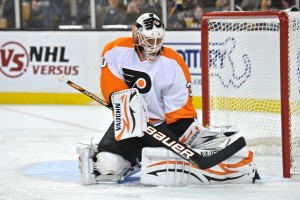 The 2nd round was a big letdown coming off of a major high, which we have seen from young teams how many times before? Historically speaking, this incarnation of the Flyers should be making the next step this upcoming season.
The Flyers biggest focus this season needs to be tightening up on defense and making sure the goaltender makes quality saves. Say what you want about the defense, Bryzgalov had a bad year last year. He'll be the first one to tell you that. Now that he has a year under his belt with big market attention, he should be better. The Flyers also will have a healthy Andrej Meszaros back after he struggled with injuries last season and required surgery. Kimmo Timonen is a year older, but he's shown to still be a very good defenseman in this league. Coburn is solid. Luke Schenn is a question mark but many who covered him think the change in scenery will do him good.
At forward, the Flyers have a tremendous upside. Aside from proven superstar Claude Giroux, Brayden Schenn has another year under his belt. Jake Voracek really came on at the end of last year and everyone in the organization is excited to see how Matt Read progresses as well. Wayne Simmonds is also coming off of a very good year for the orange and black.
The bottom line is this: The Flyers just might be better off without making one of their trademark "shock the world" deals.
If the Flyers had ended up with Zach Parise or Ryan Suter, they would have surely had cap problems down the line. With all of this young talent, that's absolutely not what the Flyers want.
As the old saying goes, sometimes "Less is More." Here's some of the top reasons to support this stance: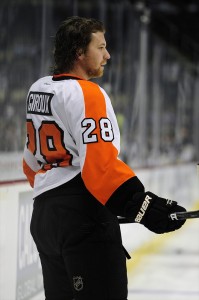 1.) The Flyers have an excellent young core, and tweaks would definitely be more appropriate than overhauls – The move to acquire Luke Schenn looks good on paper, but we'll see how it plays out this season. If the Flyers had landed any of the gigantic contracts they offered up this year, who knows how it would have affected their young core a couple of years from now.
2.) The Uncertainty of the CBA – We've heard what the owners want in the new CBA, which was scary to all of us. We don't know yet what the players want, but we're pretty darn sure it's nowhere near what the owners want. With that big of a gap, it's never wise to shuffle your team, sign huge deals, etc. After all, who knows what the market value of certain players will be after the new CBA is signed? The silence we've seen in recent weeks on the trade and free agent market may be pretty indicative of the confidence (or lack thereof) in CBA negotiations.
3.) Claude Giroux – Giroux is under contract at an absolute bargain number below $4 million until 2014, but signing other players to multiple long term giant deals might have tempted other teams to attempt to offer sheet Giroux in 2014, who is bound to get huge money when he's eligible for it. Know how the Flyers were willing to give up 4 first rounders no problem for Weber? Well, you get the point.
4.) The amount of impact free agents available next July should be much more than there were offseason, assuming they don't all sign extensions with their existing clubs before July 1st. Also, the gigantic deals Ryan Getzlaf and Corey Perry are bound to get might change the asking price on Bobby Ryan, who as everyone knows is admired greatly by the Flyers. You never know what can happen in one calendar year.
What the Flyers need right now is to shore up the defense a little bit more. Other than that, they really don't need more scoring. While they'd never pass up an opportunity to become a better team, they really don't need to do anything outside of shore up the defense. If they're contemplating any big move outside of doing that, it's probably foolish. The move they don't make might be the best one.
The bottom line is even in the unlikely possibility that this mindset doesn't work out this season, the Flyers will be in better position than many in the NHL next year to make improvements to their club.
And hey, if their defense and goaltending tanks again, maybe next year when he's eligible for a trade, they're willing to make a bigger concession for Shea Weber than they were this year.
Relax Flyers fans. Even though that's silence you hear, that may be the most reassuring sound of all.