Follow @LukasHardonk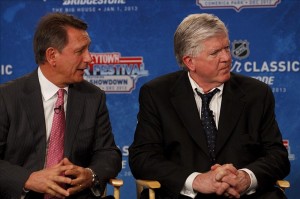 This is it for Toronto Maple Leafs general manager Brian Burke.
Years of disappointment, heartbreak and upsets have defined the Burke era in Toronto. With the lack of success, many fans find themselves calling for his job. Even the media have joined in on what some would call "hate," which even led Burke to hang up on one radio host back in March.
Various factors contribute to the commotion over Burke's position with the Leafs, not just the fact that the team has yet to make the playoffs under his watch. One of those is his inability to draw in the big-name players.
Various marquee forwards and defencemen have hit the open market since Burke joined the Leafs in 2009. Most notably are Brad Richards, Ryan Suter, Zach Parise and Ilya Kovalchuk, non of whom Burke was able to land.
You could also look to the trade market, where you would see Rick Nash, now a New York Ranger. There are also Roberto Luongo and Bobby Ryan, although neither have been traded at all. Still, it is believed that the Leafs are not in the running.
This is something that many expected Burke to do in Toronto. Despite years of losing, there is still something about the city that makes people want to play for the Maple Leafs. Perhaps it is the history, or maybe just the size of the market. Which of those two it is doesn't really matter since Burke hasn't successfully used either, or anything else for that matter, to his advantage in contract negotiations with major free agents.
People can't just look at the players who Burke failed to draw in, though. There are, in fact, players who Burke has signed and traded for that have made positive contributions to the club. They include Phil Kessel, Joffrey Lupul, Jake Gardiner, Mike Brown and Clarke MacArthur.
Kessel and Lupul were one-two in team scoring last season, and Kessel even sat sixth in league scoring. Gardiner had a very solid rookie season, Brown is easily one of the Leafs' most important bottom-six forwards and MacArthur plays a crucial scoring role. That's all fine and dandy, but Burke has yet to take care of his plans for the off-season.
And we're in July. In the midst of CBA negotiations.
Those plans, from the Globe and Mail:
Address the team's size and compete level.
Add a goalie to work with James Reimer.
Use their assets to address positional needs.
Improve through trade.
Improve goaltending and add a number one centre.
Let's quickly take a look at those plans individually.
James van Riemsdyk adds size and perhaps some compete, but he isn't the most intimidating guy on the ice. In fact, you may not even refer to the van Riemsdyk trade as an addition of size, seeing as though the Leafs lost a big defender in Luke Schenn. Also note that he has been the only addition in the size department (if you want to call it that), as Jay McClement doesn't really fit that bill at six-foot-one.
Combining numbers two and three, the evaluation is simple: there has been absolutely nothing done. Zip.
Moving along, the only asset the Leafs have used to address a positional need is Schenn. Other needs still include a number one centre, stable defensive defenceman and number one goalie.
Yes, one at each position.
They have improved through trade, but simply not enough, and I don't think we need to spend any time on number five.
Wait, though, we can't focus on just the players. We must remember Burke's decision to keep with Ron Wilson as head coach for so long. Credit to Burke for sticking up for his coach; that seems to have become somewhat of a problem with a few teams recently, but one has to wonder if the team would've gained enough confidence to qualify for the post-season under a new bench boss and a new system right from the start.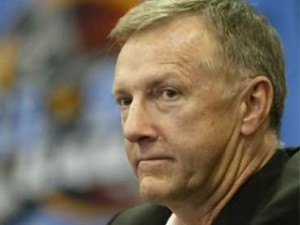 Burke finally made a move behind the bench in March as he elected to relieve Wilson of his duties and go with Randy Carlyle. It's unclear exactly how that move has worked out/will work out, as the players haven't had much of a chance to adjust to the new system.
That's enough of negative light on Burke's decisions as Leafs general manager.
In the same article from the Globe and Mail linked above, Burke mentions that the building blocks for a championship team are in place. That might be true; we just need to see it over the course of a full season.
Those building blocks are enough to make people─including myself─that Burke will remain in Toronto if the Leafs make the playoffs in 2013. If not, we could be staring at an entirely different situation less than a year from now.
Remember, this article isn't supposed to give the impression that Burke should be fired, although the situation does have some calling for his job. Instead, it was written to convey the message that Burke might be in trouble if he doesn't come through at the Leafs' helm this season.
Could 2012-2013 be Burke's last season as Leafs general manager?
Only time will tell.
Twitter: @LukasHardonk | Email: lukas.hardonk@gmail.com | Lukas' archive
For every Leafs article on THW, follow @THW_MapleLeafs on Twitter.
Check out Maple Leafs Central, a THW Network site.