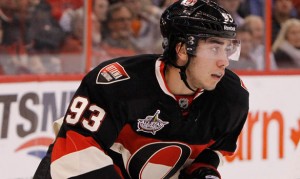 As the off season story continues to unfold, and questions such as whether or not Daniel Alfredsson will return or retire are answered, questions surrounding next seasons roster line up begin to arise.
Will promising rookies such as Mika Zibanejad and Jakob Silfverberg crack the top six?
Will Peter Regin's shoulder be healthy?
Who will be Erik Karlsson's new defensive partner replacing Filip Kuba?
It is impressive how drastically the expectations have changed for the Sens from just a year ago.
Heading into the previous season after just having crapped out on the entry draft lottery, the Senators were looking bound for another appearance in this summer's draft lottery with a shot at first overall. It was to be the "Fail for Nail" season, or so many experts thought. Instead, the Sens made a return to the post season on the strength of their talented youth. Players such as Erik Karlsson, Colin Greening, Jared Cowen, and Kyle Turris would all be important contributors to name a few. Several of the Sens veteran players also played key roles and enjoyed bounce back seasons such as Jason Spezza, Sergei Gonchar, and Milan Michalek.
Now heading into the 2012/2013 season (assuming there is one), to not make the playoffs will be viewed a failure. The Sens have parted ways with Filip Kuba, Matt Carkner, Nick Foligno, Zenon Konopka, Bobby Butler, and Matt Gilroy this summer and have only added Guillaume Latendresse, Marc Methot, and Mike Lundin. That is six out and three in. The remaining three spots must be filled from within barring any other late off season additions.
There are plenty of candidates internally to fill the void however. Players such as Zibanejad, Silfverberg and Mark Stone will all be vying for a top six role. Danish center Peter Regin hopes to have put his history of shoulder injuries in his past and recapture the promise he displayed in the 2010 playoffs. He will compete with Zack Smith for the third line center position
Indeed there are many questions that beg being asked heading into the new season, and no answers that anyone can be sure of. What we all assume is Jason Spezza and Milan Michalek will be paired, while Kyle Turris and Daniel Alfredsson will also be paired as each duo showed solid chemistry the previous season.
Now making this reasonable assumption leaves two vacant top six winger positions available, one on the right of Spezza, and one on the left of Turris. Colin Greening admirably played on the Spezza line and provided a decent physical presence and played well in his rookie season. Offensively, he was not able to keep up for most of the season and I expect the Sens to audition other candidates such as Jakob Silfverberg, who joined the Sens in the final games of their first round loss to the Rangers in the playoffs. Foligno will need to be replaced off of the Turris line as he was dealt to Columbus for Marc Methot. The Sens acquired the often injured Latendresse but if he can stay healthy he should be able to hold down that spot.
The checking line battle at center between Regin and Smith will be worth keeping an eye on. If Regin is moved to the wing on that line, it leaves only one spot for either Chris Neil, Colin Greening. That still leaves Mika Zibanejad, Kaspars Daugavins, Eric Condra, Mark Stone, Jim O'Brien, and Stephane Da Costa competing for a spot on the fourth line.
Barring injury there are going to be some very tough choices for the Coaches and some very disappointed players as there simply is only so many spots on the forward lines.
The picture on defense is a little clearer. Erik Karlsson, Sergei Gonchar, Chris Phillips, Marc Methot, Mike Lundin, and Jared Cowen will round out the top six regulars. Simply pairing them up is all that remains to be sorted. Given the success of the Phillips – Gonchar combination expect to see them together again. Either Methot or Lundin stand a good chance of being paired with Norris Trophy winner Erik Karlsson.
In goal Craig Anderson will see the lion's share of games, likely with "Big" Ben Bishop backing him up, allowing top prospect Robin Lehner to see more starts with Binghamton in the AHL.
So what does it all mean?
Who will make the top six, and who won't?
Nobody really knows and only time will tell.
What we do know is this:  the Sens have some very good players, and some solid depth that will make for some very tough decisions. Injuries will happen, players will exceed our expectations, while others will disappoint. In the end, the best players will win the top jobs as the cream always rises to the top.
Follow me on Twitter: @pharling