When you think of Vancouver Canucks defenseman Kevin Bieksa many things come to mind. You might think of his Western Conference clinching overtime goal against the Sharks in 2011. You might also think of a physical, tough defenseman who has been a mainstay in Vancouver for several years now.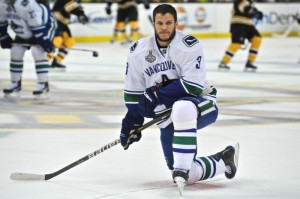 Perhaps you should also add comedian to the list of things that Kevin Bieksa is. Bieksa may be one of the funniest players off the ice, and sometimes on it. Whether he's cracking on his teammates or taking dares he seems to be enjoying himself at all times.
Here are some of Bieksa's funniest moments in Vancouver. Whether you are a Canucks fan or not it is clear that the man they call 'Juice' has a future on television when he's done playing.
Here Bieksa does an between periods interview with CBC's Scott Oake and makes a LMFAO reference that goes over Oake's head:
Last season Bieksa's teammates bet him $200 that he couldn't use the phrase 'milk hot dogs' into an interview. He did [content was removed from source].
Bieksa always seems to be ripping on teammate Alex Burrows. Here Burrows tries to interview him and fails:
Some guys get pretty angry in the penalty box. Bieksa? He sees it as a time for quiet meditation:
Here Bieksa tries to come to the aid of defense partner Dan Hamhuis who is not known for getting into scraps. When Minnesota's Cal Clutterbuck goes after him Bieksa does whatever he can to help:
During last year's playoffs a reporter from Los Angeles approached Bieksa thinking he was Ryan Kesler. Bieksa takes advantage and does the interview as Kesler and goes on and on about how the real hockey fans are in the United States:
When you're a funny guy people will give it to you just as much as you dish it out. Here Dallas' Vern Fiddler does his Bieksa impression on the ice which gets everyone, including Alain Vigneault cracking up:
And finally, here is Bieksa on After Hours and he makes more fun of Scott Oake, Cody Hodgson's fashion and everything in between:
Who do you think the funniest guy in the NHL is?