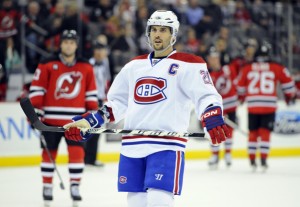 Brandon Prust and Colby Armstrong may have been hand-selected by new GM Marc Bergevin as the final pieces to this year's Montreal Canadiens roster, but the club's most valuable off-season addition will likely come in the form of captain Brian Gionta, who missed a career-high 51 games last year due to injury.
That's not to say that the physical presence of Prust and Armstrong won't be appreciated by a team which ranked 27th overall in average player size during the 2011-12 season. (At an average of 6'0, 202.3 lbs, only Dallas, Nashville, and Pittsburgh were smaller.) But it could very easily be a player who significantly drops that average who plays the most crucial role in deciding the outcome of the 2012-13 season.
At just 5'7, 175lbs, Gionta is a full five inches shorter and twenty-five pounds lighter than average on a team which sits fourth from last in terms of overall size. His on-ice contributions, however, have consistently overshadowed his diminutive stature during the captain's ten-season NHL career.
In his first two years with the Canadiens, from '09-'11, Gionta posted a total of 57 goals and 92 points before slipping to just 8 goals and 7 assists in 31 appearances last year. Fresh off the lockout in 2006, he set a New Jersey Devils' club record, finding the back of the net on 48 occasions. On any given night, Gionta has the potential to be as potent an offensive threat as there is in the league.
Assuming Gionta can return to form following the biceps tear which cost him nearly all of last season, his presence on the second line could easily be the hinge upon which the Canadiens' success will turn. With the top line of Cole-Desharnais-Pacioretty serving as the lone bright spot in an otherwise abysmal campaign last year, offensive depth will be of utmost importance as the Canadiens take on an improving Northeast Division.
With Tomas Plekanec at centre and Gionta on the right side, the Canadiens will most likely look to Rene Bourque to fill the final gap in their top six. Following back-to-back 27 goal seasons with the Calgary Flames, Bourque struggled to find his game after being acquired in exchange for the disgruntled Mike Cammalleri on January 12th of last year.
Habs' management is obviously hoping that skating alongside two players with proven 70-80 point potential is the cure for what certain fans and members of the media assume is a lack of effort on Bourque's part.
But it will be Gionta who takes on the lion's share of spotlight as the team enters training camp this month. At the age of 33, and with a laundry list of injuries accumulated over the past calendar year, this could be the season which defines the second phase of Gionta's career. Will he age gracefully, continuing to adapt and perform well into his thirties, like players such as Ray Whitney and Steve Sullivan? Or will he falter, instead taking a career path more similar to that of teammate Scott Gomez?
With the reputation of workhorse and having earned the utmost respect from teammates and opponents alike, the smart money is on the former…but only time will tell.
Either way, the Canadiens' success will likely depend greatly upon their captain's performance. With two 30-goal men flanking a break-out star in David Desharnais, the top line appears to be set in stone. Now that Carey Price and Josh Gorges are both under contract, and with PK Subban looking like he will be the next player locked in long-term, the real question marks for the Canadiens seem to lie in the depth department.
The Canadiens did not take any major steps backwards this off-season, but there were more than a few teams in the Eastern Conference who took significant steps forward.
A second line which features Gionta, Plekanec, and Bourque playing near their full potential could easily be the difference between a playoff position and another lottery pick for a club which spent the majority of last season desperate for someone not named Cole or Pacioretty to find the back of the net.