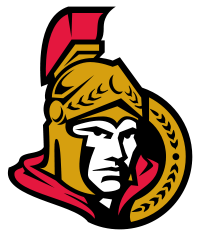 The first day of the annual feeding frenzy known as NHL Free Agency has begun.
It has been classed as a weak free agency class this time around.  Very few big names were available this year.  But NHL fans would take solace in the fact that there would be enough star power to make this summer attractive.  Names like Zach Parise, Martin Brodeur, and Ryan Suter highlight this year's free agent crop.  As of 6:00pm EST, none of the big three had signed with any team.
The Ottawa Senators, like every other team, entered the day with a wishlist.  The Senators were believed to have tendered an offer to Columbus for disgruntled star winger Rick Nash.  It is believed that the Ottawa franchise was not on Nash's list of preferred teams.  It is also believed that Senators general manager Bryan Murray was pursuing Parise.  Parise, to this point, has made no decisions.
That hasn't stopped the Senators from being fairly active today.  Ottawa pulled the trigger on a trade with the Columbus Blue Jackets, sending forward Nick Foligno to Ohio for defenseman Marc Methot.  The Sens also signed forward Guillaume Latendresse and defender Mike Lundin.
However, the Senators were also a free agency casualty.  They lost Filip Kuba to Florida, and Matt Carkner to the New York Islanders.  The move, on the surface, leaves the Senators short on the blueline.
Senator fans shouldn't feel too apprehensive, however.  Methot comes in as a steadying force on defense, offering a physical presence that should replace Carkner.  While free agency isn't over, the Senators have also indicated a willingness to improve, either through future signings or through the trade market.
What do the Senators need?  A little more offensive punch up front should be first and foremost on the list.  Captain Daniel Alfredsson isn't getting any younger, and they'll need to replace his production.  They don't have many genuine threats outside of Jason Spezza and Milan Michalek.  It will be interesting to see how Kyle Turris can produce in a full season in Canada's capital.  Hopefully Latendresse can regain a scoring touch and provide some of the spark needed to bridge a gap between primary and secondary scoring.
While Norris trophy winner Erik Karlsson  was a huge surprise with 78 points in 81 games, it's rare to see that kind of production on a consistent basis from any defenseman not named Paul Coffey or Raymond Bourque.  The Senators shouldn't bank on Karlsson repeating that kind of performance.  He certainly is capable, but opposing teams will be keying on him.
They will need to get a little more grit on the blueline.  Methot is a great step in addressing that need.  The Senators do have some veteran leaders on defense, with Chris Phillips and Sergei Gonchar.  But neither have that physical dimension to their game that strikes fear in the hearts of the opposing forwards.  Youngster Jared Cowan has a lot of promise, and they have a great young prospect in Cody Ceci.
The future remains bright for the Sens, but there will still be work to do to mold this team into a serious contender.  However, if last season was any indication, they don't have far to go.  They have shown that they are ahead of the curve in terms of their rebuilding phase, and with the addition of another top six forward and top four defender, should be a force to contend with in the Eastern Conference.
Born in the Annapolis Valley of Nova Scotia, and living in Port Williams, Nova Scotia, Justin has been involved with hockey for over 15 years. He has written for local newspapers from 1994-2009. He brings a combination of passion and humor to his articles that frame his love of hockey. His style includes opinion pieces and historical fact. He finds game reviews "boring on their own" and aims to bring each piece to life in its own way. He currently owns www.openingfaceoff.net, and is looking forward to contributing regularly to thehockeywriters.com.