Minnesota Wild fans were loud and rowdy Friday night in Raleigh, North Carolina, cheering for their team to extend its road game winning streak to six. Carolina Hurricanes fans were sparse in attendance, and only somewhat vigorous in support of their team. Two teams headed in directions as far apart as their geographic locales, faced off with a win holding different outcomes for both.
Winning is everything
Minnesota entered the game with seventy-seven points, one ahead of the Winnipeg Jets for the first wild card slot in the Western Conference, with teams like Los Angeles Kings and San Jose Sharks very much on their heels. Every game matters for the Wild in seeing their playoff hopes become a reality. A win against the Hurricanes was crucial.
By contrast, the Canes started the night with fifty-five points, fourth from the bottom in the NHL. Winning from here to the end of the season could easily see them overtake the Columbus Blue Jackets and Toronto Maple Leafs in a rise from the cellar. This of course, absent winning the lottery, would place them further away from the coveted Connor McDavid and Jack Eichel in the upcoming NHL Entry Draft. The question I posed in my article of February 7, Are the Hurricanes Losing By Winning? looms even larger as the season plays out its final 20 games.
Experiment time
Carolina head coach Bill Peters has said recently that his team's current position gives him the opportunity to experiment with the lines and see what he likes. Chip Alexander of the Raleigh News & Observer wrote last Tuesday that "Peters said he was 'toying around' with the lines and that 'Everything is fair game.'" Is this coach speak for the concept of "tanking?" It sure sounds like a mindset that realizes that this season is lost and preparing for next season starts now.
One of the experiments is the addition to the roster of longtime Charlotte Checkers defenseman Rasmus Rissanen.
Rasmus Rissanen takes warmups prior to his first @NHL game tonight. #MINvsCAR pic.twitter.com/DawI7noHZo

— Carolina Hurricanes (@Canes) March 6, 2015
Having spent several years in Charlotte, Rissanen played in his first game as a Hurricane and played fairly well. He had a game-high eight hits, and exhibited the energy of one knowing that they are auditioning on the big stage.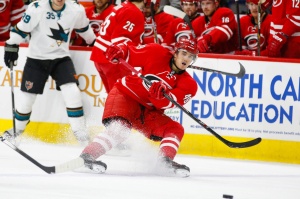 Another deviation from the norm for Coach Peters saw a change in the starting line. Victor Rask centered for Nathan Gerbe and Alexander Semin, and the defensive pairing was Brett Bellemore and the recently acquired Jack Hillen. Quite a departure from having Eric Staal and brother Jordan on the top line, as well as starting Hillen over Justin Faulk. But, Peters wants to "toy around" and now is the time to do just that.
Awful makes Wild look good
The game was characterized by two things: Great play by Wild goalie Devan Dubnyk and lack of effort by the Hurricanes. Dubnyk and his team have been very hot lately. He has climbed to second on the goalie stats leaderboard just behind Carey Price.
I wrote on January 10th that Cam Ward to the Wild was not a good idea for the 'Canes. You may recall rumors to that effect were swirling as a result of the Wild's goalie problems. Apparently Dubnyk was the correct move for the Wild, as he is 18-3-1 since going to Minnesota from the Arizona Coyotes.
He was very good against the Hurricanes. Of course, when a team is awful in their effort, it doesn't hurt in making a goalie look good:
Part of the challenge that the 'Canes faced with Dubnyk is his 6'6″ frame, and an inability to create traffic in front of him. Perhaps more than an inability it was an unwillingness to follow-up and create second chances. Dubnyk saved 37 of 38 shots, certainly an outstanding performance. But many of the shots he stopped were from distance, with no subsequent rush to the net by Carolina.
The 'Canes only goal was scored by Riley Nash. After the game, he summed up the team's inability to solve Dubnyk. Nash said,
"He saw way too many pucks. He's a pretty big guy, and he can see around a lot of guys. We need traffic there. I think any goalie in the NHL, when you get traffic, they're very average. I don't think we had enough of that."
Dubnyk didn't look very average at all in Raleigh Friday night. That is entirely on the Hurricanes. Jeff Skinner said it very well:
"When you're playing from behind, you need a little more desperation." –Skinner on the #Canes third period. pic.twitter.com/3wZd3KuM6a

— Carolina Hurricanes (@Canes) March 7, 2015
Mount Peters could blow
I have attended the majority of Hurricanes home games this season. I have not seen Coach Bill Peters as angry in the post-game media gathering as he was Friday night. If this were a high school basketball team, they'd be up Saturday morning at 4am running wind sprints until they couldn't walk. His words and demeanor were clearly hot after the game. Peters said,
"We didn't look like we wanted to put the work in to be successful. We used to be this hard-working, honest group, and we haven't been the last two times out."
I was three feet away from him and I knew that this was a coach who was not going to let his guys off the hook for their lack of energy and effort. He was furious, and fired this parting shot:
"We're going to have to get it figured out because we're not going to watch this 19 more times, I know that."
Usually one to give his goalie the benefit of the doubt, Peters even voiced frustration, saying Anton Khudobin didn't seem ready any more than the rest of the team. Zach Parise scored in the third to make it 3-1, on a play that showed poor decision-making with the puck by Anton Khudobin. Parise made him pay on the resulting turnover:
Coach Peters is old school NHL, and he has won wherever he has been in the past. He didn't have an answer last night as to how to throw the switch on his team's lack of energy and effort. But, I have every confidence that he will with the guys he has; or with a new group of call-ups who will show that they want to play. He's a winner and expects his players to be, too.
The Minnesota Wild left Raleigh with a 3-1 win. The Carolina Hurricanes went home having played one of their worst games of the season. We'll see Sunday afternoon if the team responds with a better effort and level of energy against their companions in the cellar of the NHL, the Edmonton Oilers. Which team will want to win or not the most?
Mark lives in the Raleigh, NC area and covers the Carolina Hurricanes.