The header on the official team website of the Ducks reads the word 'DeDication', with the webbed 'D' centring it. A clever idea, but it is other teams in the stampede to catch and hold the final playoff spot in the West who seem to be displaying the selfless devotion lately.
On paper, anyway, and only at first glance.
The Ducks, with the best record in the league since New Years, have out-shot their opponents in 16 of their last 17 games. Just last night, in a losing contest, they doubled Buffalo's shot total with 43.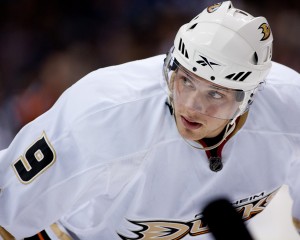 If there's one thing you can say about this team its that they're certainly not putting the 'Dead' in 'Dedication'.
After the game, Ducks head coach Beaudreau put it like this: "This team hasn't quit in 2 1/2 months. I don't expect them to quit now."
If we're being realistic, we have to assume that the Ducks team is made up of humans. Is that a safe assumption?
In being human, everyone is a realist to a certain degree, and the reality is that, however astonishing their recent surge has been, its lateness is worrying. In being a human hockey player, frustration mounts and goes hand-in-hand with nerves.
Anaheim is sitting on a record of 27-27-10 and are still 7 points out. They did not up the ante versus Colorado on Monday, a team that is only 1 point behind Dallas for 8th seed. To makes things worse, Minnesota are 6 points back, Calgary 4, and Los Angeles only 1. Both the Wild and Flames have two games-in-hand over the Ducks.
It is an intense time in Southern California, to say the least, but if this team can keep up it's fight and sense of urgency I think they may even have an edge over the recently soft and more streaky Flames. In fact, if Bobby Ryan can keep as hard to the net as he has been in the last 2 contests, Perry can keep up the fiesty energy, and this team can stay as hard on the puck as they've been, I would just as soon give the Ducks the edge over all other teams in contention.
One thing I can tell you for certain is that you will not be called a fool by me if you look to Anaheim's big three for your pools down the stretch.
–
Follow me on Twitter @AmosLegault