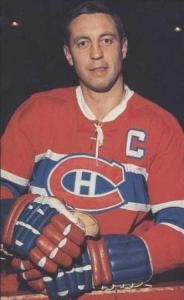 The Montreal Canadiens announced on Tuesday that Hall of Fame centreman and long-time captain Jean Beliveau suffered a stroke early this week and has been hospitalized, undergoing "active investigations and treatment".
Beliveau played 20 seasons in the National Hockey League, all with the Canadiens. He shares the distinction of being the longest serving captain in team history with Saku Koivu, at 10 years.
As a player, "Le Gros Bill" was unparalleled, winning 10 Stanley Cups and two Hart Trophies, as well as being the first ever recipient of the Conn Smythe Award in 1965. In 1,125 career games, Beliveau accumulated 507 goals and 712 assists.
Upon his retirement in 1971, the the mandatory three-year waiting period for the Hockey Hall of Fame was waived in honour of Beliveau's outstanding career accomplishments.
Despite forging a reputation as one of the most prolific offensive players in NHL history, it has been Beliveau's unwavering commitment to the Montreal Canadiens and the game of hockey that have cemented his legacy as one of the sport's greatest ambassadors.
As legendary Montreal Gazette columnist Red Fisher put it, "He was, in every way, a one-of-a-kind player, matched only by his grace and quality as a human being."
Still a regular fixture at Canadiens' home games and community events, Jean Beliveau has continued to serve as the face of hockey's most storied franchise since taking his last shift more than 40 years ago. His fundraising efforts for charities ranging from The Montreal Children's Hospital to the Society for Handicapped Children have tallied millions of dollars over the years, and reflect the soft spot Beliveau has always had for children.
"You know, when people are good, it makes me feel good to give back," he was once quoted.  "People have always been good to me."
The consummate gentleman and forever grateful to his supporters, Beliveau has continued to make himself available to fans, media, and charitable causes despite battling through numerous health problems over the years. After developing heart-related issues in 1996, Beliveau was diagnosed with cancer of the throat in 2000. Ever the fighter, he was back on his feet in time to receive his star on Canada's Walk of Fame in 2001.
And the accolades do not stop there. He was awarded the designation of Grand Officer in the National Order of Quebec, an honourary Doctor of Laws degree from McGill University, and has even had his likeness featured on a Canadian postage stamp. In 1998, Beliveau was made a Companion of the Order of Canada and in 2010, he was the honourary captain of the gold medal-winning Canadian Men's Olympic Hockey Team.
Beliveau's player profile on the Montreal Canadiens' website reads, "(Jean Beliveau's) efforts on the ice made better players of his teammates, and his exemplary life away from the rink makes better human beings of most people fortunate enough to cross his path."
Deeply passionate and unmatched in his commitment to his team, his sport, and his community, the world of hockey watches on with bated breath as one of its greatest heroes engages in yet another battle.
With the post-season quickly approaching, it can be all too easy to lose sight of the big picture amidst a sea of wins, losses, goals and assists…but even if it is for just a brief moment, let us stop to appreciate one of hockey's true living legends.
Jean Beliveau has given more of himself to the game of hockey than most of us will ever recognize. So on behalf of hockey fans everywhere;
Thank you, Jean…and get well soon. We're all pulling for you.