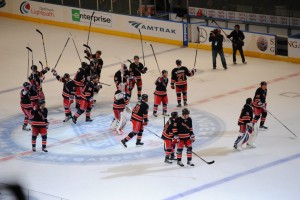 The trade deadline has come and passed. The Rangers enter the final full month of the regular season, a month in which they will play 17 games in 31 days, with back-to-back road games against the Carolina Hurricanes and the Tampa Bay Lightning. After standing pat at the deadline, the Broadway Blueshirts will play those games with the same core of players that have been a part of the team's success all season.
Despite Glen Sather's efforts in the days leading up to the deadline, he was unable to land Blue Jackets' captain Rick Nash. Jackets' General Manager Scott Howson refused to budge on the asking price for his captain, and while a proven scorer like Nash would have surely helped a team that has struggled offensively at times and is ranked 28th out of 30 teams in the league on the power play, the Rangers made the right move in sticking to their guns. There are plenty of potential stars who could have netted a good return, but the Rangers held on to those pieces.
More importantly, the Rangers made the right move in not overpaying to make a trade, because in spite of their struggles, this is still a team that has the most points in the Eastern Conference. It is a team that holds a seven-point lead in the Atlantic Division (with two games in hand) over the Pittsburgh Penguins, and a nine-point lead over the defending Cup champion Boston Bruins. As the team has won, it has become a closer group as well. After beating the Devils a few hours after the trade deadline has passed, head coach John Tortorella called the 2011-12 Rangers "the tightest hockey team I've coached," and for those who don't know, it's worth mentioning that Tortorella won a Stanley Cup as a head coach of the Lightning in 2003-04.
Now, does having a tighter team than one that won a Stanley Cup guarantee the same success? Absolutely not. However, the situation that the Rangers are in right now is different than other teams who are also contending for a Cup. First, the average age of a Rangers player is 26.8 years old, which makes them one of the youngest teams in the league. Also, half of the roster has been turned over since the last game of the 2009-10 season, when the Rangers missed the playoffs on the last day of the season. This group of players has only had one playoff experience together, and it was a team one year younger, and one year less experienced than the one that sits atop the Eastern Conference today.
With the success the Rangers have had to this point in the season, Sather and Co. did the right thing, and will let the group of players that have gone 40-15-6 through the first 61 games determine the team's fate beyond April.